(UPDATED) The 58-year-old senator makes official his bid 3 days after his declaration to vie for the second highest elective post in the land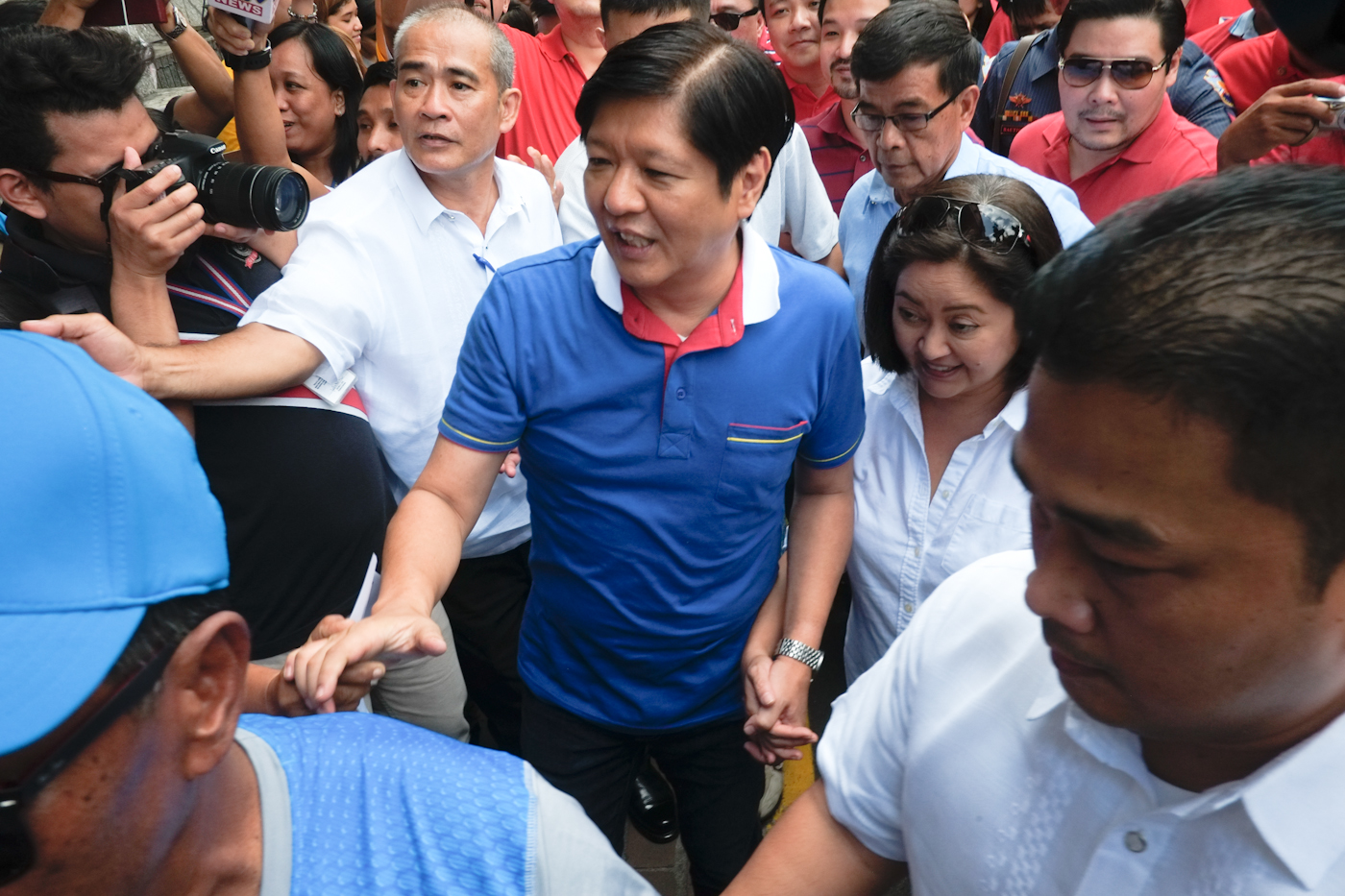 MANILA, Philippines (UPDATED) – Senator Ferdinand "Bongbong" Marcos Jr filed his certificate of candicacy for vice president of the Philippines on Tuesday, October 13, at the Commission on Election (Comelec) headquarters in Intramuros, Manila.
The 58-year-old senator made official his vice presidential bid 3 days after his declaration on October 10, with the promise to lead a revolution in heart, mind, and action.
Before going to the Comelec, he visited the historic San Agustin church to receive a blessing. He was accompanied by his mother, former First Lady Imelda Marcos.
Upon arriving at the Comelec office, he was besieged by a swarm of media, including many foreign journalists.
Save for a few words of thanks for his supporters and the media present, the senator did not grant interviews. 
"Maraming-maraming salamat sa inyong interes. Magfi-file pa lang, nandito na kayong lahat (Many thanks for your interest. I am just about to file my candidacy and you are all here already)," he said.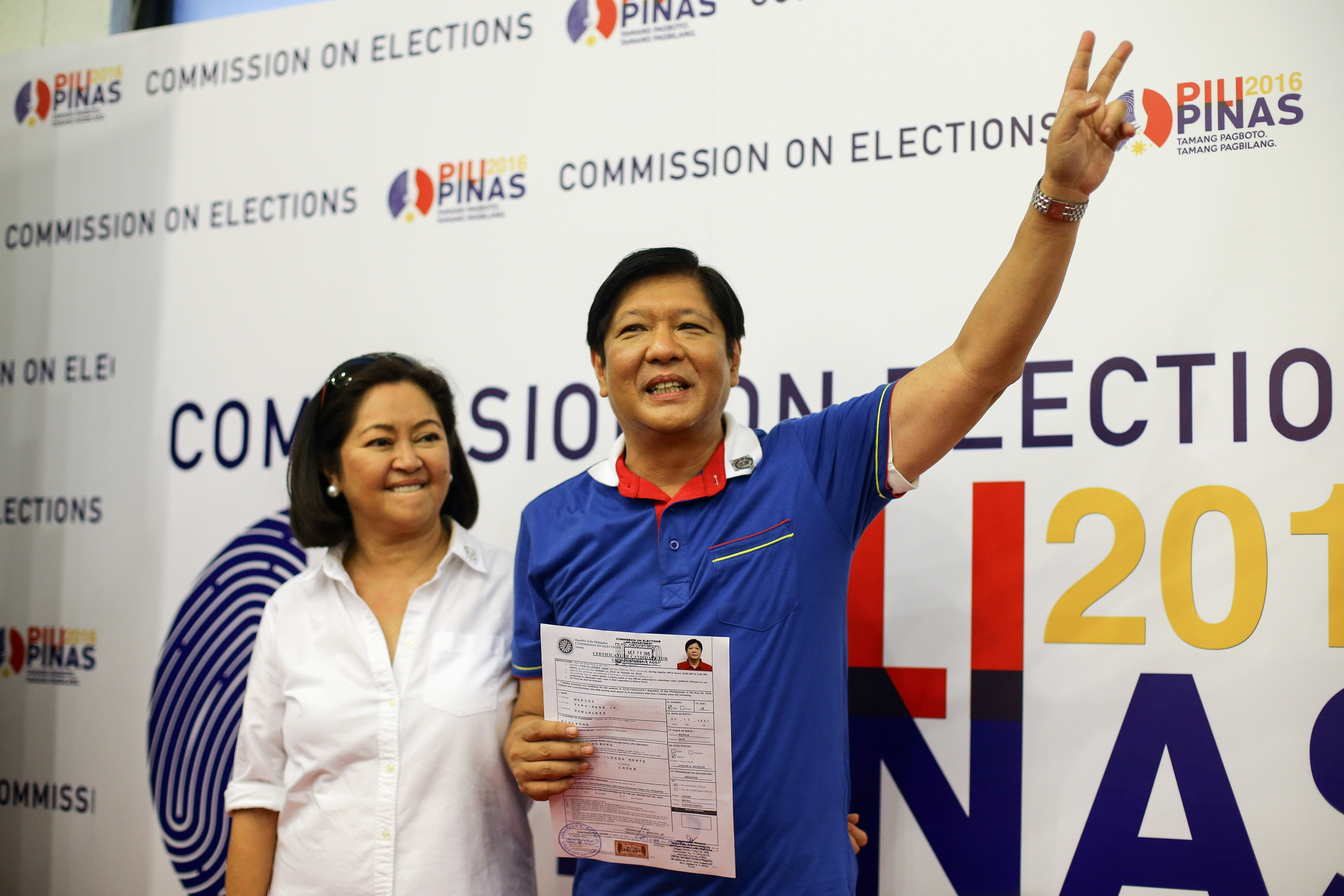 But in a press release sent right after his filing, Marcos said he would lead a campaign for change.
"Pamumunuan ko rin ang isang kampanya upang makamit natin ang ating mga pangarap sa buhay (I will lead a campaign so we can achieve our dreams in life)," he said in the statement.
Marcos seemed to take a swipe at the Aquino administration. "Until now, our people are still waiting, watching, and hoping that our leaders do something to ease their suffering. We have not yet heard an answer," he said in Filipino.
Marcos legacy
Those who challenge his bid often hark back to the legacy of his father, the late dictator and former president Ferdinand Marcos, which the younger Marcos had repeatedly said he is not ashamed of. (READ: 9 things to know about Bongbong Marcos)
His father's rule was tainted by human rights abuses, ill-gotten wealth, and the curtailment of democratic freedom. But the senator has brushed aside these allegations, saying he would rather focus on the present needs of the country. (READ: Marcos: Filipinos want solutions, not history talk)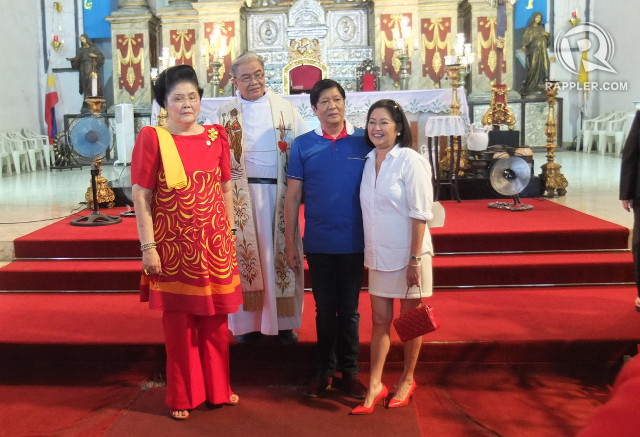 Marcos has been vocal against the Aquino administration, echoing criticisms made by opposition standard-bearer Vice President Jejomar Binay on its handling of Super Typhoon Yolanda rehabilitation and Metro Manila traffic and public transportation woes; and the death of the Special Action Force troopers or SAF 44 in Mamasapano, Maguindanao.
Marcos' vice presidential bid goes against the hopes of his mother to see her son elected president. But the senator has said he believes "the time is just not right" for him to seek the presidency. 
He is one of 3 members of the Nationalista Party seeking the second highest elective post in the land. The others are  Senators Alan Peter Cayetano and Antonio Trillanes IV.
Marcos was the 7th person to file a certificate of candidacy for vice president. – Rappler.com