'I think we mutually chose each other, our two camps. Our telephone lines crossed each other. It was a coincidence. One camp was calling the other,' Santiago tells reporters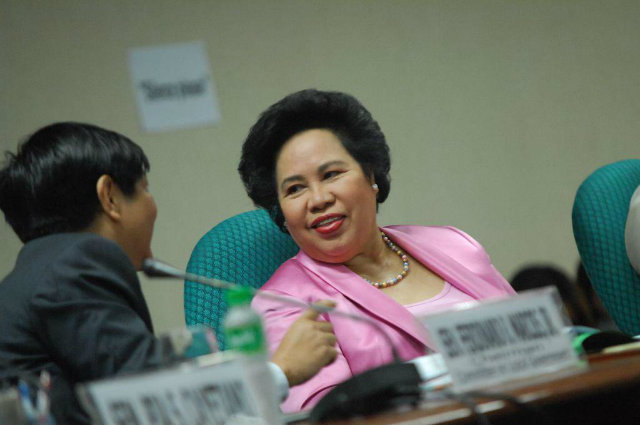 MANILA, Philippines (2nd UPDATE) – Senator Miriam Defensor Santiago confirmed that Senator Ferdinand "Bongbong" Marcos Jr is her running mate.
After a speech in Pasay City, Santiago was asked if the son and namesake of the late dictator Ferdinand Marcos was her vice presidential bet and she said, "Yes."
"I think we mutually chose each other, our two camps. We happen to cross each other, the telephone lines happen to cross each other. It's coincidental. One camp was calling the other camp," Santiago told reporters on Thursday, October 15. 
In a statement released Thursday afternoon, Marcos merely called talks with Santiago's camp as part of a "possible alliance." He said he had a lunch meeting with Santiago's husband, former interior undersecretary Narciso "Jun" Santiago, on Wednesday. 
"We discussed a wide range of subjects concerning the upcoming elections and spoke of possible alliances. We agreed to meet again soon," Marcos said. 
A legal expert who suffers from stage 4 lung cancer, Santiago announced her presidential bid for the May 2016 polls on Tuesday. She is running under her People's Reform Party, the same election vehicle she used in her failed 1992 presidential bid. 
On Wednesday, Marcos' sister Ilocos Norte Governor Imee Marcos said the Marcos camp was in touch with Santiago.
Senator Marcos also hinted of the tandem on Wednesday when he tweeted an old photo of him with Santiago with the caption, "Remembering our RH [Reproductive Health law] deliberations #WayBackWednesday." 
Remembering our RH deliberations. #WayBackWednesday pic.twitter.com/HeSd76Yj20

— Bongbong Marcos (@bongbongmarcos) October 14, 2015
Santiago is filing her candidacy for president on Friday, October 16, at the Commission on Elections office in Manila. 
Santiago said she was unsure if Senator Marcos will join her in filing her candidacy. Marcos filed his candidacy for vice president on Tuesday, along with his mother, the controversial former First Lady now Ilocos Norte Representative Imelda Marcos. 
"I don't know if he'll be there. He'll probably be there," Santiago said. 
The senator refused to answer further questions, with her office saying it will only issue a media advisory. Santiago will have a "meet and greet" at the University of the Philippines Bahay ng Alumni on Monday, October 19. She is an alumna of the school. 
Santiago, 70, is an internationally recognized lawmaker and legal luminary. She was elected judge of The Hague-based International Criminal Court but declined the post due to her ailing health. 
The senator is popular especially among the youth for her strong stance against graft and corruption. She criticized the pork barrel corruption scam, a controversy involving the misuse of development funds, that implicated 3 top senators. The former Quezon City Regional Trial Court judge also received the Ramon Magsaysay Award for Government Service, known as the Asian Nobel Prize. 
Santiago's declaration of her presidential candidacy energized her supporters but some were turned off with her partnership with Marcos. 
Marcos' vice presidential bid opened old wounds from his father's dictatorship. A former representative and governor of Ilocos Norte, the 58-year-old senator has been unapologetic of the widespread allegations of corruption, human rights abuses, and ill-gotten wealth under martial rule. (READ: Marcos: Filipinos want solutions, not history talk)
He is proud of the Marcos legacy, saying, "I am the luckiest person in the world to be a Marcos."
Questions also linger on how Santiago can muster a presidential campaign as she fights cancer.
While she said she has "licked cancer," the senator even had a hard time walking without assistance in her Thursday event. Santiago was inducted into the hall of fame of the Philippine Judges Association at the Marriott Hotel. 
The Santiago-Marcos tandem is the latest to be finalized in an unpredictable electoral race that brought former foes together. 
The administration ticket of former interior secretary Manuel Roxas II and Camarines Sur Representative Leni Robredo formalized its candidacy on Thursday morning. From the opposition, Vice President Jejomar Binay teamed up with former coup plotter Senator Gregorio Honasan II. 
Independent Senators Grace Poe and Francis Escudero are also running. 
Marcos initially said he was keen on running with Davao City Mayor Rodrigo Duterte, but it remains unclear if the mayor will again change his mind, and decide to vie for the presidency. – Rappler.com