(3rd UPDATE) On the last day of filing of certificates of candidacy, he finally ends all speculation about his bid for the presidency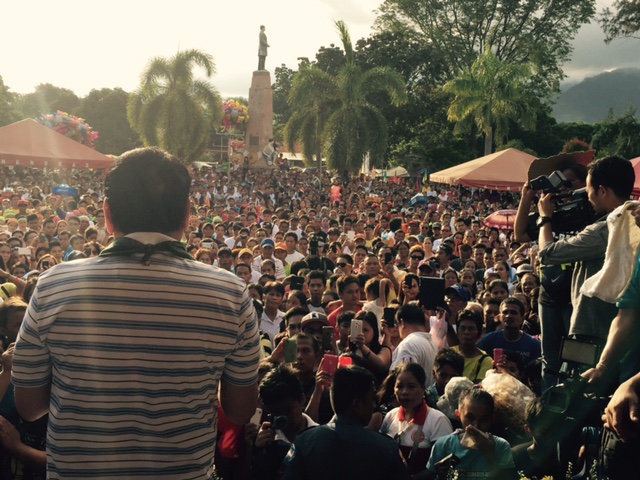 MANILA, Philippines (3rd UPDATE) – Davao City Mayor Rodrigo Duterte on Friday, October 16, declared yet again he is not running for president.
In a statement, he said: "A little over two years ago, I posted in the government website over the Internet that I was not interested in the presidency. Nothing has changed."
He also said, "I am comfortable where I am now. If Inday Sara would want it she has the choice of running in 2016 or the next election. Personally, the earlier the better. I want to retire. I am tired. Give the presidency to the one who wants it. I don't." 
His statement put to rest endless speculation throughout the week that he was flip-flopping about his decision not to seek the presidency. 
The possibility of Duterte running was fueled again mid-afternoon Friday, when his daughter Sara Duterte-Carpio (Inday Sara) posted a signed copy of a certificate of candidacy (COC) for mayor, indicating a change of heart. She had previously refused to take over the post of her father, saying she preferred to keep a private life.
The signed COC was never filed, however, even as Sara's husband was reportedly on stand-by to file it for her.
Sara's brother Paolo, Davao City Vice Mayor, told Rappler that their grandmother visited him in his dream and told him to follow the wish of their parents. (Last night, gipadamgo ko ni Lola Soleng. Sundon daw namu ang gusto sa among ginikanan. That dapat among i-honor.)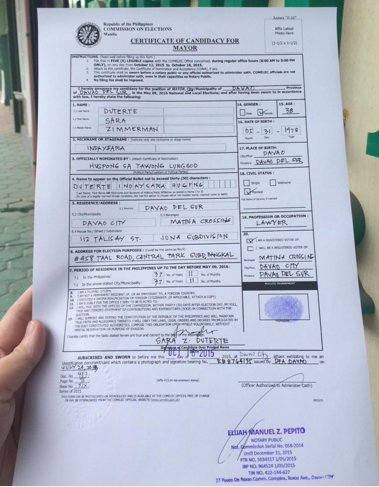 Sara's refusal to run and vie for Davao City mayor was one of the reasons cited by her father for his hesitation to seek the highest position in the country. 
On Wednesday, October 14, Sara shaved her head and posted a photo on her Facebook account, saying in Visayan, "I just had my head shaved while waiting #Duterte2016#kalboparasapagbabago#NohairWecare even if we don't have money, even if don't have the machinery, even if we lose #justdUit."
Repeated refusal
On Thursday, October 15, the local chief executive's chief of staff filed Duterte's candidacy for mayor. Christopher Lawrence "Bong" Go wore a T-shirt that said in front, "No is no", and at the back, "Sinabi ko na ayaw ko, ang titigas ng ulo niyo – Rody Duterte," referring to a presidential run. (I told you I don't want to, you are hard-headed – Rody Duterte).
On Monday, October 12, Duterte announced in a press conference in Davao City that he was not running for president. It was the second press conference he had called to confirm he was not seeking the presidency.
"I am sorry to disappoint those who spent much and worked hard and long in support of me as I went around the country espousing the benefits and advantages of federalism," he said then, reading from a statement.
Duterte die-hards spread word Friday that he was supposed to take a private plane to Manila, with a representative filing his COC for him at the Commission on Elections. Duterte was supposedly holding a press conference as soon as he landed. None of this ever happened.
It was a dizzying week for Duterte followers and supporters who were unconvinced he was serious he did not want the presidency. Duterte's announcement on Friday, the last day for the filing of COCs, finally quells all speculation. – with reports from Pia Ranada and Editha Caduaya/Rappler.com