The camp of Poe dismisses the case as 'dirty tactics' aimed to 'derail' her presidential bid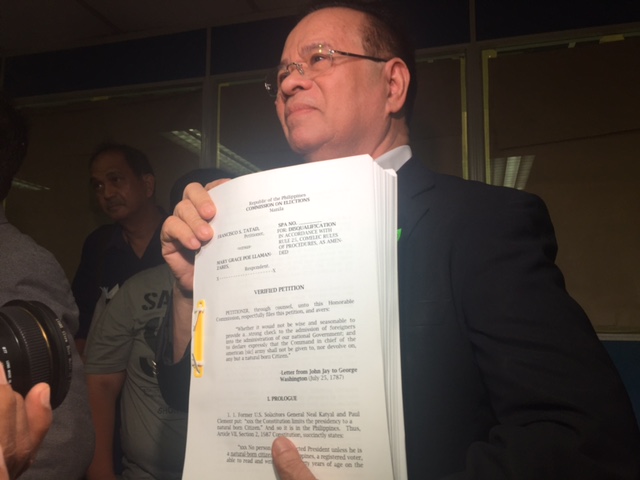 MANILA, Philippines – Another disqualification case was lodged against presidential polls front runner Senator Grace Poe, just a few days after the deadline of the filing of Certificates of Candidacy.
This time, the case was filed by former senator Francisco "Kit" Tatad, a former ally of her father, the late action star Fernando Poe Jr. 
The petition, filed before the Commission on Elections clerk of court on Monday, October 19, seeks the disqualification of Poe, in supposed accordance to the Constitution. (READ: TIMELINE: Grace Poe's citizenship, residency)
Article 7, Section 2 states: "No person may be elected President unless he is a natural-born citizen of the Philippines, a registered voter, able to read and write, at least forty years of age on the day of the election, and a resident of the Philippines for at least ten years immediately preceding such election."
Tatad maintained Poe is not a natural-born citizen as she has "unknown parents" and that she failed to comply with the 10-year residency requirement for a president.
"I believe it is very obvious that as president, [if] you are in charge of the destiny of the entire country, you should be at the very least truly absolutely loyal to the Filipino… one test of loyalty, from birth, a Filipino," he said. 
No politics
While Tatad was an ally of FPJ, he said the case of Senator Poe now is different.
Like the neophyte senator, the elder Poe faced a disqualification case on the basis of his alleged questionable citizenship when he ran for president in 2004. Tatad was one of his senatorial candidates then. 
"Iba yon. Hindi personal 'yan, highly constitutional issue. Bulag anak nya, 'di mabasa Constitution," Tatad told reporters before filing his petition.
(That's different. This is not a personal but a highly constitutional issue. His daughter is blind, she can't read the Constitution.)
Tatad, a known ally of Vice President Jejomar Binay, also said he has no political motives in filing the case against the neophyte senator, insisting he first raised the citizenship issues against Poe in his newspaper columns.
"Who are my political allies? Don't raise speculations because there are none. I have never been accused of false motives in any of my actions. I've been in public life for more than half of my life. My record is clear, it's an open book," he said.
Tatad's counsel is Manuelito Luna, the same lawyer of Rizalito David, who filed a disqualification case against Poe before the Senate Electoral Tribunal. (READ: Grace Poe, Rizalito David await SET decision on disqualification case)
Asked why the two share the same lawyer, Tatad said he knows Luna to be a "good election lawyer."
Luna, for his part, said if they win the Comelec case, Poe would be "forever barred" from any public office.
'Dirty Tactics'
The camp of Poe once again dismissed the case as "dirty tactics" aimed to "derail" the presidential bid of the neophyte senator.
Poe's spokesman Rex Gatchalian said this is all part of a "pre-meditated and concerted effort to condition the minds of the public that Poe would be disqualified."
"Since topping the presidential surveys, she has been in the receiving end of baseless suits that are meant to harass [her]," Gatchalian said in a text message to Rappler.
Gatchalian maintained Poe is ready to face all these "harassment" suits in the proper forum and insisted that the senator has documents to back her claims.
"The documents that will show that she has met all the requirements to seek the presidency had already been made public. These will answer these suits on all fours and will bear her out," he added. 
On Friday, October 16, lawyer Estrella Elamparo, former chief legal counsel and spokesperson of the Government Service Insurance System, filed a petition "to deny due course to or cancel" Poe's COC because of the information she wrote in the document. – Rappler.com