Looking back to 2010, however, Isabela Governor Bodjie Dy does not have a good record of making his presidential bet win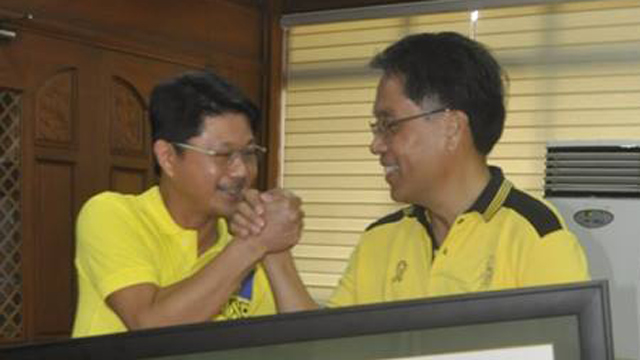 SANTIAGO CITY, Philippines – Re-electionist Isabela Governor Faustino "Bojie" Dy III has endorsed the presidential bid of Liberal Party (LP) standard-bearer Manuel "Mar" Roxas II over the province's son, Vice President Jejomar Binay of the United Nationalist Alliance (UNA).
Dy's endorsement of Roxas was announced during the LP bet's visit in Ilagan City on Tuesday, October 27. It came after LP's longtime ally, former governor Grace Padaca, left the party and filed as an independent to challenge Dy.
Before leaving LP, Padaca had spoken out about the Liberal Party's pattern of endorsing the rivals of their local members in the name of boosting Roxas' chances in the presidential polls.
Dy is the chairman of the Nationalist People's Coalition (NPC) in Isabela.
In an interview on Tuesday, he cited the Aquino administration's help for the province despite its being the supposed bailiwick of Binay, Roxas' rival.
He said he wanted to support the "Daang Matuwid" (Straight Path), the LP's slogan, because he wanted Isabela's progress to continue.
Binay bailiwick
Isabela province is considered a bailiwick of Binay. His mother hailed from Cabagan town.
In the 2010 elections, Binay defeated Roxas in the vice presidential race here with a lead of more than 200,000 votes – his second biggest lead against Roxas next to vote-rich Laguna.
Binay also visited the province last October 22, to check on the damage brought about by Tyhoon Lando (Koppu) and to distribute relief goods to victims.
Dy did not express support for Binay's presidential bid then, but he thanked him for visiting the province. He said the Vice President was "an inspiration for Isabela to stand on its own feet."
Netizens for Dy, but not Mar
When Dy posted his photo with the LP presidential bet on his Facebook page, however, almost all the comments (as of posting) said they would vote for the governor but not for Roxas.
The commenters said they would vote for either Vice President Binay, Senator Miriam Defensor Santiago, or  Davao City Mayor Rodrigo Duterte for president.
"We [are] solid supporter of Gov Dy, but sorry to say [I will] not include MAR ROXAS NO WAY," Malic Paray said.
Another supporter said Isabela residents should remember how Roxas handled the death of 44 Special Action Force members in Mamasapano, Maguindanao. He said 3 of those elite cops are from Isabela.
"Go ako sa pamamalakad mo, pero against ako sa pag-uugali ng Mar na 'yan. Hindi dapat 'yan ang maging pangulo. Kung talaga pong mahal 'nyo ang mahihirap maiintindihan 'nyo po kami," said Jomer Esguerra Ganela to Dy.
(I am with your administration, but I am against the attitude of Mar. He should not be voted president. If you really love the poor, you would understand where we're coming from.)
Endorsement power not tested
In the 2010 presidential election, Dy endorsed presidential candidate Gilbert Teodoro to the 36 mayors of Isabela.
"I'm for Gibo 101%. Thirty of the 36 Isabela mayors are working hard for his election here and that will make him win handily in the province," Dy was quoted in a Philippine Star report on January 31, 2010.
Teodoro finished 4th in the province Joseph Estrada, Binay's standard-bearer then, won the polls in Isabela. He led Benigno Aquino III by 100,000 votes.
For 2016, Binay does not lack supporters in Isabela. Another political clan, the Albanos, have stuck it out with him despite a prolonged investigation into corruption allegations against him that have brought his survey numbers down.
Isabela Vice Governor Tonypet Albano accompanied Binay around when the latter visited.
The Albanos hold dominance in the first district of Isabela. – Rappler.com