Senator Miriam Defensor Santiago hails the announcement of former US President Jimmy Carter that his recent brain scan found no sign of cancer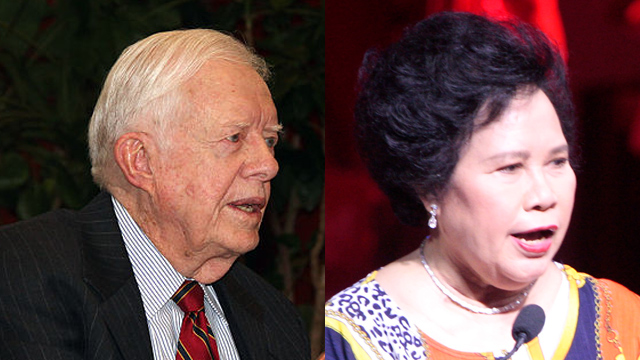 MANILA, Philippines – Senator Miriam Defensor Santiago cited the case of former US President Jimmy Carter to say that she, too, can "beat" cancer – her latest effort to assure voters that her illness will not undermine her presidential bid. 
Santiago said she was "encouraged" by reports that Carter was "cured of brain cancer following cutting-edge treatment." The senator is suffering from stage 4 lung cancer, and is among 5 presidential bets in the May 2016 polls.  
The 70-year-old Santiago referred to Carter's statement over the weekend that his recent magnetic resonance imaging (MRI) brain scan "did not reveal any signs of the original cancer spots nor any new ones." 
Carter, 91, started treatment in August for stage 4 melanoma, the most serious type of skin cancer, according to medical research group Mayo Clinic. The cancer was originally detected in his liver but spread to his brain. 
Santiago "cheered" Carter's latest announcement. 
"The positive development in the case of Mr Carter's cancer trumps the macabre wishes of my naysayers that I should die before I finish a 6-year term as president. If Mr Carter can do it, I, too, can beat cancer to serve the Filipino people," she said in a statement on Tuesday, December 8. 
A prominent international law expert and colorful political figure, Santiago announced in July 2014 that she has stage 4 lung cancer. She filed a candidacy for president in October after saying that her cancer was "controlled," and her condition "stable." 
Santiago took exception to calls for her to release her medical records. She criticized Sylvia Estrada Claudio, a medical doctor who wrote an open letter on Rappler saying the public has the right to know if she is fit to serve a 6-year term. The senator invoked privacy, saying Claudio was merely out to destroy her name. 
Santiago's health is a major issue in her campaign – observers are questioning how she can campaign and serve as president. She has been on medical leave from the Senate for over a year. 
In her last Senate appearance in November, the usually fiery senator had difficulty reading a speech, and suffered from shortness of breath. She admitted that her condition was due to her cancer.
Still, Santiago stressed on Tuesday that her health is not an election issue. 
"My cancer should no longer be a concern in the presidential campaign. I challenge my opponents and their allies to debate instead on issues of national concern. The cancer that demands our urgent attention is corruption and poverty," said Santiago, an anti-corruption advocate. 
Doctors' caveat 
While Santiago said Carter was "cured" of cancer, some doctors quoted on US media preferred to call the news "the best possible outcome" for the former president. 
Carter's treatment was a combination of surgery, radiation, and immunotherapy, which uses the body's immune system to fight cancer. The Nobel peace laureate said he will continue to receive regular 3-week immunotherapy treatments of a drug called pembrolizumab. 
In a report of the New York Times, oncologist Dale Shepard of the Cleveland Clinic said a patient in Carter's situation needs to go 3 to 5 years without evidence of cancer before doctors can say with confidence that he has been cured. 
"His greatest risk was that he was going to get disease developed in new locations, but seemingly that hasn't happened," Shepard said.
The American Cancer Society's Leonard Lichtenfeld also told CNN that Carter needs to undergo further treatment and tests for any new cancer growth or recurrence. 
"For every patient, our hope and prayer is that this progress continues for many months and even years given these new treatments, but we don't know what the course of the disease is going to be. Right now, it's excellent, the best possible outcome, but every day is a new day," he said.

Still, medical experts said Carter's news shows the importance of continued scientific research and trials, and the need to make drugs more affordable. 
"You can actually see that it can have benefits – this particular case with the former president puts a face to this – and how people can really benefit from this [but] this therapy costs tens of thousands of dollars a month," Shepard said. 
It is a cause Santiago is also pushing for. The senator filed a bill to improve research and programs on childhood cancer survivorship. 
She also filed a resolution calling for a Senate inquiry into "the legislative measures that will ease the pain of cancer patients in the Philippines." 
Santiago said: "Every year, 98,200 Filipinos are diagnosed with cancer and 59,000 of these patients die. What is more alarming is the fact that 75% of those who die first have to endure unimaginable pain." 
"It is inhumane for a government to ignore the plea of its people, especially of those in agony due to cancer." – Rappler.com