The dismissal and lifetime disqualification from public office does not apply to Capiz Governor Victor Tanco, Sr. because of re-election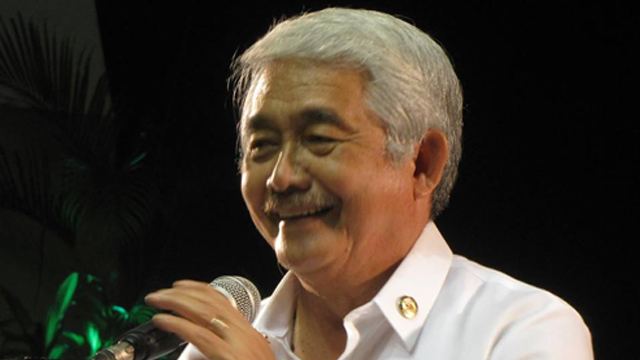 MANILA, Philippines – The Department of the Interior and Local Government (DILG) will not suspend Capiz Governor Victor Tanco Sr, a member of the ruling Liberal Party (LP), because the Aguinaldo doctrine still applies to him, the department said in a statement released Friday, December 18.
In June, the Office of the Ombudsman ordered the dismissal of Tanco and his son, Security Officer III Vladimir Tanco, for allegedly extorting some P3 million from a contractor for a district hospital.
The Aguinaldo doctrine renders moot administrative cases against elected officials once they have been re-elected for the same post. It was because of this doctrine that the DILG did not implement the order, instead seeking a clarification from the Office of the Ombudsman.
"It has been the DILG's protocol to seek clarification from the Ombudsman on the possible application of the Aguinaldo doctrine to local officials before taking further actions regarding decisions, orders, or resolutions similar to the instant case," the department said in its release.
Tanco's son, however, will still be dismissed and perpetually barred from office since he is an appointed official.
The controversial doctrine has since been nullified by the Supreme Court after its review of another dismissal case, that of Makati Mayor Jejomar Erwin Binay Jr, who belongs to the opposition United Nationalist Alliance. But its nullification only applies to future cases.
The department in the past drew flak for allegedly delaying the suspension of its allies while rushing the orders against its foes. The DILG used to be headed by the ruling Liberal Party's standard-bearer Manuel Roxas II.
Tanco is an ally of LP chairman President Benigno Aquino III and Roxas, although the Capiz governor is not running for any position in the coming 2016 elections. Roxas hails from Capiz, through his father, the late Senator Gerardo Roxas.
The Binay claim they are victims of the DILG's supposed bias in implementing orders from the Ombudsman, when Mayor Binay was suspended by the Ombudsman.
Binay criticized the DILG, which was then under Roxas, for supposedly acting swiftly to implement the order when they were still asking the Court of Appeals to rule on the decision. Binay then also invoked the Aguinaldo doctrine.
Roxas then, while saying he wanted to wait for the SC ruling, said re-election shouldn't absolve officials of liability.
In a previous statement, the DILG, now headed by former LP secretary general Mel Senen Sarmiento, said the department followed the same protocol – of double check with the Ombudsman before implementing orders, in the cases of the following officials:
Jose Montelibano (Mayor, Silay City)

Cherrlylyn Akbar (Mayor, Isabela City)

Alfredo Ortega (Mayor, Victoria, Oriental Mindoro)

Jose Angelo Dominguez (Mayor, Castillejos, Zambales)

Angelito Saclolo, Jr. (Sangguniang Panlungsod Member, Cabanatuan City)
Four of the 5 other incumbents whom the DILG delayed dismissing run
and won as LP in 2013. They were Montelibano, Akbar, Ortega, and
Saclolo. – Rappler.com