This is AI generated summarization, which may have errors. For context, always refer to the full article.
Del Castillo says Poe's intent is 'shrouded in doubt' because of having 2 houses in the US – something they supposedly only admitted later on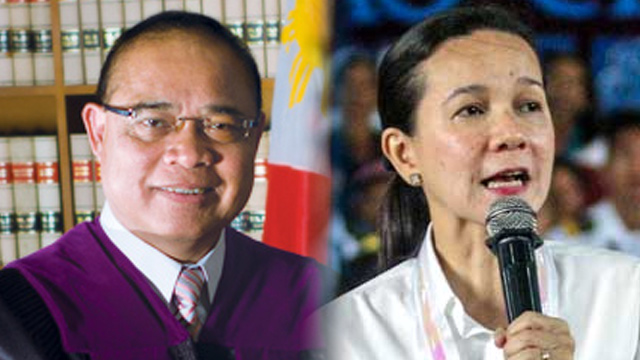 MANILA, Philippines – Contrary to the Supreme Court ruling, Presidential bet Grace Poe failed to meet the 10-year residency requirement mandated by the Constitution, said a Supreme Court (SC) magistrate.
SC Justice Mariano del Castillo, one of the 6 justices who voted to disqualify Poe, said the Commission on Elections was right in canceling her Certificate of Candidacy on the basis of material misrepresentation.
Del Castillo refuted the senator's claims that she has been residing in the country since May 24, 2005.
"In the case of petitioner, however, she took her oath of allegiance only on
July 7, 2006. Therefore, she could not possibly prove that she has been residing in
the Philippines for at least 10 years immediately preceding the May 9, 2016 elections. July 7, 2006 to May 9, 2016 is about two months short of 10 years," Del Castillo said in his 68-page dissenting opinion.
Dissenting Opinion of Justice Mariano C. Del Castillo
The senator became a naturalized US citizen in 2001. After the death of her father Fernando Poe Jr, she said she decided to return to the Philippines permanently and arrived here on May 24, 2005. (READ: TIMELINE: Grace Poe's citizenship, residency)
Balikbayan not resident
At the time, Poe was staying in the country under the balikbayan program, which allowed returning Filipino residents to stay in the country for a limited time of one year, visa-free.
More than a year after, in July 2006, she and her children reacquired their Philippine citizenship through Republic Act 9225 or the Citizenship Retention and Reacquisition Act, making them citizens of both the US and the Philippines.
This is also the earliest time, Del Castillo said, that Poe could begin counting her residency. Since Poe was only on a balikbayan visa, she could not prove that as early as May 2005 she had already the intention to permanently reside in the country.
"Her stay in the Philippines from the time she arrived here as a foreigner balikbayan on May 24, 2005 was not permanent in character or for an indefinite period of time. It was merely temporary. At most, her stay in the Philippines would only be for one year. This only proves that her stay was not impressed with animus manendi, i.e., the intent to remain in or at the domicile of choice for an indefinite period of time," he said.
Citing the case of Coquilla v Comelec, the Justice said the court "did not include the period of the candidate's physical presence in the Philippines while he was still an alien."
Del Castillo also cited the 1966 case of Ujano v Republic to support his argument against Poe.
"Clearly, as early as 1966, jurisprudence unrelentingly and consistently applied the rule that the law does not include temporary visits in the determination of the length of legal residency or domicile in this country. Indeed it is illogical and absurd to consider a foreign national to have complied with the requirements of animus manendi, or intent to permanently stay in this country, if he/she was only on a temporary sojourn here."
While Del Castillo said residency and citizenship should indeed be taken separately, he said one could "invariably affect" the other.
"For instance, [Poe] had to abandon her Philippine domicile when she applied for US naturalization in 2001. Corollarily, she cannot reestablish domicile here unless she first reacquires her Philippine citizenship or enter the Philippines as an immigrant," Del Castillo said.
Since Poe "abandoned" her Philippine citizenship, in turn losing her domicile here, Del Castillo said she has "the added burden of proving" the legitimacy of her presence.
Two houses in the US
Unlike Justice Antonio Carpio who focused on the issue of citizenship in his dissent, Del Castillo highlighted the matter of residency in his. After all, he believed that more study should be done on the novel issue.
"I do not want to wake up someday and see my beloved country teeming with foreigners and aliens posing as natural-born Filipinos while the real natives are thrown into oblivion or relegated second or third class citizens who have become strangers in their own homeland. My objective is only to secure, protect and defend the Philippines from being ruled by non-Filipinos," he said.
Del Castillo debunked the pieces of evidence submitted by Poe – from her e-mail correspondence with a foreign freight company to her issuance of a TIN.
"After a critical review, I am satisfied that the Comelec correctly found petitioner's evidence relative to her claim of animus manendi beginning May 24, 2005 both wanting and insufficient," he said.
Del Castillo argued that securing a TIN is "not a conclusive proof of intent" to remain in the country. After all, he said even non-citizens and non-residents are required to get one.
Further, the Justice said Poe's acquisition of a condominium unit and a parking lot in San Juan City and a parcel of land in an exclusive village in Quezon City do not manifest an intent to remain in the country for good.
Del Castillo said it was even Chief Justice Maria Lourdes Sereno, among those who voted in favor of Poe, who said in Svetlana Jalosjos v Comelec that "ownership of a house or some other property does not establish domicile," as they could only be for investment purposes.
Besides, he continued, Poe said the condominium unit and parking lot were acquired in the second half of 2005 and the lot in 2006 – all after May 24, 2005.
Poe's intent to stay for good "also becomes shrouded in doubt" because of having two houses in the US – one bought in 1992 and the other in 2008. Poe's camp allegedly tried to "avoid" and "withheld" these in the course of the oral arguments, said Del Castillo.
Poe's private counsel Alex Poblador, the Justice said, claimed he did not know of Poe's houses in the US when asked during the oral arguments. But Poe's camp eventually admitted it in their filed memorandum.
"Their acquisition and maintenance are relevant to the determination of whether petitioner had indeed abandoned her U.S. domicile and whether she had effectively reestablished her domicile in the Philippines," he said.
Honest mistake?
In June 2015, it was first publicly pointed out that Poe, in her 2012 COC, indicated that her period of residency before May 13, 2013 is 6 years, 6 months – short of the 10-year residency requirement in 2016.
Poe said it was an "honest mistake" and that she filled it out without any legal assistance.
But this did not sit well with Del Castillo, who said Poe was well educated and that the language was simple and clear. He further said Poe did not officially correct her COC as early as June 2015, only through public statements.
"I cannot help but conclude that these public statements were for the purpose of representing to the general public that she is eligible to run for president since they were made at a time when she was already contemplating on running for the position. They were not made at the earliest opportunity before the proper forum," he said.
Poe, in defense, cited the case of Romualdez-Marcos v Comelec, where the court said residency is a question of fact, not a statement in the COC.
Del Castillo said he was "not convinced." Contrary to the senator, he said Imelda Marcos indicated a stay short of the one-year residency required for the position she was seeking then.
"Hence, the Court stated that it would be plainly ridiculous for a candidate to deliberately and knowingly make a statement in a COC which would lead to her disqualification. It cannot be invoked when the mistake would make an ineligible candidate qualified for the position. Here, petitioner made it appear that she did meet the 10-year residency requirement when in fact, she did not," he said.
"She cannot now, therefore, adjust or readjust the dates from which to reckon her reestablishment of domicile in the Philippines in order to meet the 10-year constitutional residency requirement. As correctly observed by the Comelec, petitioner's actions only highlight her ambivalence in reestablishing domicile," he said.
Del Castillo also hit Poe for renouncing her US citizenship only a day before President Benigno Aquino III appointed her chairperson of the Movie and Television Review and Classification Board, saying she "procrastinated" and did it so "unwillingly".
The Justice criticized the presidential polls front runner for using her US passport in her travels to the US between May 24, 2005 until she renounced her American citizenship on October 20, 2010, saying she portrayed herself as a US citizen and not an alien.
But Poe earlier said it was her right as a so-called dual citizen to use whichever passport she wants. What's important, she said, was that she never used her foreign travel document after she renounced her US citizenship in October 2010. – Rappler.com