This is AI generated summarization, which may have errors. For context, always refer to the full article.
The private respondents call the Supreme Court's decision declaring Grace Poe qualified to run for the presidency 'a 47-page perversion of the Constitution'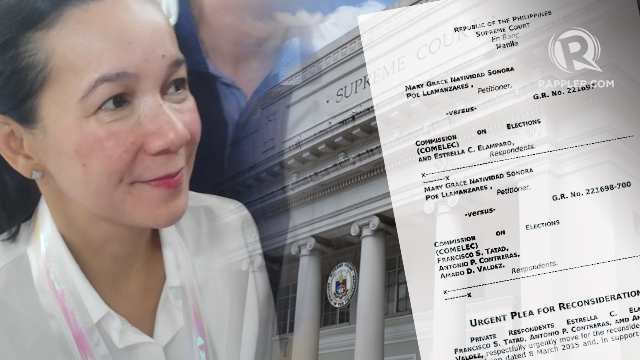 MANILA, Philippines – After their defeat at the Supreme Court (SC), accusers of presidential candidate Grace Poe appealed to the High Court to reconsider its decision declaring her qualified to run for the 2016 elections.
In their 48-page joint motion for reconsideration filed Friday, March 18, lawyer Estrella Elamparo, former senator Francisco Tatad, De La Salle University professor Antonio Contreras, and former University of the East Law dean Amado Valdez called the SC decision "a 47-page perversion of the Constitution."
"If not reconsidered and she is elected without any successful election contest afterwards, the decision will be the proximate cause of catapulting to power a candidate who does not comply with two of the most basic and important qualifications for the presidency: natural born Filipino citizenship and ten-year residency," the private respondents' prefatory statement read.
They urged the Court to "take a second hard look at the undisputed facts" or else the votes of "millions of Filipinos" who support Poe "will be nullified and wasted." (READ: SC justices explain votes on Grace Poe case)
"Indeed, petitioners' supporters have been gloating, saying that a motion for reconsideration will be futile because it is unlikely for the Honorable Court to ever change its mind," the respondents said in their motion.
"But private respondents believe in the power of hindsight and how it can change perspectives. They trust that the Honorable Court will evaluate this motion with an open mind, for the sake of the country."
Two months before the May polls, the SC on March 8 voted 9-6 to reverse the decision of the Commission on Elections to cancel Poe's certificate of candidacy. (READ: FULL TEXT: SC main decision on Grace Poe case)
In its landmark decision, the Court said Poe is a natural-born Filipino and has met the 10-year residency requirement for presidential candidates.
Urgent Plea for Reconsideration
– Rappler.com