'Nice try,' says the Duterte camp, which dismisses the allegation as an act of desperation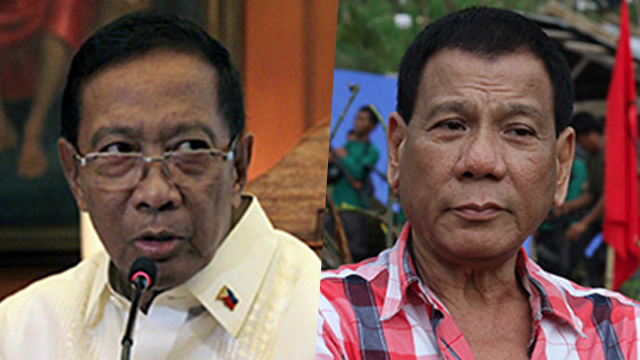 MANILA, Philippines – For the second day in a row, the camp of Vice President Jejomar Binay continued its attack on other presidential candidates, this time slamming Davao City Mayor Rodrigo Duterte for allegedly failing to keep his city government graft-free.
"If he really were tough on crime and corruption as he projects himself to be, why were there anomalies committed under his watch?" United Nationalist Alliance (UNA) spokesperson Mon Ilagan asked in a statement on Friday, March 18.
Ilagan was referring to the alleged misuse of the city's Special Education Fund (SEF) amounting to about P46 million, cited in a Commission on Audit report.
Republic Act No 5447 says the SEF should only be used for the following: improving school facilities, printing and acquiring books and other school materials, paying salaries of public school teachers, granting scholarships, and promoting physical education.
However, COA revealed in its 2014 annual audit report that Davao public schools spent P46 million on items and activities not provided by the law.
These include plane fares of coaches and students, fuel for various vehicles, insurance premiums for vehicles, accident insurance for coaches and students, grocery items, medical supplies, and payment for electricity, water, and telephone bills.
State auditors said the amount could have been used to construct and repair public school buildings in Davao instead.
Technical malversation? 'Nice try'

"If the funds were misappropriated even though the money supposedly didn't go to his pocket, as chief executive of Davao City, isn't the mayor still liable for technical malversation?" asked Ilagan.
"For someone promising to clean up the entire country within 6 months, why can't he ensure the proper use of funds in his city?" he added.
Duterte's spokesman Peter Laviña, dismissed the "rehashed" allegation as an act of desperation.
"We see UNA desperately trying to muddle and confuse the public as it evades the allegations of corruption hounding VP Binay right now….But, really, nice try," Laviña said in a statement.
The day before, Ilagan slammed Liberal Party standard-bearer Manuel "Mar" Roxas II over the P7 billion unliquidated transfers of the Department of Interior and Local Government when Roxas was DILG chief.
Roxas' spokesperson Barry Gutierrez said the funds are still being used for ongoing projects, so the liquidation process cannot be completed yet.
UNA's attacks against Roxas and Duterte came a few days after the Vice President Philippine Daily Inquirer ran stories about the alleged money laundering of Binay, the only presidential candidate facing multiple corruption allegations. (READ: Binay camp to Inquirer: 'See you in court, again')
A report by the Anti-Money Laundering Council (AMLC) alleged that the UNA standard-bearer sourced his vice presidential campaign funds in 2010 from several city infrastructure projects in Makati, where Binay was mayor for 21 years. (READ: Did Binay 'fronts' keep 2010 campaign funds?)
The same AMLC report alleged that a law firm associated with the Vice President deposited P100 million to a Hong Kong-based company through remittance agency Philrem Service Corporation.
Philrem is linked to the biggest money laundering case recorded in Philippine history – $81 million stolen from Bangladesh Bank found its way into the Philippines' banking system and ended in its casinos, which are not covered by the Anti-Money Laundering Act.
Members of Binay's camp have since challenged other presidential bets to allow the AMLC to scrutinize bank accounts owned by them, their relatives, and close associates.
The top 4 presidential candidates are gearing up for a tight race, based on voter preference surveys. The current leader is Senator Grace Poe, closely followed by Duterte, with Roxas and Binay not far behind. – Rappler.com