This is AI generated summarization, which may have errors. For context, always refer to the full article.
(UPDATED) Who were the most talked about candidates online? Check out the social media highlights of the second leg of #PiliPinasDebates2016!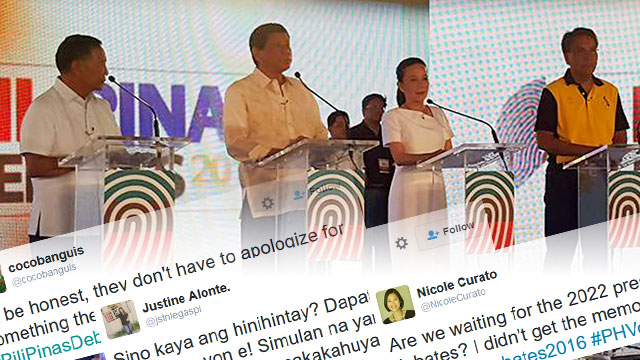 MANILA, Philippines (UPDATED) – The second leg of the Commission on Elections (Comelec)-sanctioned presidential debates, organized by TV5, The Philippine Star, and the Kapisanan ng mga Brodkaster ng Pilipinas, trended even before it began.
The event, which was held in Cebu City, saw only 4 out 5 presidential candidates presenting their platforms and stands on issues.
Initially, #PiliPinasDebates2016 already trended in the Philippines as netizens tweeted their expectations and predictions.

Best debater not always same as best candidate. But good debating means clear thinking, a quick wit, and a dedication to knowledge. #Phvote

— Leloy Claudio (@leloyclaudio) March 20, 2016
I'm so excited for this.. I hope this debate will help me to decide. #PiliPinasDebates2016

— JhayQuito (@quitolheo) March 20, 2016
I hope this debate will be about their programs for the country #PiliPinasDebates2016

— mikee mendoza (@mikee_lee_ling) March 20, 2016
By 6 pm, the hashtag trended worldwide.
The surge in tweets was due to the exasperation that spread all over social media, as the event was delayed by an hour and a half.
The reason for the delay – confusion over the rules. Vice President Jejomar Binay wanted to bring notes to the stage, prompting objections from Liberal Party bet Manuel "Mar" Roxas II, who pointed out that doing so was against Comelec rules. (READ: #PiliPinasDeLate? Delayed Cebu debate stirs confusion on social media)
Social media users expressed annoyance, bashing both TV5 and Binay for the delay. Rappler's mood meter was painted red with "angry" votes and Binay became the most mentioned candidate at that time, according to Twitter's Share of Voice. 

Who did people talk about on Facebook?
According to Rappler's Online Pulse, Davao City Mayor Rodrigo Duterte once again proved his dominance on social media as he was consistently the most talked about candidate during the debate, leading by a huge margin.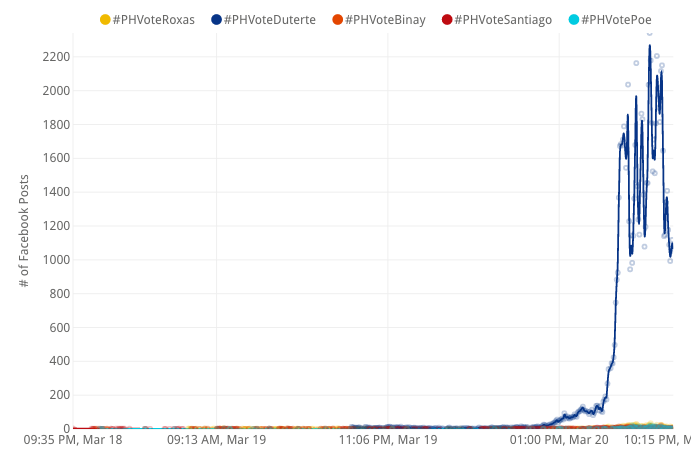 The popular Davao city mayor also swept all of Rappler's 4 online polls for the Cebu debate – a repeat of his ranking in the previous polls for the Cagayan de Oro debate.
Who did people talk about on Twitter?
Conversations on Twitter were more dynamic.
Twitter's Share of Voice gives a visualization of the most talked about candidates on Twitter, based on the number of times they were mentioned in tweets.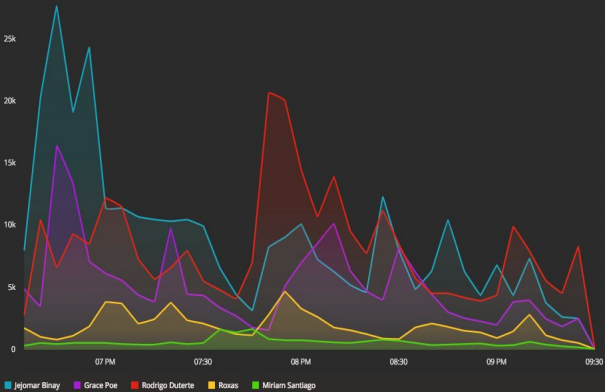 Binay led at 34% from February 22, 12 am, to March 20, 12 am. He was followed by Duterte at 33%, Roxas at 16%, Senator Grace Poe at 16%, and Senator Miriam Defensor Santiago at 10%.
However, the figures changed as soon as the debate started.
By 6:30 pm, tweets about Binay surged to 50%, followed by Duterte at 26%. This was right after netizens complained about the delay. Poe had a lot to work on at 1%, falling behind Santiago.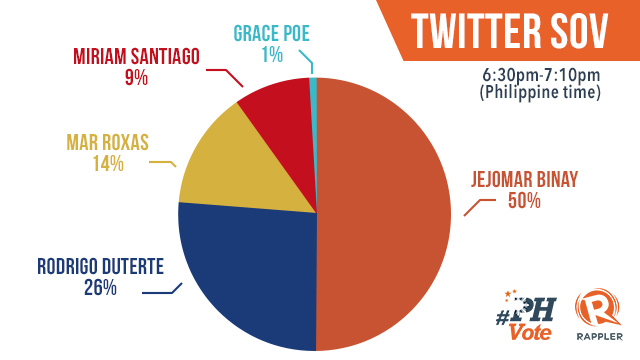 While Santiago had to skip the debate due to a clinical trial for an anti-cancer pill, her staff tweeted responses to the debate questions through her Twitter account. 
Past 7 pm, Binay was still the most talked about at 46%, but Duterte was slowly catching up. Poe overtook Santiago, trailing behind Roxas by a mere 4%.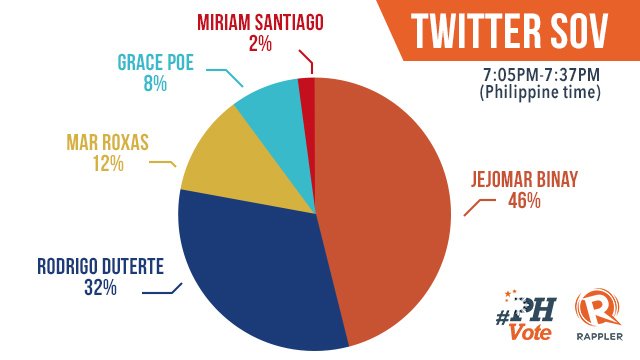 By 8 pm, Duterte overtook Binay and led at 45%. Poe also doubled her numbers, rising from 8% to 16%.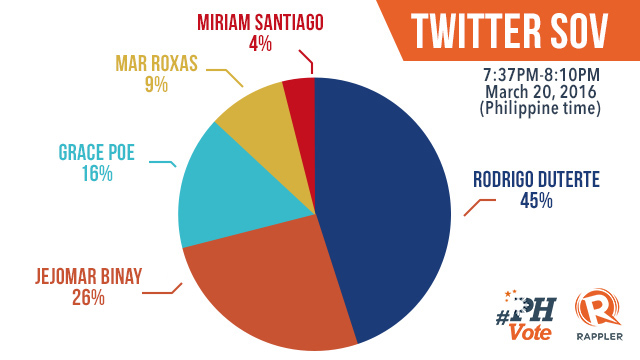 Before the hour ended, however, Binay once again took the lead at 38%, followed by Duterte at 30%. Poe's numbers kept climbing while Roxas' was continuously dropping.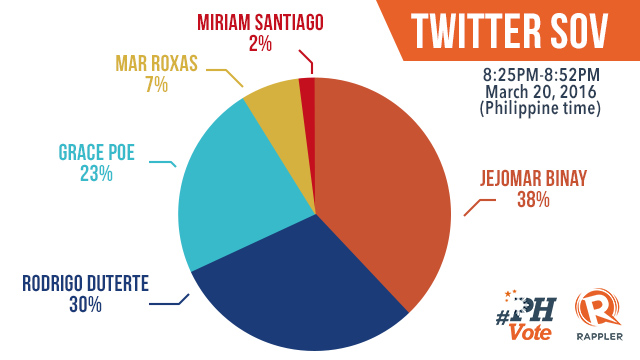 By 9 pm, Duterte had the highest percentage again at 41%, followed by Binay at 31%. Poe, who started at 1% before the debate, finished as the third most talked about at 17%. Roxas, who started at 14%, ended with 9%.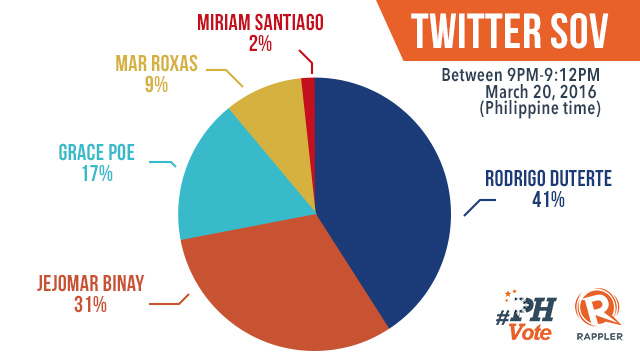 According to Twitter, there were over 1.6 million tweets about the debate posted from 4:30 pm to 9:30 pm. 
The Twitter conversation peaked at over 16,000 tweets per minute around 6:49 pm during the heated exchange between Poe and Binay on the Freedom of Information (FOI) bill.
A few hours after the debate, TV anchor Teddy Locsin also trended on social media after he criticized Poe and Roxas for using "too much Tagalog." Locsin said Filipino is a language that is "so long" and "inappropriate to pointed debate." 
The sagutan between Poe and Mar is lousy because they used too much Tagalog, a language inappropriate to pointed debate, circular shitty.

— Teddy Locsin Jr. (@teddyboylocsin) March 20, 2016
Tagalog should be discouraged. So long, so bullshitty, so useless a tongue for debate.

— Teddy Locsin Jr. (@teddyboylocsin) March 20, 2016
Sentiments
Rappler's Online Pulse also featured real-time visualization which showed the general sentiments of Twitter and Facebook users, powered by Senti. 
According to the data as of 9:30 pm on Sunday, 47.3% of social media posts about the debate are neutral, while 28.3% are negative and 24.4% are positive.
Senti also compiled and analyzed posts about each presidential candidate based on the words that were used – whether negative, positive, or neutral. The analysis covers keywords and terms in English, Filipino, Taglish, and any other variations of the language.
These are the results as of 9:30 pm:
For Binay, 49.6% of the posts were neutral, 27.3% were positive, and 23.1% were negative.
Duterte, like Binay, had mostly neutral posts at 48%, while 26.3% were negative and 25.7% were positive.
Meanwhile, Poe seems to have made a good impression as 52.2% of posts about her were positive, while 37.8% were neutral and only 10% were negative.
Meanwhile, for Roxas, 54.6% of the posts were neutral, 31.6% were negative, and only 13.8% were positive.
Despite being absent, Santiago was still talked about during the debate, with 49.6% of the posts neutral, 31.3% positive, and 19.1% negative.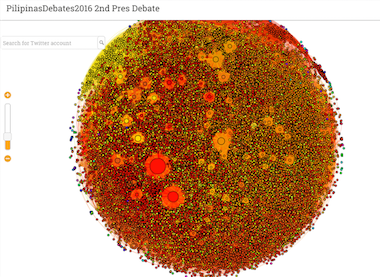 Reach
Rappler's official election hashtag, #PHVote, made 441,723,434 impressions (the times a user is served a tweet in timeline or search results) and generated more than 8,500 tweets during the debate, according to data analytics tool Reach.
Meanwhile, the event's official hashtag, #PiliPinasDebates2016, made 6,103,673,096 impressions on Twitter and generated 1,111,255 posts from 163,331 unique authors.
What are your thoughts on the debate? Who do you think won? Tell us in the comments or write them on X! – Don Kevin Hapal with reports from One Carlo Dia/Rappler.com