(4th UPDATE) Poe loses 2 percentage points from the previous March 1-6 survey, while Duterte gains 1 percentage point. The poll is taken after the SC ruling that overturns the Comelec, which disqualified her as a presidential candidate.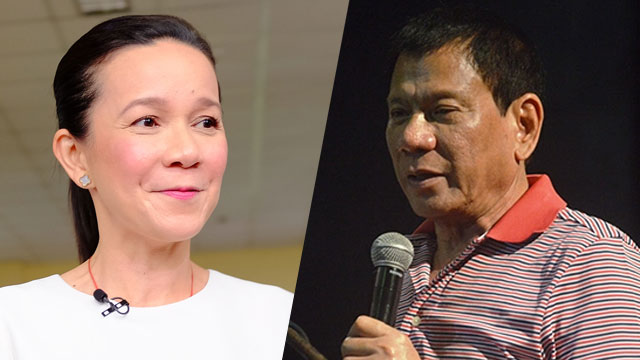 MANILA, Philippines (4th UPDATE) – Davao City Mayor Rodrigo Duterte has inched his way to the top spot with Senator Grace Poe, statistically tied with her in the March 8-13, 2016 Pulse Asia survey.
Poe got a 26% presidential preference rating while Duterte got 25%. Poe's latest rating is 2 percentage points lower than her previous March 1-6 survey, while Duterte gained 1 percentage point.
The survey was conducted at the time when the Supreme Court (SC) had voted 9-6 to overturn the ruling of the Commission on Elections to disqualify Poe as a presidential candidate in the May 2016 polls. It also coincided with allegations of members of the High Tribunal being offered a P50-million bribe for them to disqualify Poe followed by a denial by the SC justices.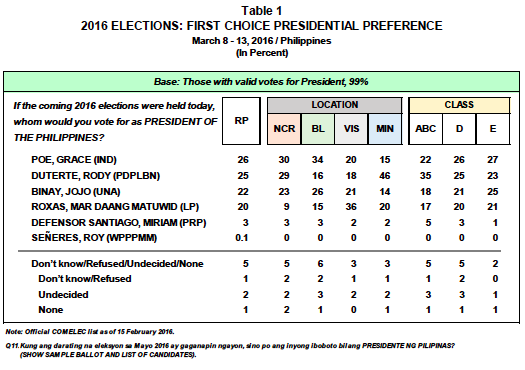 Vice President Jejomar Binay ranked third with 22%, gaining 1 percentage point from the previous survey. Administration standard-bearer Manuel "Mar" Roxas II was 4th with 20%, unchanged from the previous poll. Senator Miriam Defensor Santiago remained constant with 3%.
Commissioned by TV network ABS-CBN, the survey had a sample of 4,000 registered voters, 18 years old and above, with biometrics. It has a ±1.5% error margin at the 95% confidence level. 
Regional preferences
The National Capital Region or Metro Manila favored Poe (30%) and Duterte (29%). Pulse Asia said the results had a 4.6% error margin for NCR. The Balance of Luzon went for Poe who got a 34% preference rating compared to Binay's 26%. Duterte got 16% while Roxas got 15%. Santiago got 3%. The results had a lower error margin of 2.3%.
The Visayas remained the stronghold of Roxas who got 36%. He dipped by a slight 1 percentage point compared to the previous survey. Binay (21%) and Poe (20%) came in second, with the Vice President gaining 6 percentage points from his previous rating. Duterte dropped by 3 percentage points to hit 18%. Santiago, who hails from Iloilo, got 3%. The Visayas registered a 3.4% error margin.
Mindanao remained loyal to Duterte who got 46%, followed by Roxas who obtained a distant 20% preference rating. Roxas, however, gained 5 percentage points compared to the previous survey in the region. Poe ranked third with 15% compared to Binay's 14%. Santiago got 2%. Pulse Asia said Mindanao results had a 3.3% error margin.
Economic class
Duterte made headway among those in class ABC, obtaining a 35% preference rating, which was 5 percentage points higher than his previous. The same held true for Poe, who ranked second with her 22% (5 percentage points higher than her previous 17%). Binay followed with 18% and Roxas with 17%. Santiago got 5%.
Class D, to which most Filipino voters belong, went for Poe who got 26% and Duterte, who got 25%. Binay (21%) and Roxas (20%) were practically tied. In this round, Binay lost 4 percentage points, Duterted gained 7 percentage points, while Poe gained 3 percentage points. Santiago was a far 3% compared to the other presidential contenders.
Among Class E, Pulse Asia said 4 presidential candidates "enjoy basically the same voter preferences" – Poe (27%), Binay (25%), Duterte (23%), and Roxas (21%). The former interior secretary dropped by 5 percentage points in this survey round among Class E respondents. Poe, Binay, and Duterte picked up his losses.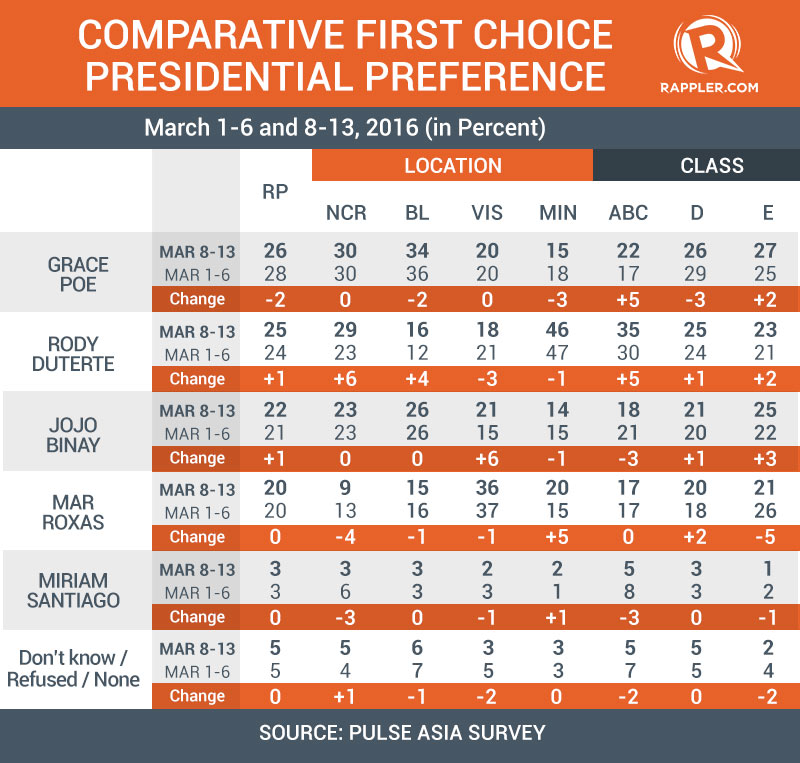 In a statement, Poe thanked Filipino voters for the results. "With about a month and a half remaining in the campaign period, there will be no letup in our efforts to get to the people to explain what Gobyernong May Puso can do for them. We will be steadfast in connecting with the people and earning the highest mandate come May 9."
From Maasin in Leyte, Duterte said of the survey results: "I am just hopeful. There is hope. But elections are too far away."
Duterte's campaign manager outgoing Bohol Mayor Leoncio Evasco Jr of Maribojoc town said in a statement, "Persistence and hard work will be key to victory." He added, "We are where we are comfortable right now. We expect to gain more points as we move towards the second half of the campaign."
Rico Quicho from the Binay camp said the presidential race "continues to be tight." He added, "Hindi natitinag ang matibay na suporta at pagtitiwala ng mga core groups at supporters ni Vice President at lalo pang magpupursigi ang mga ito upang palakasin ang kandidatura ni Vice President." (The core groups and supporters of the Vice President remain steadfast and firm in their support and trust, and they will try harder to strengthen the candidacy of the Vice President.)
Second choice
In this survey, Poe emerged as the leading alternative presidential candidate of those with an original candidate different from her. In lone second place was Binay with 19%. Roxas (14%) and Duterte (13%) shared the third spot. Santiago got a single-digit second-choice voter preference of 7%.
Almost two in 10 registered voters with a first choice for president were not inclined to name an alternative candidate for the post.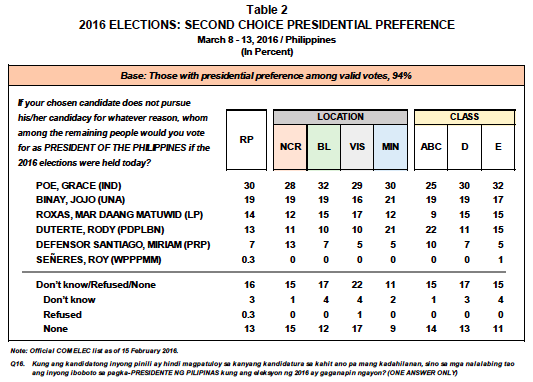 Across the regions, from Metro Manila to Mindanao, Poe had the highest second-choice voter preference rating. She was also the leading alternative bet for Class D (30%) and Class E (32%).
Class ABC preferred Poe, Duterte, and Binay (25%, 22%, 19%, respectively) as alternative candidates. Roxas was the least preferred, getting only 9%, even lower than Santiago's 10%.
Should Poe not pursue her presidential bid on May 9, about the same percentage of voters would shift to either Binay (27%) or Roxas (25%).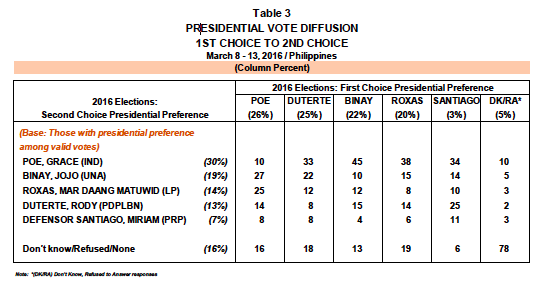 Among those who said their top choice for president was Duterte, Santiago, Roxas, and Binay, Poe still emerged as the top alternative presidential candidate, the survey results showed. – Rappler.com