This is AI generated summarization, which may have errors. For context, always refer to the full article.
(UPDATED) The High Court affirms its earlier decision which says the presidential bet is a natural-born Filipino and has met the 10-year residency requirement. Poe's camp welcomes it.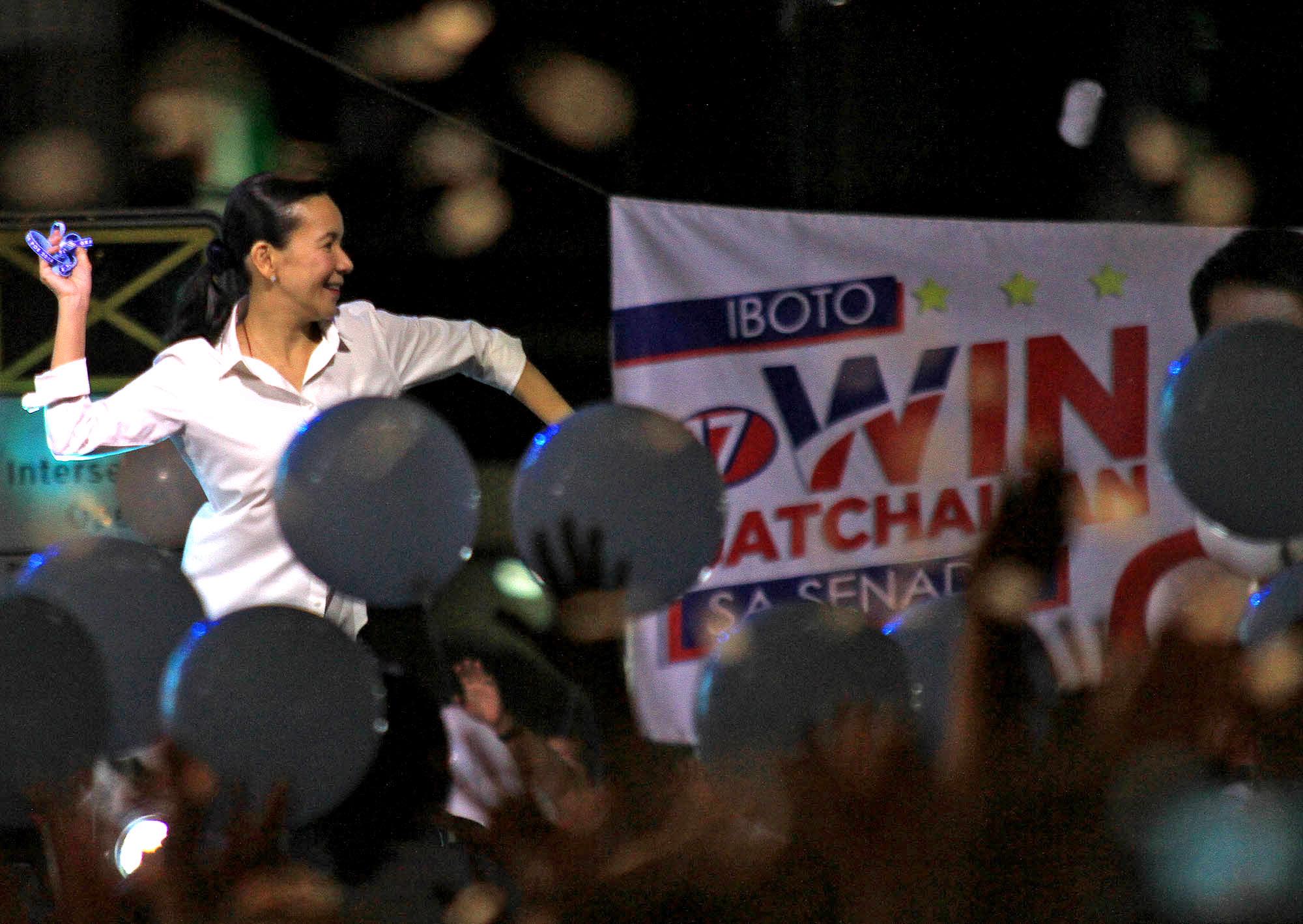 MANILA, Philippines – (UPDATED) The Supreme Court (SC) on Tuesday, April 5, upheld its decision allowing presidential bet Grace Poe to run in the May 2016 polls. 
The resolution released Saturday, April 9, read: "The Court resolved, by the same vote of 9-6, to deny with finality the…motions for reconsideration as the basic issues raised therein have been passed upon by this Court and no substantial arguments were presented to warrant the reversal of the questioned decision."
No further pleadings or motions will be entertained, the SC said in the resolution. 
The camp of Poe welcomed the SC resolution. In a statement, Poe's spokesman Rex Gatchalian said, "This development will pave the way for our electorate to be able to choose the next President from a complete list of candidates. This ruling also enshrines the principle that indeed our laws were crafted to protect all especially those who are marginalized. Sen. Poe will continue to advocate for inclusive growth."
He added, "In Gobyernong may Puso, nobody will be left behind. She will champion solutions that will once and for all defeat poverty and unemployment, the root causes of our other social ills such as drugs and criminality. It's time to move our people out of poverty and Sen. Poe will be in the forefront of this battle."
Chief Justice Maria Lourdes Sereno, in her concurring opinion also released Saturday, cited internal rules of the Court to explain that the denial of a motion for reconsideration may be made by minute resolution in "the absence of a compelling or cogent reason to grant the motion, or the failure to raise any substantial argument to support such motion."
But what took the SC 4 days to release such a short decision?
"Due to the strong feelings expressed by some of our dissenting colleagues, the Court decided to delay the release of the resolution dismissing with finality the motions for reconsideration and to await the submission of their dissents," Sereno said. 
She added: "Some of them may believe that a minute resolution will not do justice to the motions, but that is their view, and that view remains a dissenting view."
The High Court earlier ruled that the Commission on Elections (Comelec) abused its discretion when it cancelled Poe's certificate of candidacy.
The poll body, acting on separate cases filed by 4 complainants, had ruled that Poe committed material misrepresentation when she declared herself a natural-born Filipino citizen and had met the 10-year residency requirement for presidential candidates.
Poe questioned the Comelec decision before the SC.
Challenges
Poe, who was found as an infant in a church in Jaro Cathedral in Iloilo, became a United States citizen in 2001. In 2006, she reacquired her Philippine citizenship via Republic Act 9225 or the Citizenship Retention and Reacquisition Act. (READ: TIMELINE: Grace Poe's citizenship, residency)
In 2010, a day before she took oath as chairperson of the Movie and Television Review and Classification Board (MTRCB), she renounced her US citizenship before a notary public in Pasig City.
Earlier, the 4 private respondents to Poe's SC case – lawyer Estrella Elamparo, former law school dean Amado Valdez, former senator Francisco "Kit" Tatad, and political science professor Antonio Contreras – appealed the SC ruling and called it a "perversion of the Constitution."
They maintained that Poe is not eligible to run for president and urged the court to "take a second hard look at the undisputed facts" or else the votes of "millions of Filipinos" who support Poe "will be nullified and wasted."
The Comelec, which earlier cancelled Poe's certificate of candidacy, also filed their motion for reconsideration.
Elections Commissioner Arthur Lim earlier stressed that the SC remains divided on Poe's citizenship.
He cited SC rules stating "that if the Supreme Court en banc is equally divided in opinion, or the necessary majority vote cannot be had, the court shall deliberate on it anew."
Lim said only 7 SC justices – not a majority vote – voted that Poe is presumptively natural born.
In an explainer for Rappler, election lawyer Emil Marañon said of the High Court decision in March: "The findings on qualifications in a deny due course proceeding, while they carry some weight, are not conclusive in the strict sense of the law. They do not even constitute res judicata or a bar to a later action for quo warranto before the Presidential Electoral Tribunal." (READ: EXPLAINER: Did the SC really say Grace Poe is qualified?) – with a report from Jee Y. Geronimo/Rappler.com