To Leni Robredo's demand that the Marcos family return their ill-gotten wealth, Marcos responds: 'I cannot give what I do not have'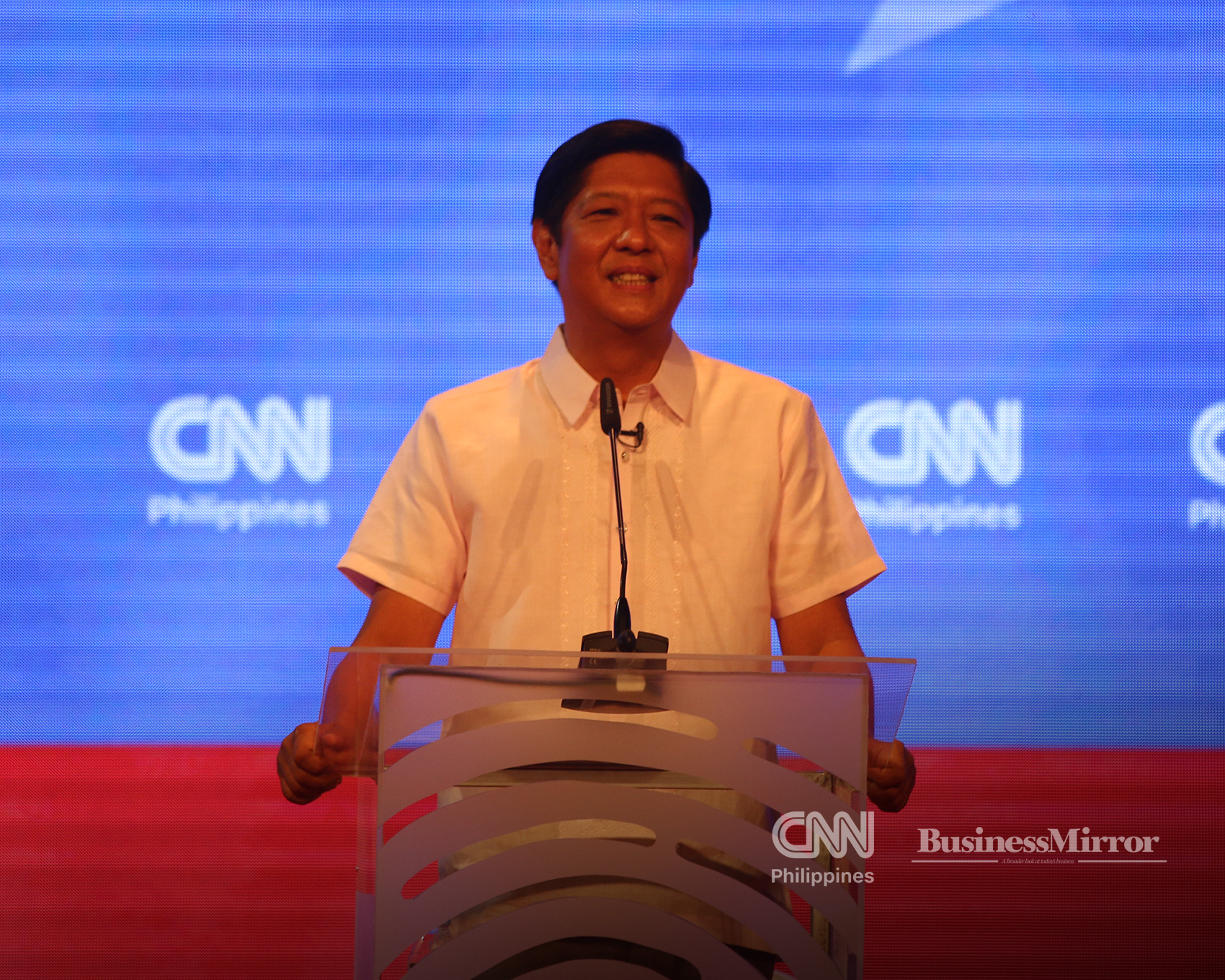 MANILA, Philippines – All eyes were on Senator Ferdinand Marcos Jr when he was asked during the vice presidential debate if he acknowledges the human rights abuses during his father's regime and is willing to apologize for them.
"I will apologize for any wrongdoing I may have done, that I may have caused. I can apologize for myself, not for anyone else," said Marcos, the son of former President Ferdinand Marcos, whose rule was marred by human rights abuses. 
It was the first time the senator came close to an apology for human rights abuses. Before this response, he said, "I certainly acknowledge every human rights abuse in every administration. I think it is necessary that we do so or else we are to repeat the mistakes and abuses of the past."
It was far from an apology for the suffering of human rights victims during his father's dictatorship.
Liberal Party vice presidential candidate Leni Robredo said she would let him go on the apology issue, but insisted the Marcos family return the ill-gotten wealth that is supposedly with them.
"'Yung apology, voluntarily given 'yan. Hindi p'wedeng ipilit sa kanya. Pero 'yung sa akin, 'yung recognition ng maraming kamalian in the past, kasali doon 'yung hidden wealth na hanggang ngayon hindi pa natin nakukuha at 'yun ay nakaw 'yun sa taong bayan," she said.
(An apology is voluntarily given. We cannot force it from him. But for me, the recognition that there were many wrongdongs in the past, part of that is the hidden wealth which up to now we have not gotten back and that is money stolen from the people.)
'Can't give what I don't have'
Marcos responded by denying possession of these billions of pesos: "I cannot give what I do not have."
He added that no court has issued any order for him to give back any money to the government.
"Maliwanag na hindi kami lumalabag sa order ng kahit anong court," he said. (It's clear that we have not gone against any court order.)
The subtly feisty Robredo refuted him by saying two courts, one in the United States and one in Singapore, have in fact ordered the return of the Marcos wealth. Until now, none of these orders have been fully complied with, she asserted.
Marcos had a comeback ready, this time to deflect the blame to the ruling Liberal Party, to which Robredo belongs. 
"Ang humahadlang diyan, ang may kaso diyan, ay mga human rights claimants at ang gobyerno na pinamumunuan ng Liberal Party," he said. 
(The one blocking that, the one with cases, are the human rights claimants and the government ruled by the Liberal Party.)
Robredo began her response with a smile and a gentle, "Hindi po 'yan totoo (That's not true)."
She said the government wants to pay human rights victims but the refusal of the Marcos family to give back the stolen wealth remains the obstacle.
"Kakaunti pa nga lang ang naco-cover ng judgement ng court. Ang dami pa po nilang natatagong yaman," she said. (The judgement of the court covers such a small portion. They have so much hidden wealth.) – Rappler.com