Senator Ferdinand Marcos Jr recalls Rodrigo Duterte's 'promise' to relinquish the presidency to him if he fails in his anti-crime campaign vow, triggering a heated exchange with Senator Alan Peter Cayetano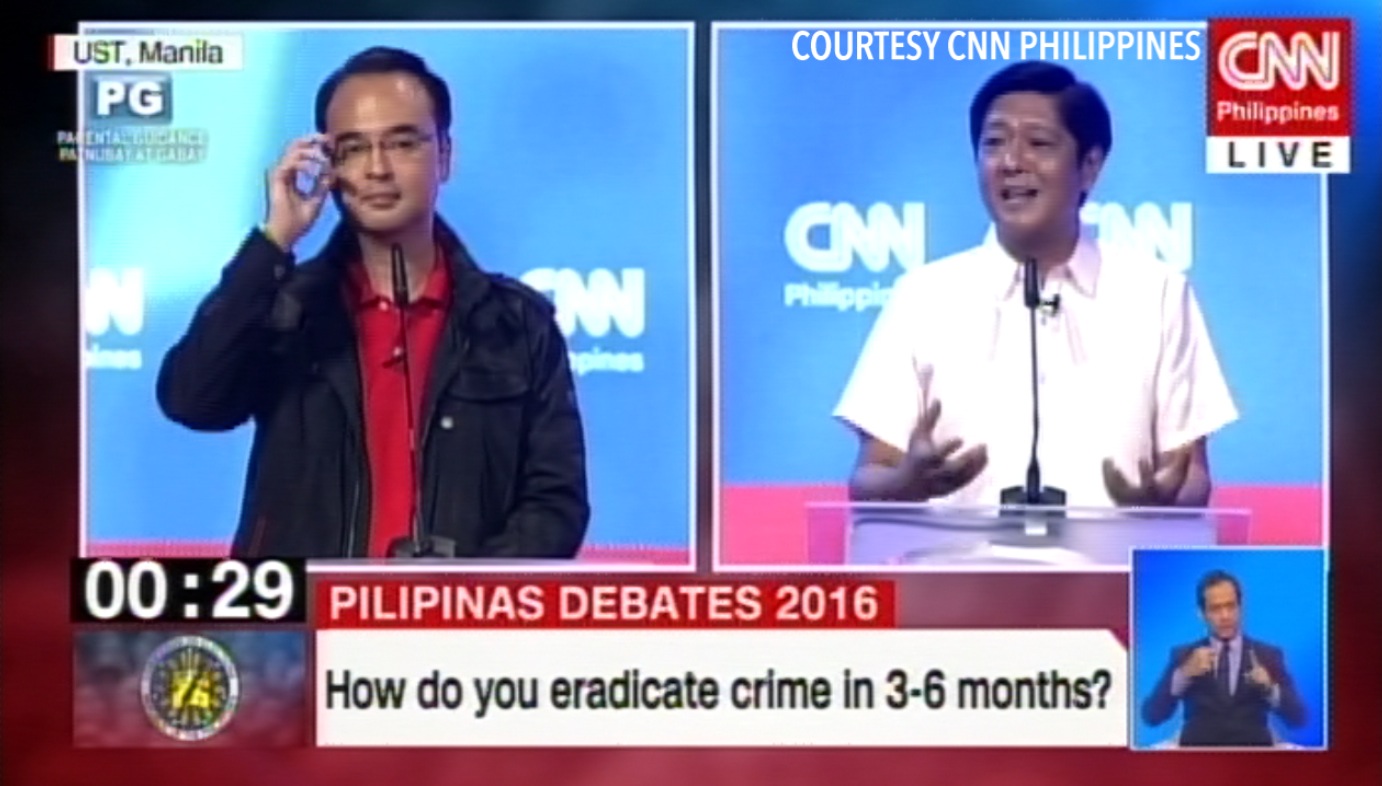 MANILA, Philippines – Vice presidential candidates Alan Peter Cayetano and Ferdinand "Bongbong" Marcos Jr fought over presidential candidate Rodrigo Duterte during the Pilipinas 2016 debate on Sunday, April 10.
The heated exchange happened as Cayetano defended Duterte's campaign promise to end crime within 3 to 6 months. He reiterated that he and Duterte would resign from their posts if they fail to do this.
In his rebuttal, Marcos, who tried to woo Duterte as his presidential candidate, recalled the pronouncement of the Davao mayor at a campaign sortie in Ilocos Norte: he would pass the presidency to the senator should he fail to end crime in 6 months. (READ: The simmering love triangle of Duterte, Cayetano, Marcos) 
Cayetano quickly dismissed Duterte's statement as merely said in jest, and said that the presidential candidate was "forced" to make that remark since he was talking to local leaders of Ilocos Norte, Marcos' baliwick.
Cayetano tried to establish that he and Duterte have a strong partnership. "Ang sinabi po nya, 'Pag di mo iboboto si Alan, 'wag mo ko iboboto (If you won't vote for Alan, don't vote for me).'"
He then criticized Marcos who, he said, has been paired off with various presidential candidates by local executives endorsing him.
"Ako po, kahit 'di niya iboto, 100% para kay Duterte. Si Bongbong, 'pag nasa Cavite, Bongbong-Binay. Pag nasa Mindanao, Duterte-Bongbong. 'Yan po ang klase ng pamumulitika niya." (READ: Bongbong Marcos writes birthday poem for Rodrigo Duterte) 
(Even if Duterte won't vote for me, I am 100% for him. But Bongbong Marcos, when he is in Cavite, it is Bongbong-Binay. When in Mindnao, Duterte-Bongbong. That's is his brand of politicking.) 
Marcos is running with Senator Miriam Defensor Santiago but he has earlier said that he can work with all the presidential candidates should he win as vice president.
Marcos had said that he is friends with both Duterte and Vice President Jejomar Binay, and that his wife, Lisa Araneta Marcos, is Manuel Roxas II's cousin. He also said in jest that Grace Poe is his "sister." – Rappler.com