This is AI generated summarization, which may have errors. For context, always refer to the full article.
'Its actuations can easily be misinterpreted as participating in the partisan voices of those who are supporting a different candidate for the elections,' Justice Leonen says of the Comelec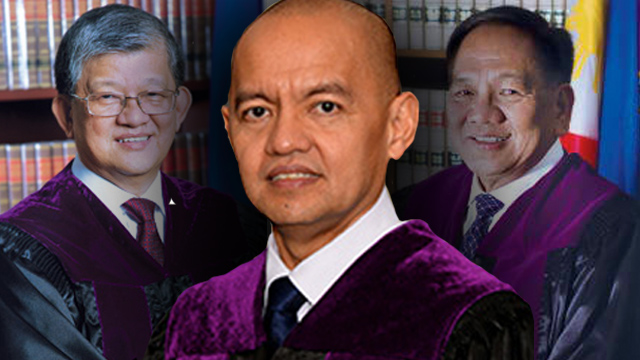 MANILA, Philippines – The Commission on Elections (Comelec) in its motion for reconsideration filed before the Supreme Court (SC) in March said "chaos or anarchy will not be far behind" if Grace Poe is allowed to run despite what dissenters claimed to be an absence of a majority vote on her citizenship.
Justice Marvic Leonen said Comelec's prediction of chaos and anarchy "is to caricature and simplify the extended opinions expressed by the justices of this court who did not agree with the Commission."
"Worse, the evil that the Constitution sought to avoid by not endowing it with unbridled power to determine the qualification of a candidate has come to pass," Leonen said in his 9-page concurring opinion released Saturday, April 9.
"It is not unreasonable to fear that the Commission is now partial against a candidate for the elections for president. Its actuations can easily be misinterpreted as participating in the partisan voices of those who are supporting a different candidate for the elections."
It has been a week since the High Court ruled with finality on Poe's case, allowing the senator to run for the presidency in the May polls. The vote was still 9-6 in favor of her.
In his opinion, Leonen said it is dangerous to reduce the complex opinion of the Court.
"I reject the premise that propaganda is necessary to shape meaningful social consciousness in a democracy. With every bone in my body, I refuse to accept that our people should forever be malleable through the maintenance of a political economy of ignorance," he said.
"Yet it is during elections that those who are part of our 'invisible government' thrive. They attempt to shape opinion by giving incomplete information. Press releases may be characterized by partisan simplification of complex issues of citizenship and residence. Public relations are enhanced when they color speculative outcomes with strident voices or hysteria about a future with 'chaos and anarchy'."
He said it is during this season that the public is "treated as a passive subject, vulnerable only to dominant sources of media and information."
"The prize is not a strong and informed sovereign people; rather, it is the statistics of powerful pollsters prior to elections."
Leonen emphasized the importance of diligence, patience, and an open mind when reading through "more than 600 pages of opinion" from the justices.
"In deciding these consolidated petitions, we have endeavored to be transparent and legible because we were all aware of the possible repercussions of our decision….Each of us can come to our own decision based on our own premises and in light of our own consciences and reason," he explained.
"That the conclusion is not what one expects should not be the sole basis to conclude that the contrary opinion is unreasonable, illogical, or brought about by some malevolent motive." (READ: Sereno to dissenters on Poe: 'We are 7, you are 5')
'Premature' to rule on Poe's qualifications
Justices Diosdado Peralta and Jose Mendoza also issued their separate concurring opinions on Saturday. This is the first time the two justices are writing about the case. (READ: SC justices explain votes on Grace Poe case)
Peralta said Comelec and private respondents Estrella Elamparo, Amado Valdez, Francisco "Kit" Tatad, and Antonio Contreras merely reiterated in their motions for reconsideration the same issues already raised and discussed before the SC.
While he is part of the majority who ruled in favor of Poe, Peralta said the SC should have limited itself to determining whether Comelec committed grave abuse of discretion, "and nothing more".
But the main decision of the SC released in March said there is more than sufficient evidence that Poe has Filipino parents and is therefore a natural-born Filipino.
It also ruled that Poe is correct in claiming in her certificate of candidacy (COC) that she would have been a resident of the Philippines for 10 years and 11 months on the day before the 2016 elections.
Peralta, however, agreed with Justice Benjamin Caguioa that a "more thorough discussion of and ruling on Poe's qualifications specifically as to her natural-born citizenship, as well as her 10-year residency, are premature."
For him, the SC should rule on Poe's qualifications only after she is proclaimed winner of the elections, and through a petition filed before the Presidential Electoral Tribunal (PET). (READ: Dissenters on Poe case: Why can't Comelec rule on her qualifications?)
Mendoza, on the other hand, expressed his reservation about Poe's residency. He believes the SC should not make a definitive ruling on the issue yet, since it should be tackled and resolved also by the PET, "the sole judge of all contests relating to the election, returns, and qualifications of the president-elect in appropriate cases."
Comelec's grave abuse of discretion
In his opinion, Peralta reiterated the SC ruling that the Comelec committed grave abuse of discretion amounting to lack or excess of jurisdiction.
"Indeed the fact that the Comelec clearly overlooked facts which tend to prove that Poe did not deceive or mislead the electorate in filling up her COC or that the Comelec overstepped its bounds by ruling on Poe's qualifications as a candidate for president is patent not only in the records, but in the assailed resolutions of the Comelec itself, which clearly support the Court's finding of grave abuse of discretion on the Comelec's part and the reversal of the latter's rulings."
Mendoza is also part of the majority who voted to grant the petitions for certiorari filed by Poe, but he nevertheless sided with Justice Estela Perlas-Bernabe in proposing the abandonment of the doctrine that a candidate's COC "becomes material only when there is or appears to be a deliberate attempt to mislead, misinform, or hide a fact which would otherwise render a candidate ineligibile."
Bernabe voted against Poe, along with 5 other SC justices.
For Mendoza, a candidate's material misrepresentation in his or her COC should be determined by fact or law, and not measured by a claim of good faith.
"Otherwise, the Comelec would become impotent in petitions under Section 78 because a questioned candidate can effortlessly evade scrutiny by simply invoking his good faith," he said, proposing the abandonment of this doctrine be prospective in application.
Read the concurring opinions of the 3 justices below.
– Rappler.com