In the remaining days of the campaign period, Sara Duterte says, 'We [need to find] the undecided and convert them. And those on the other side, to convert them to join us.'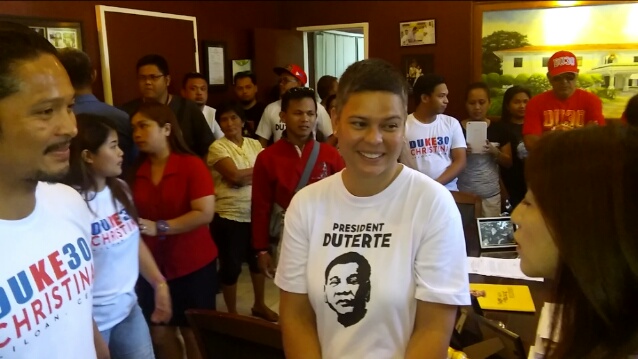 CEBU, Philippines – Sara Duterte reacted to statements by Jejomar Binay that despite survey rankings, the presidential race was between himself and Liberal Party standard-bearer Manuel "Mar" Roxas II due to a "strong machinery."
"Maybe they did not consider the machinery that can be generated by volunteerism – the people behind the machinery," the Davao mayoral candidate told Rappler in an interview. 
Sara said they did not expect him to lead in the survey, but nevertheless attributed the rise in rankings to volunteerism. "Hopefully he can maintain until election day. The volunteers are the reason why we are going around, to thank them personally," she said in Cebuano.
Binay said on April 12, that he had been building his machinery since 2010, while Poe and Duterte had begun to organize only recently: "Kasi kayo na mga kasama ko sa pag-iikot, nakikita naman ninyo na kaming dalawa lang ni Mar Roxas ang may organisasyon (You reporters who join me as I go around the country, you can see that only Mar Roxas and I have the organization)," said Binay. (READ: Binay: Still a 2-way race between me and Roxas)
According to Cebu volunteer for Duterte and entrepreneur April Rama, there are groups throughout the province that would offer to print T-shirts and even posters on used rice sacks. 
Volunteers also spend their own money to host local events and gather their own funds for transportation to Duterte's rallies in Cebu. "As far as I know, the groups that are volunteering are not receiving money from the Duterte campaign for their efforts," she said. Volunteers also operate almost the same way in other provinces. 
On the campaign day itself, the Duterte camp is looking to recruit 92,000 volunteers. According to a report on Inquirer.net, Duterte called on volunteer poll watchers for his campaign to bring their own food on election day. 
"Please bring your own food because I don't have the money," he said. 
On April 12, Duterte topped another survey. The ABS-CBN poll conducted by Pulse Asia Research Inc showed the Davao mayor at the top of the survey with 30%, followed by Poe with 25%, Binay with 20%, and Roxas with 19%.
After Duterte topped the latest surveys, the other presidential contenders were visibly on attack mode and released statements attacking him or issuing strong statements on how they would combat crime differently from the Davao mayor. 
But despite the more aggressive attacks from them, Sara said she isn't worried. "The good thing about him is that from the start he did not deny any issue thrown against him," she said. "Kung anuman attacks nila sa kanya (whatever attack against him), it's nothing new." 
She added, "Sa tagal na nang campaign (Considering how long the campaign has been), people have already decided to vote for him," she added.
Sara is running for Davao mayor unopposed, so she is focusing all of her efforts on campaigning across the country for her father. "We want to contribute to gaining more votes, although we don't have a system to measure that," she said. 

She explained their strategy in the last days left of the campaign: "We [need to find] the undecided and convert them. And those on the other side, to convert them to join us." – Rappler.com