What's the campaign trail like for Robredo? What are her hopes and fears on the eve of a tight race? Watch the interview here!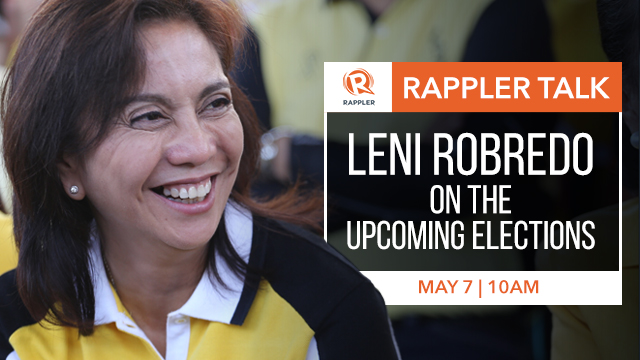 MANILA, Philippines – Rappler talked to vice presidential candidate Leni Robredo on Saturday, May 7, at 10 am about the elections on Monday, May 9, and the lessons she's learned from a bruising campaign. 
Robredo started with dismal numbers but now shares the lead in pre-election polls with closest rival Senator Ferdinand "Bongbong" Marcos Jr. 
The only woman in the vice presidential race was once reluctant to run but accepted the challenge in October 2015, saying she can't refuse the call to serve.
What's the campaign trail like for Robredo? What are her hopes and fears on the eve of a tight race? Watch the interview here! – Rappler.com