But Duterte has offered him either the posts of Foreign Secretary or Justice Secretary which Cayetano will have to wait a year to assume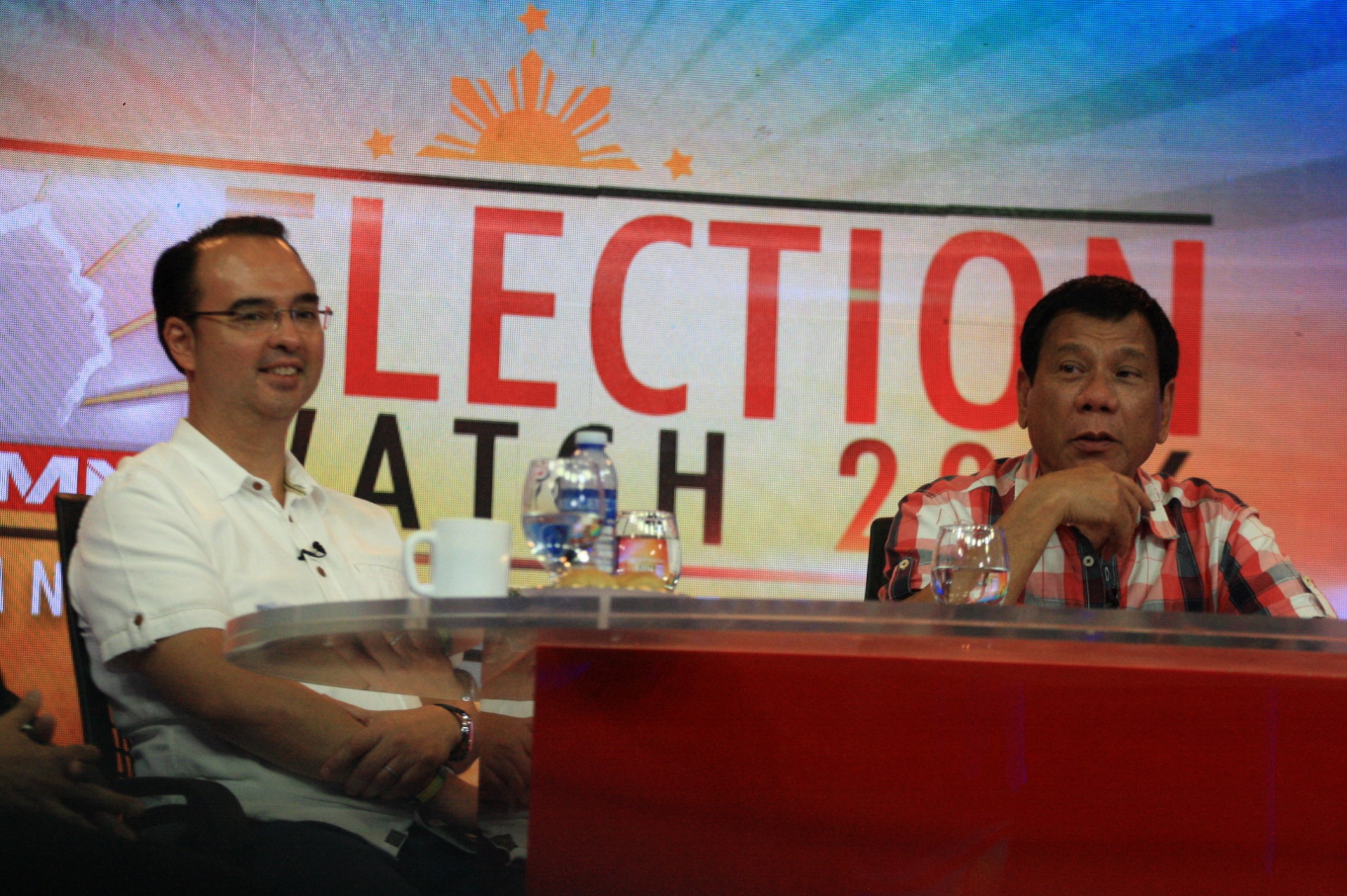 DAVAO CITY, Philippines – Senator Alan Peter Cayetano conceded the vice-presidential race early Tuesday morning, May 10.
"Earlier today, I saw the trend and I congratulate whoever will be number one. That is democracy. We all present ourselves but whoever wins squarely and fairly deserves the support of the electorate," he told reporters in Davao City.
As of 8:21 on May 10, Camarines Sur Representative Leni Robredo and Senator Bongbong Marcos are neck-to-neck. Robredo leads slightly with 13.18 million votes compared to Marcos' 13.08 million votes. Cayetano was a distant 3rd with 5.4 million votes. (LIVE: #PHVote Live Results)
In the presidential race, meanwhile, Cayetano's standard-bearer Rodrigo Duterte has maintained a comfortable lead. 
Duterte has offered the posts of either Foreign Secretary of Justice Secretary to Cayetano but given election rules, Cayetano has to wait a year before assuming one of the positions.
"It's one year away. I told the mayor, 'go ahead and form the cabinet.' Give me certain tasks where I can be of help, definitely in formulating his legislative agenda," he said.
Task for Congress
While saying he could not himself dictate to Congress the priority laws of a possible Duterte presidency, Cayetano said there were some "easier ones" that could be tackled first.
"The easier ones is of course the pay of the law enforcers because that is a simple amendment to the Salary Standardization law but we have to work with the new DBM (Department of Budget and Management) secretary to make sure the money is there," he said.
He also thinks amending the Build Operate Transfer law will help better facilitate Public Private Partnership programs and reduce the timeframe of bidding in order to speed up infrastructure projects.
Duterte has previously said he intends to create more railways, including one in Mindanao; continue building transportation infrastructure in Metro Manila as well as farm-to-market roads in the rural areas.
Cayetano said contractualization could be the subject of the efforts in Congress after lawmakers sit down with business owners and employers.
As for the Freedom of Information bill, which Duterte has said he wants passed, the leading presidential candidate has said he can act on his own towards transparency even while waiting for the bill to pass.
"He has stated that we can do it in action and through an executive order if there is a delay in Congress," said Cayetano.
"I think we can come up with a very powerful, meaningful legislative agenda that will enable him to do his job and of course meet his 3 to 6 month (anti-crime) deadline," said the senator.
So far, out of the senatorial candidates Duterte has endorsed, only Manny Pacquiao and Juan Miguel Zubiri has made it to the "Magic 12" as of writing. In the winning circle, half are from the Liberal Party or allied with it, 3 are independent, and two are from the Nationalist People's Coalition. – Rappler.com