This is AI generated summarization, which may have errors. For context, always refer to the full article.
Up to the very end, Tañada entertained the possibility that he would be included in the slate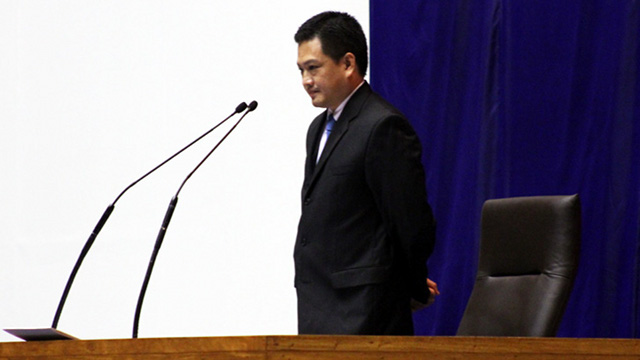 MANILA, Philippines – On his third and last term in the House of Representatives, Quezon Rep Lorenzo "Erin" Tañada III has long been open about his plans to become senator in 2013. At the Liberal Party anniversary celebration in January 2011, party president Manuel Roxas II himself introduced Tañada as a future senator.
Fast forward to Monday, October 1. President Benigno Aquino III announced the administration's senatorial ticket for the 2013 elections at the historic Club Filipino. Tañada didn't make the cut.
In the rainbow coalition among 5 political parties and independent candidates, LP is instead represented by former Sen Ramon "Jun" Magsaysay Jr and newly inducted party members former Sen Maria Consuelo "Jamby" Madrigal and the President's cousin Bam Aquino.
He was conspicuously absent during the announcement. His two phones could not be reached for the next 24 hours. When Rappler finally got to him late Tuesday afternoon, October 2, by phone, he said: "I'm in a reflective mood."
"Of course, I want to be included. But you have to face certain realities," he added.
Winnability, FOI?
Why wouldn't LP give a slot to an original party member who represents what the party advertises itself to be: honest and incorruptible?
Tañada has been with the party since 1993. He remained a driving force of the party when its membership in the House of Representatives dwindled to less than 20 after a bitter split during the administration of President Gloria Macapagal-Arroyo.
The simple, acceptable, but incomplete answer is "winnability." The administration has been vocal about its goal to pack Congress with its allies so it could push for its needed legislation.
Not counting the names of those who eventually decided not to run, all 12 in the administration ticket are within the Top 20 in the September Pulse Asia survey. Tañada's survey ratings are dismal, however, ranking 26-35. It's a long shot to the Magic 12.
But can't LP make a concession to a party member? Rappler interviewed sources who know both Aquino and Tañada to understand the dynamics between the two.
FOI and PNoy's favorites
Tañada has alienated the President, they said, because of his campaign for the Freedom of Information bill (FOI). It's not about the bill itself, Rappler sources explained, but how Tañada has "put the President on the spot" by his statements attacking Malacañang for not supporting the bill.
Tañada was beginning to appear as someone who could not be depended on to support Aquino or LP all the way.
Rappler sources also confirmed speculations about a strongly-worded SMS message that Tañada sent Aquino to express his unrelenting stand to push for FOI despite the administration's double-talk on the measure.
There have been a lot of talk about what happened in the 2010 elections, too. Tañada did not support the reelection bid of LP's Quezon gubernatorial candidate, the late Rafael Nantes. He was the LP's national treasurer when he was killed in a plane crash shortly after he lost the elections.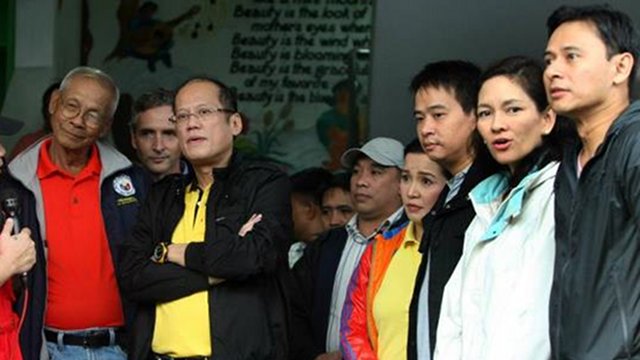 Aquino's lack of support for Tañada's senatorial ambition has been obvious.
The President has been name-dropping possible senatorial candidates as early as the first quarter of 2012. He brought around the country Hontiveros, Angara, Technical Education and Skills Development Authority director-general Joel Villanueva, and Customs chief Rozzano "Ruffy" Biazon — harping on how they could help him push for his reform agenda.
In political parlance, Aquino was giving them his "blessings."
In contrast, Aquino never publicly mentioned Tañada as among the possible administration candidates nor did he bring him around.
Winnability could not have been an issue then because Tañada was rating higher than Villanueva at that point. In short, Aquino did not even make the effort to help Tañada.
Tañada gives way
Fellow LP stalwarts also tried to persuade Tañada to take an Executive position instead, because they were concerned that 2013 isn't the time for him.
In the end, it was Tañada himself who gave way. "Congressman Erin had a chance to talk to the President. [He dropped out of the race] based on his volition. Probably, 2013 is not the time for him. He may be effective in 2016," said LP secretary-general Joseph Emilio Abaya.
Tañada confirmed this to Rappler. On September 17, when President Aquino visited Quezon province to inaugurate government projects there, Tañada "let him [President] go" of the responsibility to include him in the slate.
But despite their talk, Tañada up to the very end entertained the possibility that he could still make it in the slate. The administration ticket was one candidate short after Villanueva and Biazon announced they were dropping out of the race. But President Aquino himsef would woo survey leader Sen Loren Legarda to complete the ticket.
Tañada's independence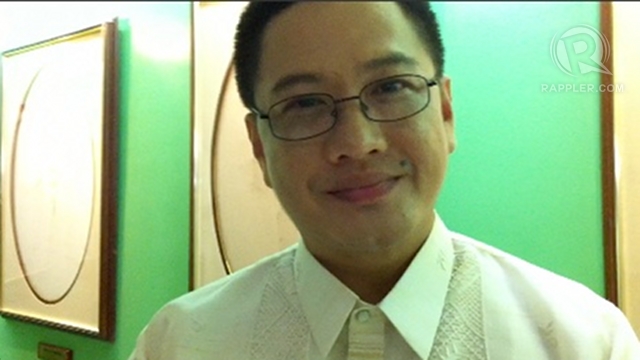 For a politician, Tañada has not played his cards so well.
But does he regret it? Did he think he committed a mistake by being inflexible?
"No," he told Rappler on Tuesday. "It was a battle between between being idealist and practical," he added.
The trait that alienated him from fellow politicians and from his own political party is the same trait that built him a strong following from the civil society sector. He is independent like his father, former Sen Wigberto Tañada, and his grandfather and namesake, the late Sen. Lorenzo Tañada Sr. The late Tañada was called the "Grand Old Man of the Opposition," a much-respected leader of the anti-Marcos movement.
Human rights lawyer Theodore Te wrote on his Facebook page: "Because Erin will not speak, those of us who feel that we deserve much, much better than the Jamby-come-latelys and the Flip-flopping Chiz and all the other members of the administration Senate ticket must. I have not hidden my disappointment at the way that pragmatism and compromise have prevailed over principles and public interest in the way the administration has chosen the members of its ticket."
Bayan Muna Rep Neri Colmenares also said: "It seems that the LP's very limited policy for its slate is that they will include those that can bring in big bucks to the campaign as well as those who will just toe their line," Colmenares said.
Unfortunately, Tañada's causes don't have the same effect on the bulk of the voters.
Despite his 9 years in the House of Representatives and exposure as the spokesperson of the House impeachment team against dismissed Chief Justice Renato Corona, the September Pulse Asia survey showed he had a low awareness rating of 53%. – Rappler.com