The Pulse Asia survey was conducted at the height of efforts to oust Senate President Juan Ponce Enrile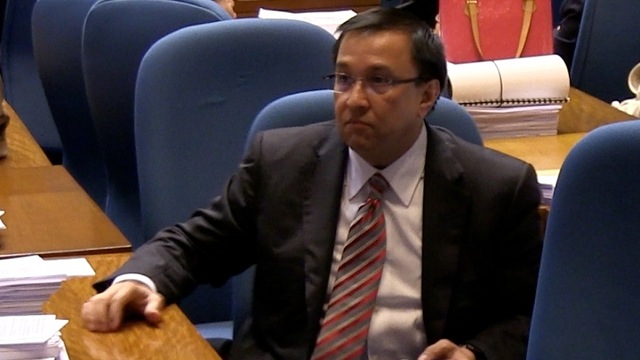 MANILA, Philippines – Senatorial candidate Juan "Jack" Ponce Enrile Jr dropped almost 13 percentage points in the latest Pulse Asia released Friday, February 8.
The survey was conducted at the height of efforts to remove his father and namesake as Senate president.
Pulse Asia conducted the survey from January 19 to 30, covering the time when Enrile Sr offered to vacate the Senate presidency after re-electionist Sen Antonio Trillanes  IV bared an ouster plot. Eleven senators rejected Trillanes' move.
It was also the same time when Senate Minority Leader Alan Peter Cayetano, also Enrile's critic, blasted his "special" treatment toward his chief of staff, Gigi Reyes. (Read: Manong Johnny and Gigi.)
In the Pulse Asia survey, Jack Enrile got a voting preference of 40.4%, a big drop from the November 2012 Pulse survey, where he got a preference of 53.2%.
He, however, remains in the winning circle, ranking 4th to 12th with 4 others.
Among those tied with the younger Enrile is his father's nemesis, Trillanes, who got a voting preference of 41.1%. 
The Senate President is seen to protect his image not only for himself, but for his son Jack, a 54-year-old Cagayan representative and one of the Congress' top absentees. Jack is running under the United Nationalist Alliance, which the elder Enrile leads along with Vice President Jejomar Binay and former President Joseph Estrada.
In an interview with Rappler, Jack Enrile said he wants to follow in his father's footsteps – even if being the older Enrile's son was a burden for him as a child, during the Marcos years. (Watch more in the video below.)
Jack Enrile lists food security and credit card reform as among his advocacies. (Read Rappler's profile: Can Jack Enrile bury the past?)
Trillanes, on the other hand, has often blasted Enrile Jr's father. Speaking to Rappler, Trillanes said: "He has survived all these changes in the administration, and if there is a skill in that, if you want to be a political survivor maybe you can study or read his memoir. But if you're looking for public service in there, I can't say that he is or he was the ideal public servant." (Watch more in the video below.)
Trillanes runs on a platform that covers police and civil service reforms, education, health, and environment. Running on an anti-corruption platform, Trillanes also once plotted to unseat former President Gloria Macapagal-Arroyo. (Read Rappler's profile: Sonny Trillanes goes to war.)
Meanwhile, the Pulse Asia survey also saw Senators Loren Legarda and Chiz Escudero maintaining their lead. Legarda, this time, dislodged Escudero from first place compared to the December 2012 survey. (Read the whole survey below.)
MR1 – PES 2013-1 MR on Senatorial Preferences (Final) by jojocarlom
Other notable trends include the following:
Nancy Binay, daughter of Vice President Jejomar Binay, landed 4th to 9th place in the recent survey. She occupied 8th to 12th place in November 2012.

The son of former President Joseph Estrada, JV Ejercito, jumped to 3th to 6th place, from 4th to 9th place in the previous survey.

Juan Edgardo "Sonny" Angara, son of Sen Edgardo Angara, occupied 6th to 12th place in the latest Pulse Asia report. He previously occupied the 8th to 12th slots.

Cynthia Villar, wife of Sen Manny Villar, dropped to the 4th to 7th slots, from 4th to 12th place in the November 2012 survey.
Seven out of 12 candidates in the winning circle have relatives who remain or used to be in government. – Rappler.com