In a move at odds with his own political party, President Rodrigo Duterte supports the senatorial bid of singer Freddie Aguilar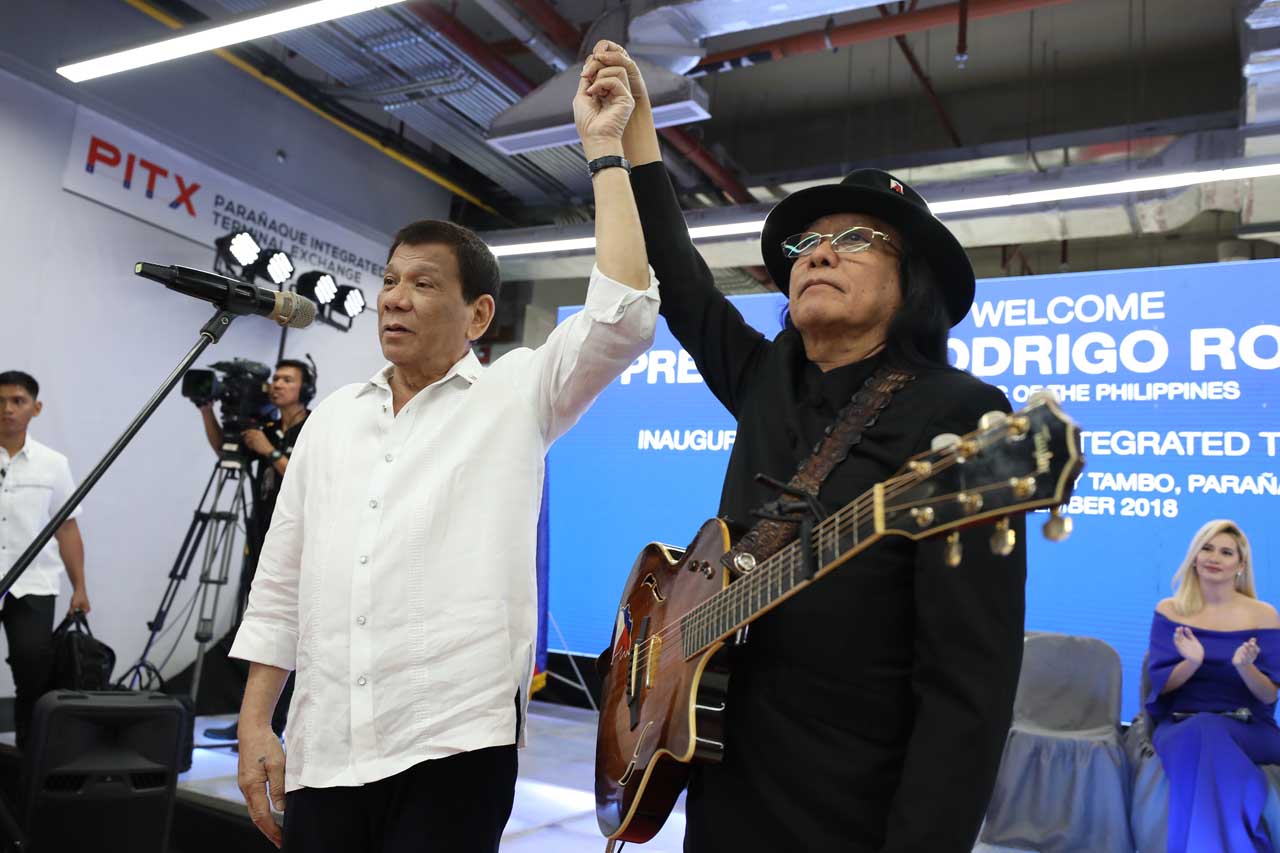 MANILA, Philippines – In stark contrast to his own political party, President Rodrigo Duterte endorsed the senatorial candidacy of singer and composer Freddie Aguilar on Monday, November 5.
"Tulungan natin si (Let's help) Freddie. He is one exemplary guy," said Duterte at the inauguration of the Parañaque Integrated Terminal Exchange, where Aguilar performed.
Duterte even lifted Aguilar's hand in a gesture of support. The President took the microphone just to praise the singer after delivering his speech for the event.
"Freddie is running for senator. Wala akong hiningi sa inyo (I am not asking anything of you) but consider – he is a brilliant man. Pero kung sabihin 'nyo bilib ako, lahat ng kanta niya (But if you ask me if I believe in him, in all his songs), there is a social message," said Duterte.
The President praised Aguilar for being a "nationalist" and for singing about the plight of overseas Filipino workers, a particularly critical voter base of his.
"Kaya ako nakikiusap. Tutal dose naman 'yan, ibigay 'nyo sa isang nationalist, 'yung isang taong nagmamahal sa bayan (That's why I am asking for a favor. Anyway, there are 12 slots, give one to a nationalist, someone who loves the country)," he said.
Duterte also said Aguilar is someone he considers his "friend."
The President's decision to champion Aguilar is at odds with the moves of officials of his own political party, PDP-Laban.
The party disowned Aguilar and denied ever issuing him a certificate of nomination and acceptance (CONA). 
Aguilar submitted to the Commission on Elections a CONA signed by Wilfredo Talag, who claimed to be the secretary general of PDP-Laban. But Talag is part of what party president Senator Aquilino Pimentel III describes as a "rogue" PDP-Laban faction. 
Duterte, told of the rift within his party, vowed to unify the two groups. (READ: Duterte to 'unify' PDP-Laban factions)
Aguilar supported Duterte's 2016 presidential bid, even performing a song for Duterte which is used by Malacañang to this day to mark the President's participation in official events. – Rappler.com