Presidential Spokesman Salvador Panelo claims President Rodrigo Duterte 'may not be referring to an election' when he said, 'Vote for Freddie Aguilar!'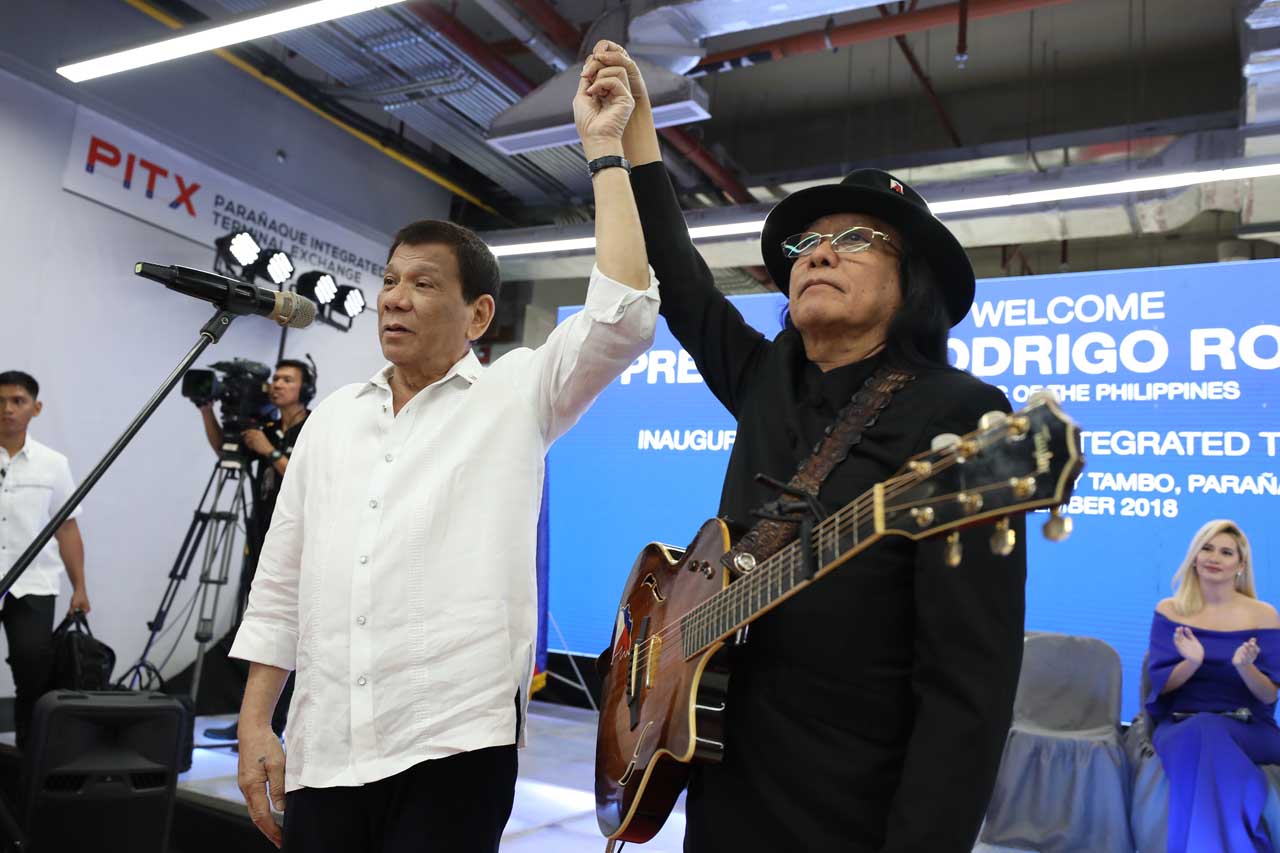 MANILA, Philippines – Presidential Spokesman Salvador Panelo insisted on Tuesday, November 6, that President Rodrigo Duterte did not ask Filipinos to vote for musician Freddie Aguilar, even if official transcripts and videos of the Chief Executive's apparent endorsement prove he did.
"Hindi naman eh (Not really). He (Duterte) was just expressing his opinion on the qualification of the person. Hindi naman niya sinabi, 'Iboto 'nyo ito' eh (He didn't say, 'Vote for him')," Panelo said in a Malacañang news briefing.
Yet Duterte had raised Aguilar's hand on stage during the Parañaque Integrated Terminal Exchange inauguration and declared, "Vote for Freddie Aguilar!"
The President had also said, "Kaya ako nakikiusap. Tutal 12 naman 'yan, ibigay 'nyo sa isang nationalist, 'yung isang taong nagmamahal sa bayan (That's why I am asking for a favor. Anyway, there are 12 slots, give one to a nationalist, someone who loves the country)."
The entire event was aired on television and livestreamed over the internet.
Faced with insistent reporters reading out Duterte's words based on the official Palace transcript, Panelo even bizarrely claimed that the President might have been referring to something other than the 2019 elections when he used the word "vote."
"He may not be referring to an election. He may be referring to, 'You people vote for this man, as an outstanding man."
Aguilar filed his candidacy for senator on October 11.
Strangely, when Aguilar's senatorial bid was first brought up during the Palace briefing, Panelo had no problem saying Duterte "endorsed" the musician.
"The President certainly has a right to endorse someone he feels should be endorsed," he had said.

Panelo's claims were catalyzed by a reporter asking if Duterte's public endorsement for Aguilar's senatorial candidacy during a government event counted as premature campaigning.
A controversial 2009 Supreme Court decision, called the Penera decision, legalized early campaigning or in the view of some election experts, made early campaigning an "impossible crime."
Because of that ruling, a person becomes a candidate only when the official campaign period starts. Thus, "early campaigning," defined as any act intended to promote or defeat a candidate, cannot happen before the campaign period because, technically, there are no candidates yet.
Before the Penera decision, a person becomes a candidate once they file a certificate of candidacy before the Commission on Elections. – Rappler.com