'This means the commission is taking [the issue] seriously, that it recognizes its importance to the voting public,' says the lawyer of the Taguig voter who filed the petitions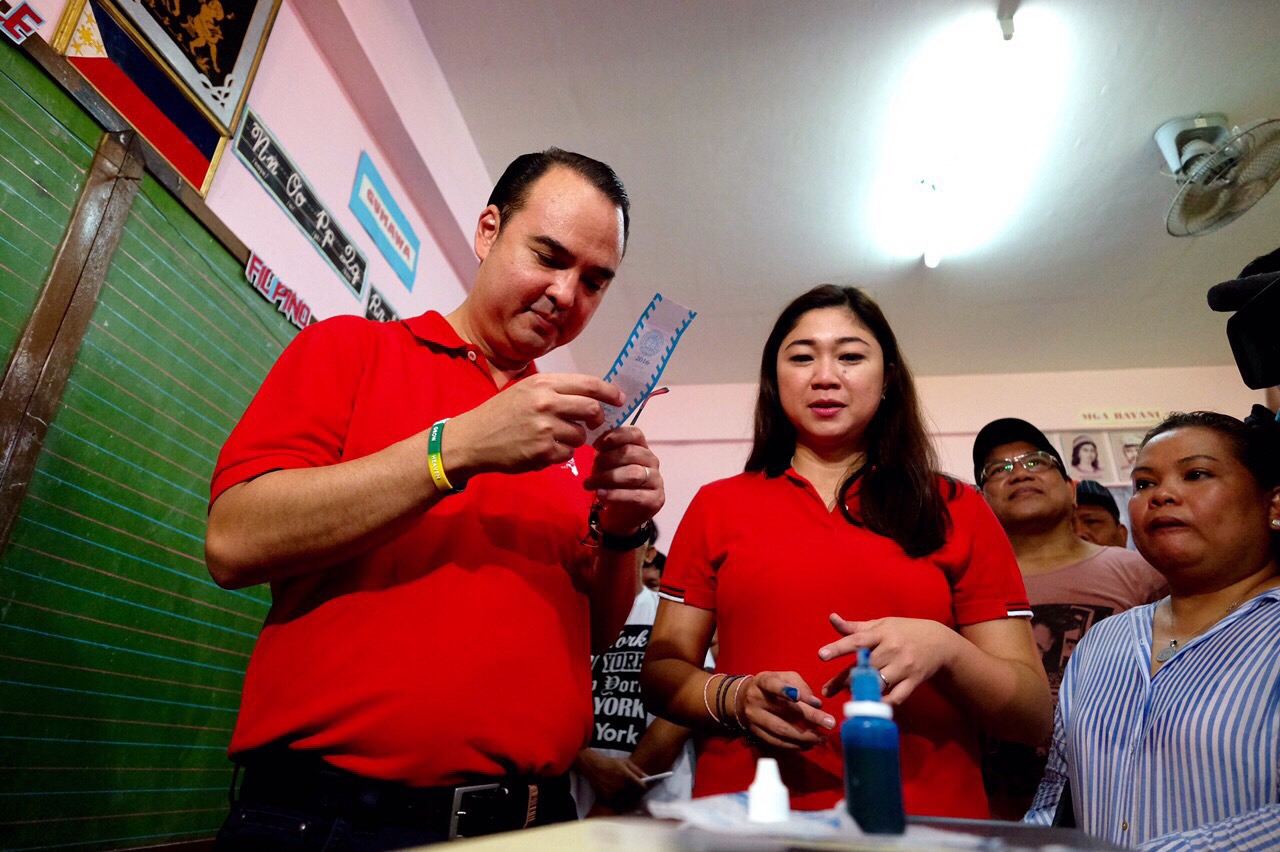 MANILA, Philippines – A Commission on Elections (Comelec) division will hear on Monday, February 4, arguments on petitions to cancel the congressional candidacies of former foreign affairs secretary Alan Peter Cayetano and wife Lani Cayetano.  
The Cayetano spouses are running for representative of the two districts of Taguig City, and declared different addresses in their respective certificate of candidacy (COC). This prompted petitions questioning the truthfulness of the residence they each declared.  
To date, this is the first hearing called by a Comelec division for a petition to deny due course to a candidacy in the 2019 elections.  
The poll body's second division has consolidated 3 complaints: one against Alan and two against Lani – all citing legal infirmities in the residences they have declared in their COCs. 
"This means the commission is taking [the issue] seriously, that it recognizes its importance to the voting public," Emil Marañon III, counsel for one of the petitioners told Rappler on Sunday, February 3. (WATCH: Rappler Talk: Emil Marañon III on stopping the Cayetano dynasty) 
Petitions to either deny due course to candidacies or disqualify candidates are normally considered and decided only in writing. Hearings to allow parties to argue their cases are rarely held by the poll body. A division's ruling can always be appealed with the commission en banc. 
Alan is running in the first district of Taguig, and declared in his COC that he is a resident of Barangay Bagumbayan. Lani is running in the second district, and declared that she resides in Barangay Fort Bonifacio. 
Taguig voter Leonides Buac Jr filed separate petitions to deny due course against Alan and Lani. Donna Sionomio and Levilyn Branzuela, represented by lawyer Maria Bernadette Sardillo, have filed a petition only against Lani. 
If one spouse is proven to have declared a false address, he or she will be disqualified; the other one will then have the burden to prove that he or she has established residence there in time for the elections.  
During the filing of COCs in October last year, the former Cabinet secretary said it "shouldn't be a problem" if he and his wife are both seeking seats in the House of Representatives.  
"Ang mahalaga, parehas na malinis ang pangalan, malinis ang hangarin, at gusto ng tunay na pagbabago," he said. (What's important is that both of us have a clean reputation, we have good intentions, and we want to achieve real change.) 

In an interview with Karen Davila on ANC on November 22, 2018, Alan said, "I live with her," referring to his wife, but also claimed the petitions questioning their different addresses are "pure political harassment."
He said there were other congressional representatives who were married to each other, but represented different districts in different provinces.
Brushing aside questions of him building a political dynasty, he insinuated that some quarters must have been threatened by his declared ambitions to become House Speaker, thus the efforts to disqualify him.
"When I was secretary of foreign affairs, my wife was mayor, my ate (older sister) was congresswoman, they didn't say anything, but now that I'm running for Congress and Speaker, ay, suddenly, napakasama naming tao (wow, we're suddenly the most evil people)." – Rappler.com