'His guidance is very important to all of the [PDP-Laban] members,' says President Duterte about PCOO chief Martin Andanar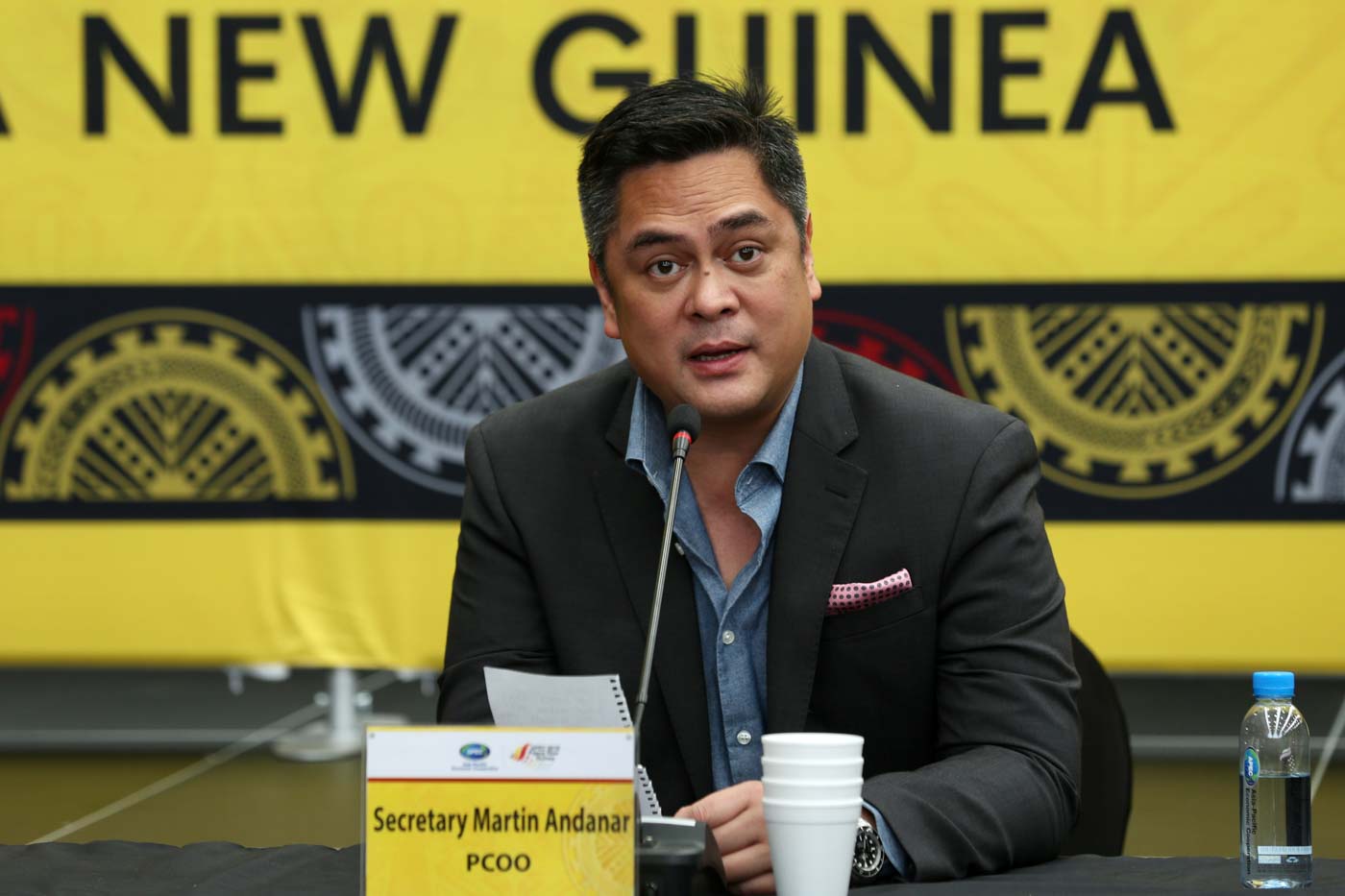 MANILA, Philippines – Presidential Communications Secretary Martin Andanar can do what other Cabinet members can't – campaign for 2019 candidates.
President Rodrigo Duterte himself said he has no problem with Andanar helping his former aide Bong Go in the 2019 campaign. This, despite him saying in a speech last February 8 that Cabinet members must stay neutral to prevent the use of government resources in favor of any candidate. 
"That is why he (Andanar) was an exception. But the law says they can campaign. I did not allow the other members because they might – they will be campaigning if they want to and they will be using government cars, government fuel and I wanted to remove that kind of issue just to be fair," said Duterte on Friday, February 22, during an interview with reporters in Malacañang.
Andanar had been seen attending some events of Go, sometimes even representing him, such as during a recent San Juan rally.
The Cabinet member had said in an interview that Go had informed Duterte of his (Andanar's) participation and the Chief Executive appeared not to have a problem with it.
Why exempt Andanar? Duterte said Andanar gets special treatment because the PCOO chief has strong ties with his own political party PDP-Laban.
Go is part of PDP-Laban's senatorial line-up.
"Andanar, he's an ideologue. His guidance is very important to all of the PDP members. He's a son of one of the founding fathers of PDP-Laban, and there are only few of them left, original," said Duterte.
He was referring to Wencelito Andanar, Secretary Andanar's father, who had supposedly been a PDP-Laban officer in its early days. Duterte had appointed the older Andanar as his special envoy to Malaysia.
Duterte, chairman of PDP-Laban, said he tapped Andanar to help out with the campaign since PDP-Laban president Senator Aquilino "Koko" Pimentel III also has his work in the Senate to think about.
"He's tied up with his Senate work and so I had to look for somebody there to fill the gap. Wala akong ibang maisip kung hindi si Andanar (I could not think of anyone else except Andanar)," said Duterte.
Andanar even supposedly helps out in PDP-Laban meetings when they discuss "the dialogue and narratives" of the party, Duterte said.
What's the rule on campaigning by Cabinet members? The Omnibus Election Code actually allows Cabinet members to campaign for a candidate or political party since they are considered  as officials who hold "political offices" or  who, "by the very nature of their office, engage in partisan political activities almost all year round, even outside of the campaign period."
Joint Resolution No. 1600298 of the CSC and Comelec enumerates what qualify as "political offices" and are thus covered by the exemption on political neutrality.
The President and the Vice President
Members of the Cabinet
Other elective public officials, except barangay officials
Personal and confidential staff of the abovementioned officials
It's only the other government personnel, those who hold non-political or non-elective offices, who are prohibited from partisan political activities during the campaign period. – Rappler.com