(UPDATED) When the 18th Congress convenes after the 2019 elections, the PDP-Laban party says it is confident it will get back the speakership snatched last year by Gloria Macapagal Arroyo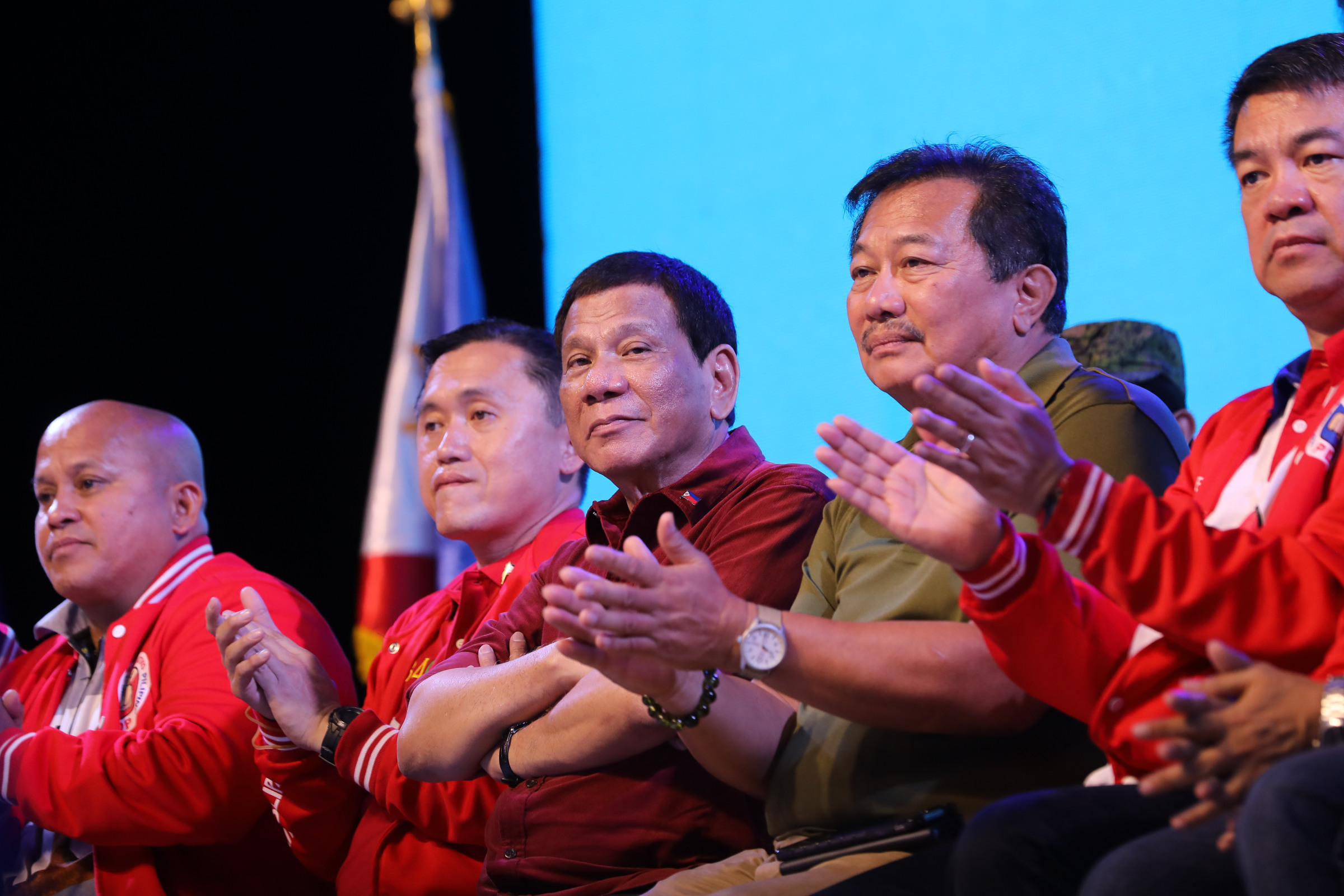 MANILA, Philippines (UPDATED) – The ruling Partido Demokratiko Pilipino Lakas ng Bayan (PDP-Laban) on Wednesday, February 27, vowed to take House speakership in the 18th Congress through any of the 7 party members it is grooming for the post. 
Ron Munsayac, campaign spokesman, said former speaker Pantaleon Alvarez leads the PDP-Laban candidates for House speaker in the next Congress. Alvarez is seeking reelection as Davao del Norte 1st District congressman.
Other candidates include:
Lord Allan Velasco (Marinduque)
Ronald Zamora (San Juan)
Alex Advincula (3rd District, Cavite)
Bambol Tolentino (7th District, Cavite)
Ricky Sandoval (Malabon)
Lucy Torres (4th District, Leyte)
"With our majority number in Congress and the strength of our candidates to win in the elections, it will be very hard for other parties to even compete. As I said, we, the PDP Laban party, are the Golden State Warriors in Congress. Others can try but it will be an exercise in futility," said Munsayac.
The party is fielding more than 130 members, all vying for reelection, in congressional races.  (READ: How Duterte's political style is hurting PDP-Laban in 2019)
Alvarez, PDP-Laban secretary general, was ousted in 2018 and was replaced by former president Gloria Arroyo, who is also a member of PDP-Laban. However, Arroyo is not active in party affairs, having joined the party only in 2017. (READ: The women behind the fall of Alvarez)
Alvarez's ouster led to the departure of some lawmakers from the party. Some chose to coalesce instead with the regional party of Davao City Mayor Sara Duterte Carpio, Hugpong ng Pagbabago. (READ: PDP-Laban struggles for unity, survival ahead of 2019 polls)
President Rodrigo Duterte himself had said that his daughter, Sara, was behind the  Alvarez's ouster. Sara and Alvarez had a fight over her creation of HNP, with Alvarez saying it was made without the President's blessing. (READ: Sara Duterte: President Duterte better off without Alvarez)
Duterte's 2016 running mate, Alan Peter Cayetano is running for Taguig 1st District congressman and had claimed that Duterte wanted him to be House leader. 
"I will seek the leadership position in the House but it's a complex matter. You have to win first sa district mo, and I want to focus on that first," Cayetano said in October 2018.
"We [President Duterte and I] had a heart-to-heart talk, and we both agreed that a role in Congress and a leadership position in Congress would be good in terms of pursuing that vision," he said. – Rappler.com