'Putulan ko ng ulo mga 'to. Walang kuwentang mga tao,' says President Rodrigo Duterte about the opposition senatorial slate during a rally in Zamboanga City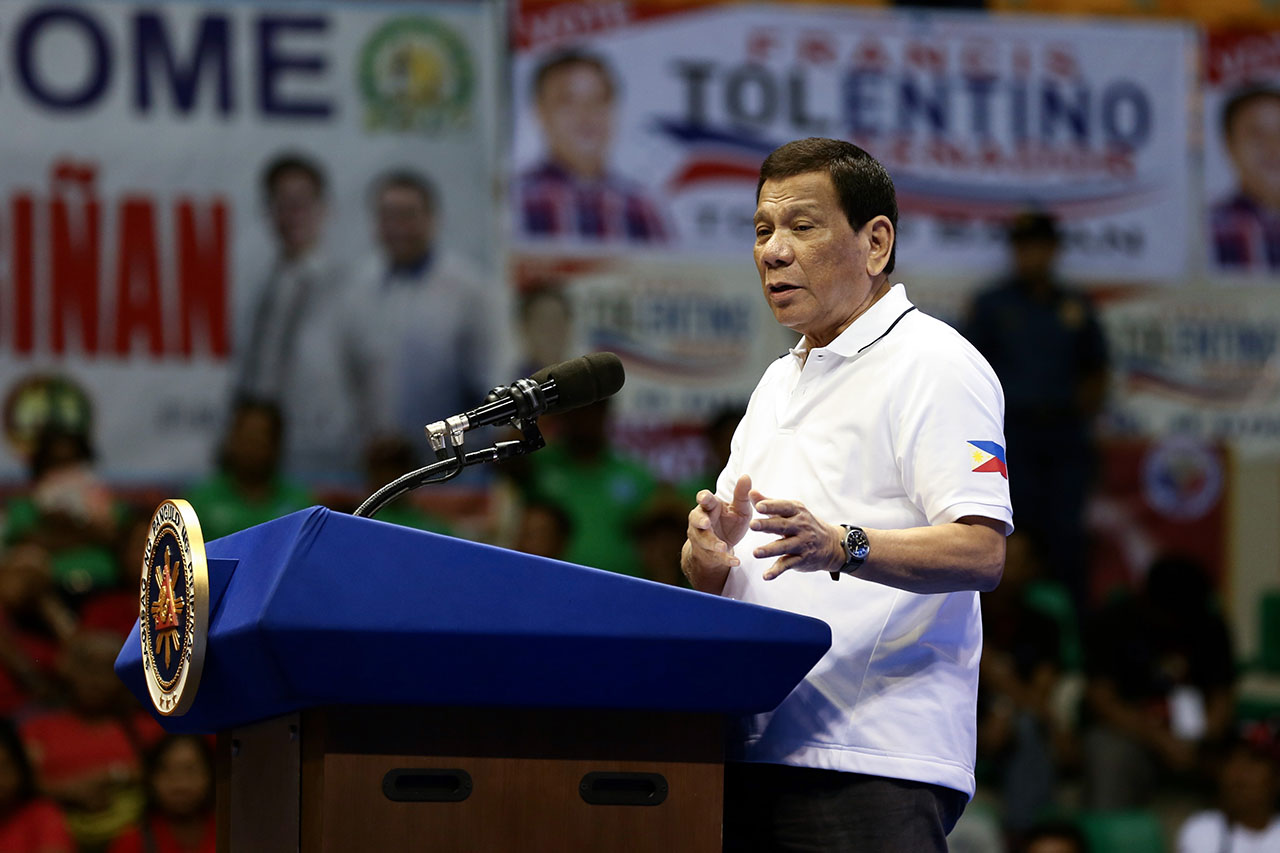 MANILA, Philippines – President Rodrigo Duterte amped up his slurs against opposition senatorial candidates during a campaign rally for his political party's slate on Sunday, March 3, in Zamboanga City.
He referred to the Otso Diretso slate, a line-up composed of Liberal Party (LP) candidates and candidates of other groups critical of the administration.
"Sinong ipalit mo diyan sa 'yang 'Otso Diretso' papuntang impiyerno? Totoo lang, hindi ako na-ano. Walang ginawa 'yang mga tao na 'yan puro criticize, hindi pa maniwala," he said at the Mayor Vitaliano D. Agan Coliseum in the southern city.
(Who will you vote instead of that Eight Straight to hell? To be honest, I'm not – Those people do nothing but criticize, and they don't even believe you.)
He mentioned some Otso Diretso bets by name, including former interior secretary Mar Roxas and Senator Bam Aquino, among the few opposition bets who appear within the winning circle of 12 in senatorial surveys.
He compared them to his party's 5 candidates (Bong Go, Ronald dela Rosa, Dong Mangudadatu, Francis Tolentino, Rafael Alunan), claiming they pale in comparison and have not helped Moros.
"Ngayon kung hindi niyo iboto 'yan, ewan ko lang. Ipalit ninyo dito? Roxas, Alejano, Aquino, Hilbay, Macalintal. Doon 'yan sa amin. Magpunta 'yan doon sa Lanao. Ah wala, putulan ko ng ulo mga 'to. Walang kuwentang mga tao. Wala namang nagawa para sa aming mga Moro," said Duterte.
(Now if you don't vote for them, I don't know anymore. You'll replace them with these? Roxas, Alejano, Hilbay, Macalintal. When they go to Lanao, I'll behead them. These worthless people. They have done nothing for us Moros.)
Citing populist laws
The President then cited some popular laws he has signed, apparently to point out that voters should stick with his candidates to get his legislative agenda through the door.
"My fellow countrymen, I said when I am President, education will be free. It is there already, my God. Free tuition for all – universal. I said when I become president, hospitalization will be free, universal health care. It's there already," he said in Filipino.
But some of the laws he mentioned involved the work of Otso Diretso candidates. The principal sponsor and co-author of the Free Tertiary Education law, for instance, is Senator Bam Aquino. 
Hits Roxas, Alejano, Diokno
Duterte described Roxas as "hambugero" (arrogant) who only supposedly greets justices and not local government officials like councilors during events. As in the 2016 presidential elections, he questioned Roxas' contributions to the country.
"Nadaanan man niya lahat 'yan. Tapos porma. Ano ang nagawa niya? Bigyan mo ako isa. Maski isa lang," said Duterte. (He went through every position. What did he do? Give me even just one thing.)

He belittled human rights lawyer Chel Diokno's manner of speaking, saying he is nothing like his father, the late Jose "Pepe" Diokno.
"'Yung Diokno 'yung – sus magsalita…Kalayo niya sa tatay niya. 'Yung si W. Diokno. 'Yun ang kuyaw. Pero ito, wala ito. Tignan mo magsalita. Wala," said Duterte.

(Diokno – the way he speaks….So far from his father, W. Diokno. This, he is nothing. Look at the way he speaks, no good.)
As for Magdalo Representative Gary Alejano, Duterte again brought up his grievances against the Magdalo group in general, belittling their coup attempts against the Arroyo administration. Former president Gloria Macapagal Arroyo, now Speaker, is a Duterte ally and has endorsed the candidates of Hugpong ng Pagbabago, regional political party of Duterte's daughter, Davao City Mayor Sara Duterte.
In his rant against Otso Diretso bets, President Duterte also mentioned former Bangsamoro Transition Commission member Samira Gutoc, but refrained from saying anything against her. He said it's his "rule" not to bad-mouth a woman who is his enemy. This "rule," however, apparently does not apply to Senator Leila de Lima whom Duterte has called "immoral."
"Si Samira, babae man 'yan, ayaw ko magsalita diyan. Eh ganun 'yan ang rule eh pagka babae kalaban mo, you just shut up. Samira Ali Gutoc. So I have nothing to say to you, ma'am," said the President.

(Samira is a woman, I don't want to speak about her. That's the rule, if your enemy is a woman, you just shut up. Samira Ali Gutoc. So I have nothing to say to you, ma'am.) – Rappler.com