(UPDATED) Vice President Leni Robredo says the President's mention of the Otso Diretso candidates is proof that awareness on the opposition bets is picking up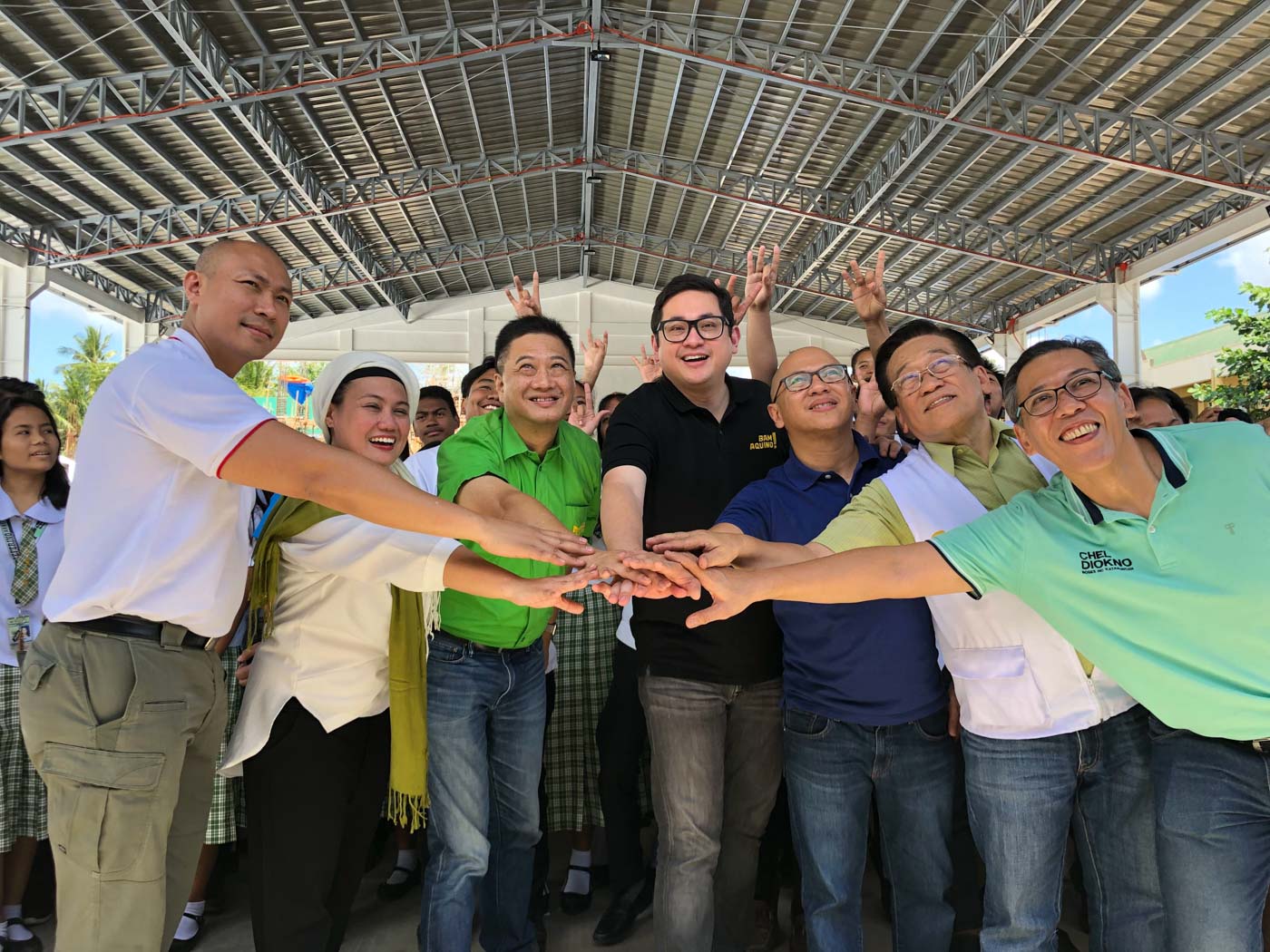 MANILA, Philippines (UPDATED) – Vice President Leni Robredo on Monday, March 4, fired back at President Rodrigo Duterte's slurs against opposition senatorial candidates, saying the track records of those in the Otso Diretso slate prove their accomplishments.
Robredo was referring to Duterte's speech during a PDP-Laban campaign rally on Sunday, March 3, where he slammed the group, saying they did nothing but criticize. The President then asked the crowd, "Who will you vote for instead of that Eight Straight to hell?"
The Vice President said they looked at the Otso Diretso candidates' past achievements before choosing them to be part of the opposition slate. 
"Personally, if you say they have done nothing, records would prove that. Like Senator Bam [Aquino]…[former interior] secretary Mar [Roxas], Congressman Gary [Alejano], [former] congressman Erin Tañada, Attorney Chel Diokno, Attorney Romy Macalintal, Samira Gutoc, they have been able to do many things," Robredo said in Filipino. 
"Iyon talaga iyong basehan namin kung bakit silang 8 iyong napili," she added. (That really was our basis for choosing the 8 of them.)
Duterte had mentioned some of the 8 candidates by name and compared them to 5 of his party's candidates: Bong Go, Ronald dela Rosa, Dong Mangudadatu, Francis Tolentino, and Rafael Alunan. He said the opposition bets are "worthless" and have not helped Moros. (READ: Otso Diretso fires back at Duterte: Don't be onion-skinned)
Gaining ground: Despite the President's bashing, Robredo played up the mention of the Otso Diretso candidates as proof that awareness on the opposition bets is picking up. Robredo said Duterte's callout against the candidates showed they have a fighting chance.
Compared to the administration's candidates, most of the Otso Diretso senate bets have so far been lagging behind in preelection surveys. Only Roxas and Aquino have featured in the "Magic 12" or winning circle.
"Kung hindi naman sila relevant, hindi na sila papansinin. Kung hindi sila pinapansin ng mga tao, hindi na sila pag-aaksayahan ng panahon ng Pangulo. Pero the mere fact na nag-aksaya ng panahon para isa-isahin sila, gustong sabihin may laban iyong aming mga kandidato," Robredo said.
(If they aren't relevant, they wouldn't be noticed. If people did not mind them, the President would not waste time on them. But the mere fact that he spent time mentioning each of them shows our candidates have a chance.)
Robredo also explained their call for debates. She said having candidates discuss their platforms and stand on relevant issues will allow voters to properly decide who to elect. 
Of the 15 senatorial candidates that made it to the winning circle in the latest Pulse Asia survey conducted last January, at least 9 have skipped any national forum or debate organized by the media. ([EDITORIAL] #AnimatED: Candidates avoid debates to avoid scrutiny)
Robredo added, "Kung hindi nabibigyan iyong taumbayan ng pagkakataon na marinig sila, papaano nila malalaman kung sino iyong karapat-dapat botohan?" (If Fillipinos are not given the chance to hear candidates, how will they know who they should vote for?)
What about a debate? Opposition Senator Leila de Lima urged Go and Tolentino to go on a televised debate with any opposition candidate.
"There is one sure way to prove or disprove Duterte's boast, a live and televised debate between his favorites Bong Go and Tolentino and anyone among the Otso Diretso candidates. The only problem is, Duterte's favored bets are content with hiding under Duterte's skirt, too afraid to engage in any kind of debate with their opponents," said De Lima, one of the most vocal critics of Duterte.
"Duterte's promises are the same cheap promises being made by his senatorial candidates. Like empty shells when broken, they have nothing to show on how to fulfill these promises. This is the simple reason why Duterte's candidates will never engage the Otso Diretso in any debate," she added. – Rappler.com