'I will never allow government funds to be spent on anything not allowed by law,' says DILG Secretary Eduardo Año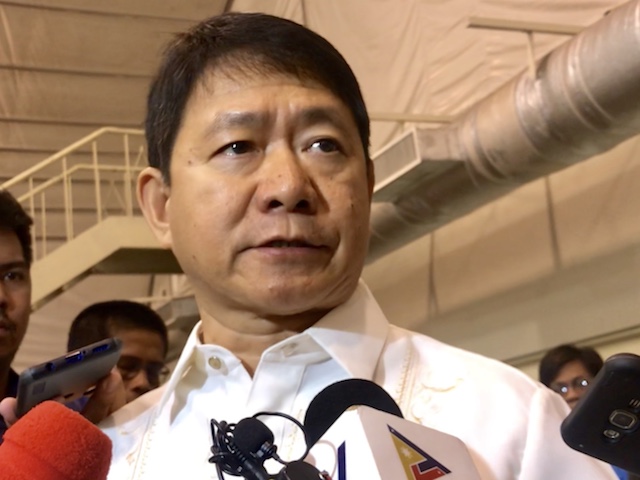 MANILA, Philippines – The Bong Go shirts supposedly distributed at a national Liga ng mga Barangay (LnB) event were not authorized to be purchased by the Department of the Interior and Local Government (DILG), its secretary Eduardo Año said on Tuesday, March 5.
In text messages to Rappler, Año admitted issuing a memorandum authorizing local officials to spend government funds for their participation in the Liga's 3-day National Assembly in Manila—but it wasn't supposed to be spent on campaign materials.
"I will never allow government funds to be spent on anything not allowed by law. I also know Bong Go and he will not allow Barangay Captains to spend a single centavo for him," Año said.
Año emphasized that he instructed local officials to only spend in accordance with laws and regulations. The money the officials paid are already under the control of the Liga. (READ: Campaign rules for 2019 midterm elections)
"Liga ng [mga] Barangay is an independent activity initiated by the national league officers. They have their own organizers. I just provided the guidelines so that the activity is in accordance with the law," he said.
Año also stressed part of his memo where he said that expenditures of the officials are "subject to the availability thereof and to the usual accounting and auditing requirements and to all pertinent laws, rules, and regulations."
Part of the registration fee to the event was used to fund "seminar materials," which Senatorial candidate Gary Alejano said included shirts promoting administration Senatorial bet Bong Go.
According to the Commission on Elections (Comelec), the alleged funding and distribution of the shirts "might be a problem," so it advised Alejano to file a formal complaint.
"The president himself said, didn't he, that no government resources should be used for partisan political activities," Comelec spokesman James Jimenez earlier told Rappler in a text message. – Rappler.com