The chairman and the employees of the Comelec say that given limited time, the President should appoint insiders to the two vacant commissioners' seats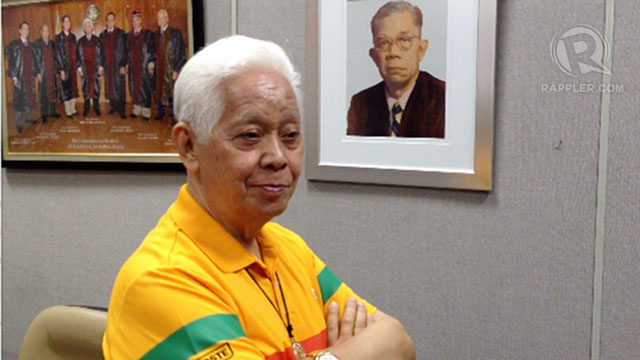 MANILA, Philippines – With the two Palace appointees refusing to assume the vacant poll commissioners' posts, the country's election chief is urging the President to pick from among insiders at the Commission on Elections (Comelec).
The Comelec employees' union supports his call.
Comelec chair Sixto Brillantes Jr told reporters on Monday, March 11, that the poll body's work will be easier if the new commissioners already have working knowledge of the processes in an automated exercise.
The Comelec is also pressed for time in the preparations, since the elections are only two months away.
"He should be an insider with working knowledge since the election automation process is difficult to understand," Brillantes said.

Aquino appointed former Lanao del Norte Rep Macabangkit Lanto and election lawyer Bernadette Sardillo on March 7 as replacements for retired Commissioners Rene Sarmiento and Armando Velasco.

Less than a week after the appointment, however, the two decided to decline their appointments.

With the Comelec back to square one in its search for new commissioners, Brillantes is no longer recommending getting an outsider. Before the appointment of Lanto and Sardillo, Brillantes suggested the possibility of hiring one insider and an outsider for the vacant positions, saying it would be a "good combination."

The Comelec Employees Union supports the call to appoint poll body insiders. "We reiterate our call for the President to name Atty. Ferdinand Rafanan and Atty. Alexander Pilotin as Comelec commissioners. They are persons of integrity and competence," the group said in a statement.

In a press briefing, Presidential Spokesman Edwin Lacierda said it is up to the President whether he will appoint Comelec insiders.

Lacierda said Aquino has enough time to appoint two new commissioners before the election ban on appointments. The election ban on appointments will run from March 29 until May 13, election day.

But Brillantes said that Comelec is not covered by the election appointment ban, so Aquino can still appoint commissioners any time before the May polls.

"We were already told that we are not covered by the appointment ban. If we're covered, we'll be given exemption," Brillantes said. – Rappler.com