This is AI generated summarization, which may have errors. For context, always refer to the full article.
The President's coalition Team PNoy and the opposition United Nationalist Alliance visit Baguio City the same day to push for their respective bets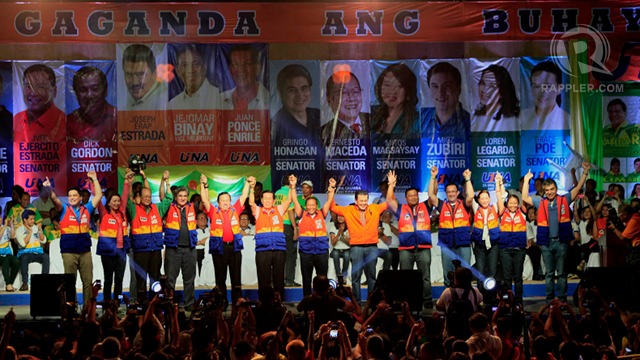 MANILA, Philippines – Expect it to get hotter on the campaign trail as the President's coalition and the opposition hold separate rallies in Baguio City on Sunday, March 17.
Team PNoy and the United Nationalist Alliance (UNA) are set to campaign in the summer capital, the same day of the Philippine Military Academy (PMA) graduation.
Families of graduating PMA cadets from all over the country drive to Baguio at this time every year. A number of senatorial candidates are  "adopted" classmates of PMA classes. At least 3 of the bets — UNA's Sen Gringo Honasan, Team PNoy's Sen Antonio Trillanes IV, and ex-Constabulary chief Ramon Montaño, who's running as independent — are graduates of the academy.
Both President Benigno Aquino III and Vice President Jejomar Binay, the stalwart of UNA, are attending the event.
Team PNoy had its Baguio City trip planned for a while, as a stop after its Pangasinan and La Union rallies. But UNA's secretary-general Toby Tiangco said the scheduling to coincide with Team PNoy was not deliberate, and instead was due to Binay's engagement there, which would allow him to join UNA's rallies.
Binay himself will endorse UNA's slate, which will be coming from Pampanga before Baguio.
Tiangco also expressed excitement over which slate could gather a bigger crowd, something UNA has poked fun at Team PNoy about. UNA alleges it is able to draw more supporters to its gatherings.
Team PNoy has said the number of supporters in rallies are not indicative of voting preferences, as evident in survey ratings that have favored the administration's bets.
Tiangco also expressed confidence over the influence of Mayor Mauricio Domogan, UNA's bet in the city, and his ability to gather local support. Domogan defeated Liberal Party bet Jose Molintas in 2010, by over 21,000 votes.
But local popularity do not necessarily translate to national preferences especially in Baguio City.
In the 2010 presidential race, Baguio City overwhelmingly voted for Aquino over former president Joseph Estrada, a stalwart of UNA. Aquino led Estrada by almost 30,000 votes. Binay too lost to Aquino's running mate, now Interior Sec Mar Roxas by over 8,000 votes.
Baguio City has 343,261 registered voters for 2013.
Dinner?
Meanwhile, Binay's daughter and UNA candidate Nancy Binay extended an invite to the President and his coalition to have dinner in Baguio to discuss Sabah.
Since both Aquino and her father would be there, Nancy said it would be the perfect time to gather.
"If all of us can come up with suggestions on how to deal with Sabah, why not discuss them over dinner?," she said on the sidelines of an UNA event in Quezon City.
At least one Team PNoy bet has declined the offer. Former Akbayan Rep Risa Hontiveros said she did not think it was a good idea.
"I appreciate the intention to help and I personally wish to thank her for the invitation, but with all due respect, Sabah is not a simple dinnertime conversation piece," Hontiveros said in a statement.
"I am happy that they have interest in finding a solution to the issue, but we should avoid armchair diplomacy because it might do more harm than good," she said. "The issue requires diplomatic finesse and a thorough understanding of our strategic interest."
Team PNoy spokersperson Miro Quimbo, however, did not close the doors to the possibility.
"While we strongly believe that the Sabah issue is being handled ably, if time permits, we don't mind sitting down with UNA candidates to hear out their suggestions," he told Rappler.
He added, "Maybe they can also teach our candidates something UNA is doing much better at, dancing Gangnam style."- Rappler.com