Grace Poe finds a faithful ally and protector in Sen Chiz Escudero, who has become her adviser and best friend since the start of the campaign
PAMPANGA, Philippines – The Poe family has found a faithful ally in Sen Chiz Escudero.
In 2004, Escudero was the spokesperson of movie star and presidential candidate Fernando Poe Jr. The young senator stuck with Poe when the latter ran and lost in a fraud-fraught elections, and remained his friend until Poe died of a heart attack shortly after being cheated of the presidency.
Fast forward to today, Escudero has another Poe by his side — this time, FPJ's daughter, Grace Poe.
While top rankers Sen Loren Legarda and Escudero have been asked by Team PNoy's organizers to campaign for the other candidates on the President's ticket especially those lagging in surveys, Escudero's support for Poe is on a different level. The two senatorial bets, who are members of President Benigno Aquino III's coalition Team PNoy, campaign together as a pair when they don't join the sorties of the slate — although Poe has joined significantly more sorties than Escudero has.
Poe, 44, said the senator has become her "tagapagtanggol (protector)" even if he is a year younger.
"Chiz was not a stranger to my dad. He has become my best friend. I am so thankful to him. It's difficult to lose a father and Chiz has been protecting me. He's not selfish. He gives me campaign tips unlike other people," she said on the sidelines of a trip to San Fernando City on Thursday, March 14.
The senator, she noted, is a stickler for time.
"In one of our campaign trails, I saw a beautiful scene and I asked him to take a photograph of me there. He reminded me that I was not a tourist but a candidate and that we could return to the place after the campaign period," she said.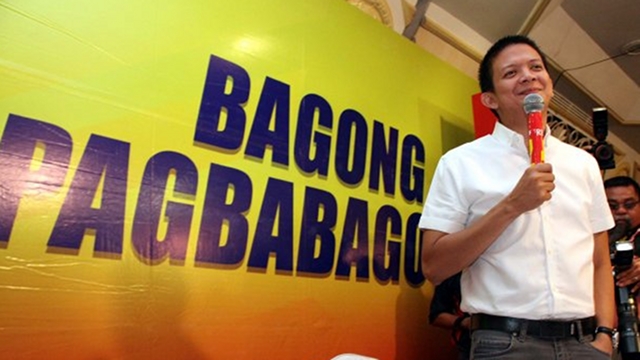 Escudero said he and Poe have been almost always together since they filed their certificates of candidacy in October last year. Their relationship, he said, is much different from the way he interacted with the older Poe.
"I trained her early. She needs to realize how troubled this world is," he said. "In 2004, I was always at the campaign headquarters to deal with the issues that came FPJ's way. The ongoing campaign is important and offers an entirely new experience. For another, she's a woman."
Both Escudero and Poe were initially common candidates of Team PNoy and the opposition United Nationalist Alliance (UNA), headed by close friends of the older Poe. UNA has since dropped the two from their slate after their failure to appear in their rallies which the bets insist was not part of the agreement.
But the drop has had little effect on the two, who have scored high in ratings.
Escudero is consistently ranked second in surveys, and his popularity may have helped the younger Poe who has also enjoyed huge gains in approval ratings since the beginning of the campaign. In the latest Pulse Asia survey, Poe got an 11.2% boost in her rating (42.1%), landing her in the 4th-10th spot, while Escudero's (54.9%) rating put him in the 1st-3rd spot. – Rappler.com
---