The re-electionist senator will join TV networks GMA7 and TV5 in arguing against the Comelec's rule that allows a candidate to place only a total of 120 minutes of TV ads in all stations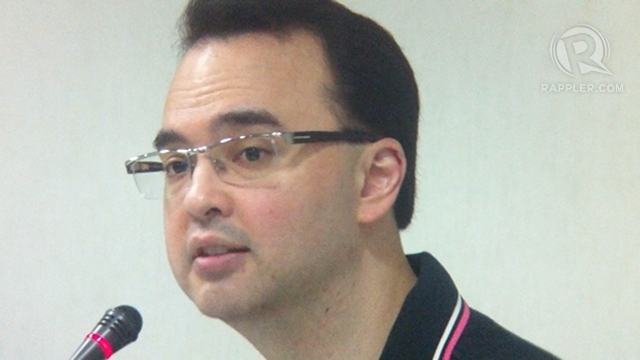 MANILA, Philippines – The Supreme Court granted on Tuesday, March 19, the petition of re-electionist Senator Alan Peter Cayetano to intervene in the case filed by media companies to lift restrictions on airtime for political advertisements.
Media companies are questioning Comelec Resolution 9615, which reads: "Not more than an aggregate total or 120 minutes of television advertising, whether appearing on national, regional, or local, free or cable television, and 180 minutes of radio advertising, whether airing on national, regional, or local radio, whether by purchase or donation" will be allowed per candidate.
Comelec is only reverting to the original provision of the Fair Elections Act — a total of 120 minutes of TV ads and 180 of radio ads per candidate. That provision was only re-interpreted by Comelec chair Benjamin Abalos in 2004 to mean 120 minutes per TV station per candidate.
When two new election commissioners were appointed in early March, Cayetano said it provided a "quorum" that could allow the Comelec to reverse its resolution limiting airtime for the campaign ads. The two new commissioners declined their appointments.
On March 15, the re-electionist senator file to intervene in the petition of TV networks GMA7 and TV5 aganist Comelec's revised airtime rules.
In a statement, he said the limits will lessen the opportunities for voters to get to know their candidates and vote wisely, since media is the most effective way to educate voters. 
On Tuesday, Comelec chair Sixto Brillantes Jr said he has no problem with the SC allowing a third party in the case.
Cayetano welcomed the Supreme Court decision: "I am confident that the SC will appreciate the merits of our case. I assure all the parties involved my full commitment in resolving this issue that infringes our constitutional rights to information and speech. This shall serve as the first step to leveling the playing field for the candidates and having a more mature election system." – Rappler.com