This is a payback for the former police general's loyalty to his mother, the late President Corazon Aquino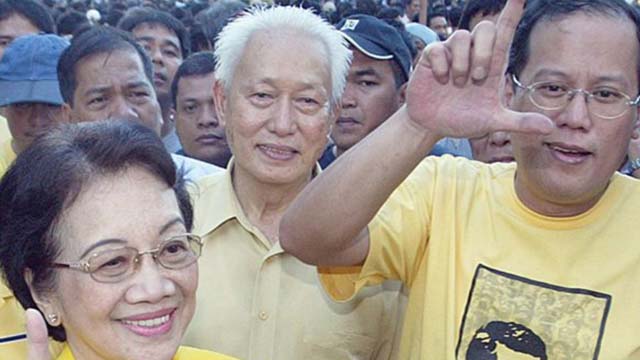 MANILA, Philippines – When President Benigno Aquino III goes up the stage to endorse the re-election bid of Manila Mayor Alfredo Lim on Monday, April 1, he will be doing so for very personal reasons.
Aquino will support the 83-year-old Lim as a payback for the former police general's loyalty to his mother, the late President Corazon Aquino. If he can make Lim win, it will also supposedly seal PNoy's value as a political endorser, which will boost his party's chances for the presidential polls in 2016.
Besides, Manila is the "seat of power," said Team PNoy spokesperson Miro Quimbo when asked why Manila is important.
Lim, who had served for 9 years as mayor until 1998, assumed the mayorship again in 2007 and wants another 3 years in office now.
But for that to happen, he will need to defeat his ex-ally and endorser, the intensely popular former President Joseph Estrada. Holding a 75,000 person-deep rally on Sunday, March 31, Estrada had vowed to resurrect Manila's glory if elected.
Their one-on-one battle is expected to be among the hottest come May.
Aquino, according to the campaign spokesman, is supporting Lim full on not just because of the significance of ruling Manila – a city of 6 districts and over 950,000 registered voters – but also because of his ties to the Aquino family.
During EDSA 1, which put Aquino's mother in power, Lim refused to follow then President Ferdinand Marcos's order to disperse the growing crowd in EDSA. Lim was then chief of the Northern Police District. The huge demonstration led to Marcos's ouster.
In the late 1980s, Lim also helped defend President Corazon Aquino's government against coup attempts from military rebels and from urban attacks by leftists guerillas. He was later appointed National Bureau Investigation director by Aquino and, in 1992, won as Manila mayor.
"Because of this, it is important for him to personally go out of his way to help Lim," Quimbo said of the President's efforts.
Corazon Aquino also endorsed Lim's presidential bid in 1998. He lost to Estrada.
Political statement
Lim's victory in Manila will also be symbolic for the President.
Estrada is one of the 3 kings of the opposition United Nationalist Alliance, along with Vice President Jejomar Binay who plans to run for the highest office in the land come 2016, and Senate President Juan Ponce Enrile.
A win for Lim will speak of Aquino's ability to have influence over the results of the 2016 polls, and will allow him to diminish Estrada's power over the same elections, according to a Rappler source from the LP.
But Quimbo is confident of a win for Lim, if only for the number of incumbent officials who belong to LP. Of 6 congressmen in Manila, 5 are running for re-election under the ruling: Benjamin Asilo, Carlo Lopez, Zenaida Angping, Trisha Bonoan, and Sandy Ocampo. Only one LP bet, District 5's Faith Maganto, is not a sitting solon. 
He added, Aquino is expected to use his power and Manila's machinery to push for his senatorial candidates as well.
Lim is running with actor-politician and current Manila councilor Lou Veloso. His former vice mayor, Isko Moreno, has shifted alliances and is now partnered with Estrada. – Rappler.com