This is AI generated summarization, which may have errors. For context, always refer to the full article.
PPCRV received more than P5 million from an international organization for its volunteers' T-shirts in 2010, but stresses it came with 'no strings attached'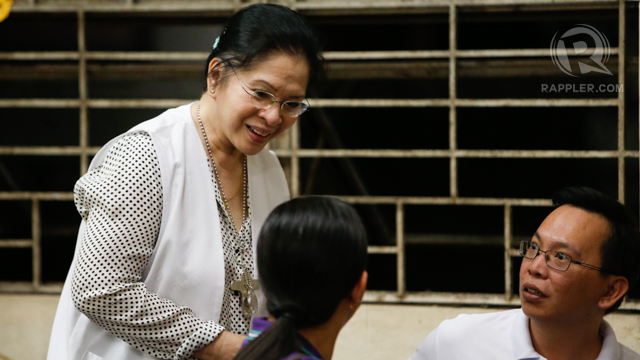 MANILA, Philippines – The Parish Pastoral Council for Responsible Voting (PPCRV) may have violated a condition for its accreditation as a citizens' arm in the 2010 national polls. And to this day, the Commission on Elections (Comelec) has yet to address a legal loophole that paved the way for such a situation.
Documents obtained by Rappler show that PPCRV got a donation amounting to P5.7 million from The Asia Foundation (TAF), a nonprofit international development organization, for its volunteers' poll monitoring duties in the 2010, when the Phiippines held the first nationwide automated elections.
The TAF's budget for the T-shirt production, in turn, was sourced from funding support from the United States Agency for International Development (USAID), a US government entity that serves as conduit for its foreign assistance.
The financial assistance was used for buying of 100,000 T-shirts that PPCRV volunteers were supposed to wear while doing pollwatching duties on election day of 2010.
The TAF assistance makes it appear that the PPCRV violated a condition imposed on it by the Comelec as its citizens' arm.
In granting PPCRV's request for accreditation in the 2010 polls, the Comelec ruled that as a condition, "[PPCRV] shall not be under the influence whatsoever of any foreign government corporation or entity and shall not solicit or receive, directly or indirectly, any contribution or aid of whatever form or nature from any foreign government, corporation or entity."
This condition remains in its accreditation for the 2013 midterm polls.
The poll body said PPCRV is granted accreditation subject to the following conditions:
"that it is not supported by or under the influence of any foreign government or any of its agencies or instrumentalities, or from any foreigner, whether natural or juridical persons";
"that it shall not solicit or receive, directly or indirectly, any contribution or aid of whatever form from any foreign government, or any of its agencies or instrumentalities."
The same provisions were also contained in the accreditation document of the National Citizens' Movement for Free Elections (Namfrel) as citizens' arm for the 2013 polls. In the 2010 polls, the Comelec rejected Namfrel's application for accreditation.
Comelec observers said the PPCRV had clearly violated the conditions with the TAF foreign assistance. "There is a good reason why there is a restriction on domestic observers to receive foreign support," said a member of a rival election watchdog. "International donors have their own agenda, whether they admit it or nor. Too often, they influence the domestic observer they support in their assessment of the election."
TAF had actively pushed for the computerization of Philippine elections and, like other international groups based here, declared the 2010 exercise successful despite security and technical issues raised by local watchdogs and think tanks.
PPCRV's credibility and independence have been questioned lately – largely due to its all-out support for the automated elections and the partisanship and politicking of several bishops, who essentially act as PPCRV diocesan heads. 
A group of 16 civil society groups has issued an open letter taking the PPCRV to task for "betrayal of public trust" and for conduct unbecoming of a Comelec watchdog.
(Read: Politicized bishops putting PPCRV in a bind)
No strings attached
De Villa, in an interview, admitted that TAF bankrolled the T-shirts that PPCRV volunteers used for the 2010 polls, but stressed that it was provided to them without any strings attached. "They have not given us any conditionalities," for which, "we are grateful to TAF." 
The PPCRV chairperson wondered why her group is being singled out when other election watchdogs are also getting support, monetary or in kind, from foreign groups. She refused to identify these other groups.
She recalled that the issue of whether poll watchdogs could receive foreign financial assistance cropped up after she resumed her duties as PPCRV chair in the 2007 polls. At that time, PPCRV was planning to publish a poll watcher's manual funded by the New Zealand government. Then Commissioner Resurreccion Borra reportedly informed her that there was no problem as long as the money is used for voter education and values formation.
During the 2010 polls, De Villa said the issue was again raised, but the Comelec en banc supposedly issued a resolution clarifying the matter. In that resolution, they defined limitations in receiving foreign financial assistance, she said.
As for the conditions set by Comelec in 2010 barring its citizens' arm from receiving financial assistance from foreign groups, De Villa argued that Comelec "should revisit that."
Reminded that these are the same conditions imposed by Comelec for PPCRV's accreditation in the 2013 midterm polls, she stressed it was a "loophole" that was not clarified by the Comelec.
Comelec allowed it
Sought for comment, former poll commissioner Rene Sarmiento said he recalled an en banc discussion pertaining to PPCRV's case. He was then a member of the poll body that granted it accreditation.
"The issue on PPCRV's receiving donations from foreign sources was taken in the en banc. We agreed that as long as the foreign support does not involve partisan political activity, then there is no violation," Sarmiento said.
Sarmiento could not recall how the issue cropped up in the en banc – whether it was raised to the Commission or if it was the PPCRV that sought clarification.
Sarmiento cannot recall if a resolution was issued to this effect. He acknowledged, however, that they should have been more specific in setting their conditions to prevent gray areas.
List of programs
Based on the documents, TAF provided the T-shirts to PPCRV as part of its election project, Promoting Transparent and Peaceful Elections in the Philippines. "To enhance the legitimacy of the elections, the Foundation will work with the PPCRV to conduct poll watching and observation activities…in line with this, the Foundation will support the procurement and distribution to PPCRV of T-shirts with PPCRV logo," TAF said.
We sent a letter to TAF and asked its own take on the issue. Maribel Buenaobra, TAF director for programs, did not directly answer our questions but provided us a list of other election-related programs that the foundation is supporting.
Buenaobra said TAF also has previous partnerships with other election watchdogs like the Moro watchdog, Citizens' Coalition For ARMM Electoral Reforms (C-CARE), and Namfrel, from 2009 to 2011, when de Villa was concurrent chair of both PPCRV and Namfrel.
Below is the list provided by TAF:
Fiscal Year 2009 (Oct. 1, 2008- Sept. 30, 2009)
Citizens' Coalition for ARMM Electoral Reforms (C-CARE) – Strategic planning workshop in preparation for voter education and observation in the Autonomous Region in Muslim Mindanao (ARMM) in 2010.
National Citizens' Movement for Free Elections (Namfrel) – National conference to plan for the automated Philippine elections in 2010.
Parish Pastoral Council for Responsible Voting (PPCRV) – Voter registration campaigns in selected areas nationwide; Strategic planning conference of the PPCRV-ARMM Coalition to plan for the Philippine elections in 2010; Public dialogue between voters and aspiring candidates to promote responsible voting. Fiscal Year 2010 (Oct.1, 2009-Sept. 30, 2010)
Asian Network for Free Elections – Recruiting and deploying international observers for the May 2010 national and local elections
PPCRV – Partnership with PPCRV for voter-education campaigns and nationwide deployment; voter-education campaigns and deployment of more than 7,000 volunteers to monitor the elections in the ARMM; logistical support to PPCRV volunteers on election day.
Promoting Transparent Fair and Peaceful Elections in the Philippines in 2010 Local Partners: Alyansa ng May Kapansanang Pinoy (Akap-Pinoy); Ateneo School of Government; Institute for Political and Economic Reform; Northern Samar Peace and Development Forum; PPCRV; SIMCARRD Inc; Vera Files Inc. Fiscal Year 2011 (Oct.1, 2010-Sept. 30, 2011)
Disability-Inclusive Elections
Increasing participation of persons with disabilities (PWDs) in the 2013 Philippine midterm elections and other democratic processes
Local partners: Cerebral Palsied Association of the Philippines; Commission on Elections; Foundation for Communication Initiatives (FOCI); Link Center for the Deaf; PPCRV; Philippine Alliance of Patient Organizations and Union of Local Authorities of the Philippines; Social Weather Stations; Upholding Life and Nature Inc; Vera Files; VSO Bahaginan
Constitutional prohibition
The ban on accepting donations from foreign sources related to elections is enshrined in the 1987 Constitution. The prohibition is specific to political parties, coalitions, or candidates.
Section 2, Article IX (the Commission on Elections) states that: "Financial contributions from foreign governments and their agencies to political parties, organizations, coalitions or candidates related to elections, constitute interference in national affairs, and, when accepted, shall be an additional ground for the cancellation of their registration with the Commission."
The Omnibus Election Code reiterates this prohibition. Section 96 says, "it shall be unlawful for any person, including a political party or public of private entity to solicit or receive, directly or indirectly, any aid or contribution of whatever form or nature from any foreign national, government or entity, for the purposes of influencing the results of the elections."
The prohibition on foreign support was apparently adopted by the Comelec as a condition in accrediting election watchdogs.
But this has posed a dilemma for election watchdogs and other election stakeholders that rely on donations and financial support.
One school of thought, taking the purist approach, maintains that the ban is encompassing. By the very wording of the Comelec resolution, poll watchdogs should not even be suspected of being under the influence of foreign funders. "If candidates and political parties are prohibited from accepting foreign support, what more for the poll watchdogs which are supposed to be non-partisan?" one Comelec observer asked.
An official of a Comelec civil society partner, however, opines that poll watchdogs may be able to receive foreign funding during non-election periods, or in between election activities, such as voter education. During such periods, their accreditation as Comelec citizens' arm may have already lapsed or they have yet to be accredited again for the next elections.
But once poll watchdogs are granted accreditation, they are bound to follow conditions set by the Comelec. This school of thought argues that as long as the financial support is not used for partisan political activity – like endorsing a candidate – it is perfectly ethical for poll watchdogs to accept donations from foreign sources.
Rationalization
Former commissioner Augusto Lagman, for his part, argued that what the Comelec did was to "rationalize something that has been done." To justify that it may receive foreign support as long as it is not used for partisan purposes is a mere rationalization, he added.
Lagman served as commissioner for only 10 months, from 2011-2012, after he was bypassed by the Commission on Appointments and Malacañang did not issue a reappointment.
Lagman said that, as a poll watchdog, PPCRV should remain nonpartisan. "To me, there is a violation based on the conditions set by Comelec."
Now a member of the Namfrel National Council, Lagman said that during the time of Marcos, Namfrel was prohibited from receiving financial support from foreign sources "which we carried over until now."
In the 1984 Batasang Pambansa elections, he said Namfrel was offered by a foreign group US$25,000 which the poll watchdog rejected. Its strict adherence against accepting support from foreign sources is one reason Namfrel is having a hard time raising funds. "We only get support from local businessmen," Lagman said. – Rappler.com