This early, Santiago is declaring that the next Senate President will come from the administraiton coalition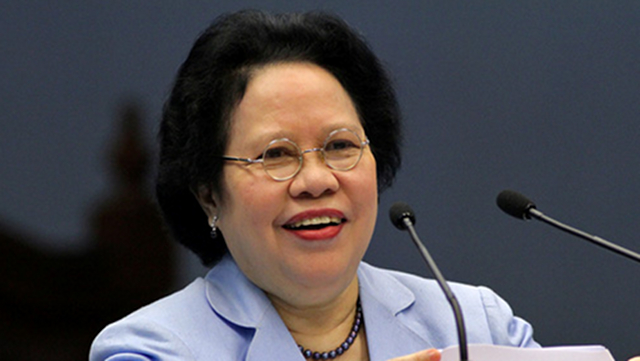 MANILA, Philippines – You don't have to take her word for it, but Sen Miriam Defensor Santiago speaks as a "trained political scientist."
In a speech before the Philippine Masons in Iloilo City on Wednesday, April 25, Santiago said she has analyzed the numbers and projected the new composition of the Senate after the elections. Her count matches surveys that say it's going to be 9-3 for Team PNoy. 
From Team PNoy, she thinks the candidates below will make it. (The list is alphabetically arranged.)
1. Aurora Rep Juan Edgardo "Sonny" Angara
2. Paolo Benigno "Bam" Aquino
3. Re-electionist Sen Alan Peter Cayetano
4. Re-electionist Sen Francis Escudero
5. Re-electionist Sen Loren Legarda
6. Re-electionist Sen Aquilino Pimentel III
7. Former censors chief Grace Poe
8. Re-electionist Sen Antonio Trillanes IV
9. Former Las Piñas Rep Cynthia Villar
From the opposition United Nationalist Alliance (UNA), Santiago said she thinks Vice President Jejomar Binay's daughter Nancy Binay and San Juan Rep JV Ejercito will make it.
Two UNA members will fight for the last slot, according to her: Re-electionist Sen Gringo Honasan and Cagayan Rep Jack Enrile. Ironically, both enjoy massive support from  Senate President Juan Ponce Enrile – a nemesis of Santiago. Was she being naughty when she pitted Enrile's boys against each other?
INC will 'punish' re-electionists
But there is a caveat. Santiago said the Iglesia ni Cristo (INC) bloc vote could "radically change" the survey trends. Iglesia, which is known for its reliable bloc voting, supposedly has 9 million voters 
Santiago warned that INC will "punish" re-electionist candidates who "double-crossed" the religious group. 
"INC, out of patriotism, took a strong position during a recent political controversy. Certain reelectionist senators reportedly promised to support the INC position; but out of opportunism, reneged on their promise when the hour came," the senator said.
"You don't double-cross the INC and get away with it," Santiago added. She did not mention the political controversy. The INC, however, supported former Chief Justice Renato Corona during the impeachment trial against him in 2012, but the Senate eventually convicted him. Santiago was one of only 3 senators who voted to acquit Corona. 
There are 6 re-electionists in the May senatorial race: Legarda, Cayetano, Escudero, Pimentel, and Trillanes of Team PNoy, and Honasan of UNA. All voted to convict Corona.
Santiago also dismissed the so-called "Catholic Vote," a campaign launched by  the Catholic Church to junk lawmakers who voted in favor of the Reproductive Health law.  "Vengeance is an attitude that evokes the Old Testament, and is incompatible with the emphasis on Christian love in the New Testament," she said. "It makes me squirm when I watch on television a cleric mouthing a political vocabulary. It makes my toes curl," Santiago added.
Cynthia Villar potential SP?
Still, Santiago is declaring this early that the next Senate President will come from the administraiton coalition. She named the following senators who will potentially replace Senate President Juan Ponce Enrile: Sen
Sergio Osmeña III, Sen Drilon, survey leader Cynthia Villar, and Sen Teofisto Guingona III.
Based on Santiago's count, the administration will have 16 senators, the opposition 5 senators, and an independent bloc will have 3 senators.
The incumbent senators who are not seeking re-election but have 3 more years left in their terms are the administration's coalition allies Senators Pia Cayetano, Franklin Drilon, Teofisto Guingona III, Ferdinand Marcos, Jr, Sergio Osmeña III, and Ralph Recto; opposition senators Vicente Sotto III, Juan Ponce Enrile, Jinggoy Estrada; and independent senators Ramon Revilla, Jr. (Lakas), Lito Lapid (Lakas), Miriam Defensor Santiago (People's Reform Party).
"With 16 senators more or less in the Senate, it is a no-brainer that the administration will get to pick the next Senate President from the most senior members of the coalition," she said. – Rappler.com