These findings show the role of a platform for engagement and how social media can be used to improve the political process
MANILA, Philippines – The public square of the 21st century is on social media, with Twitter and Facebook taking center stage. Is it bringing a new era of voter empowerment, powered by transparency and smart phones? Or does it only mean a shift of the same-old political campaign tactics from television to Twitter, much in the way radio gave way to television after the famous Nixon-Kennedy debate?
Well, it depends.
Social media greatly lowers the costs of communication between constituencies as well as access to information, but the current political discourse – as you'll see below – tends to be insular and cliquish. It's two parts echo chamber and one part real conversation, partly driven by the idea that we like to engage with people like us (a principle called homophily).
Twitter, like any medium, has its share of thought-provoking and banal content, but the crowd-sourced nature of social media discussions can be leveraged to help improve the political process. To do that, there must be a disruption of the current barriers between divided electorates, political parties, and public and private interests.
Rappler found these ideas by bridging the gap between the old and the new: bringing together political candidates in public, and bringing the public into the debate with social media engagement and the mood meter.
Exactly one month before the May 13 elections, Rappler hosted a debate, simulcast on Radyo Natin's 120 radio stations, featuring 6 candidates for senator: Risa Hontiveros, Teddy Casiño, Grace Poe, Eddie Villanueva, Bam Aquino and Richard Gordon.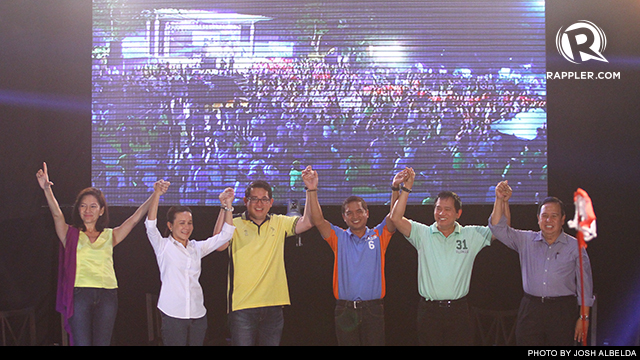 More than 1,000 people watched at Quezon Memorial Circle while 3 pairs of candidates went through 4 rounds set up to give voters a look at the candidates' ideas and character: an introduction, a face-off, community questions, and a conclusion answering the same question (Why should we vote for you?).
The event lasted a little more than 2-and-a-half hours, starting a little after 7pm.  It was live-tweeted and live-blogged. At the end of every round, the audience chose how they felt by voting on 4 emotions: happy, inspired, angry and annoyed.
The mood meter's collective results showed a substantial negative vote was mobilized.  The final results showed a roughly equal number of positive to negative votes: 51% positive, 49% negative.
Now, mapping the social graph gives us a clearer idea of where the votes came from in the country that ranks 10th globally for Twitter use. Below is a visualization of the virtual universe engaged and using #RapplerDebate on April 13.
Twitter accounts are represented by nodes or dots with the node size (the size of the circle) reflecting that account's influence. Node color and position show group affiliations. Ties between nodes represent tweet-ats and retweets. The thickness of the ties is determined by the number of tweets.
As you can see, Twitter accounts orbiting around particular candidates mostly talked among themselves, with the greater portion of cross-group communication occurring through the community which formed spontaneously around Rappler.
There are many accounts bridging the political boundaries, of which Rappler's community is only the largest. Each of these is a potential seed for discussions which break through the echo chambers and talking points of broadcast based campaigning.
Click the image to see the full interactive map with social network values as well as incoming and outgoing links. You can type in specific accounts in the search bar to see the community it formed during the #RapplerDebate.
The social graph exhibits a two-tiered hub and spoke structure with Rappler (@rapplerdotcom) as the central hub with an influence index of 1 (the highest).  This is its eigenvector centrality – the sum of all connections to others, where ties to highly central accounts (or actors) are more important than ties to peripheral actors.  Google's PageRank, for example, measures eigenvector centrality.
Risa Hontiveros (@risahontiveros) has the highest influence index of all the candidates at .8041. She has the most 'dynamic' account in the group, with a dedicated following anchored around two other accounts: @youthforrisa and @jeffcrisostomo. The community formed around her is marked in yellow and is the second largest group among the candidates.
Teddy Casiño (@teddycasino) has the second highest influence index of .6038 and has the largest group around him supporting his online mobilization. His community is light green and has strong ties to @NUSPhilippines, the National Union of Students of the Philippines, and @TeamTeddyCasino.
Bam Aquino (@bamaquino) comes in 3rd with a score of .4659. His community, much smaller than the first two, is marked in red and includes group accounts @TeamBamAquino, @LiberalPH and @TeamPNoy2013.
Eddie Villanueva (@Bro_Eddie) is 4th with an influence index of .3777. His community is marked in pink.
Richard Gordon (@Aksyon_Gordon) is 5th with a score of .3096 with his smaller community colored in blue.
Finally, Grace Poe (@GracePoe2013) had the lowest influence index of .2318. Her score was so low that she didn't form a separate community. You can find her account embedded inside Rappler's community.
The 6th community in olive actually belongs to Rappler's Patricia Evangelista (@patevangelista, influence index of .2406). Unlike my own account (@maria_ressa, score .4312) and reporter Carmela Fonbuena's (@carmelafonbuena, score .2815), Patricia has her own separate community from ours, which form part of the orange hub of Rappler.
Only 1 other media group participated, the Philippine Star (@philippinestar, score .0145) which was linked to Teddy Casino's community.
What facts can we draw? Here are a few:
1. Few of the candidates' accounts tweeted during the event. Casiño tweeted the most, sending out 32 tweets. Brother Eddie Villanueva tweeted 8 times while Gordon tweeted 3 times. Hontiveros tweeted twice. Neither Bam Aquino nor Grace Poe tweeted during the event. 
2. You can identify supporters and boundary spanners (those who belong to more than one group). Among them: 
Kenneth Dimalibot (@justcallmelloyd) is blue, has an influence index of .1785, is linked directly to Gordon (@Aksyon_Gordon) and identifies himself as #TeamGordon on Twitter. He linked outwardly to all the candidates as well as to Nina Terol-Zialcita (@ninaterol), part of Aquino's team.  
RJ Barrete (@rjamesbarrete) is part of Aquino's community and has an influence index of .1388. He linked to Rappler and all the candidates except Villanueva. He identifies himself on his account as a researcher with Publicus Asia.
3. It's interesting to analyze the total online results. Twitter activity was intense enough to trend globally. Mapping the communities allows us to see the people and accounts engaging online, with the assumption that many of them also voted on the mood meter.
In the mood meter voting, Villanueva (4th in terms of power and mobilization) received the highest percentage of happy votes at 54% for total performance.  However, in terms of absolute number of votes, Teddy Casiño beat him with 3 times the number of happy votes and 24.6% more happy votes than his closest runner-up, Risa Hontiveros, who had the most dynamic community in this social graph.
The 3 TeamPNoy bets, Hontiveros, Poe and Aquino, received the most number of annoyed votes at 60%, 47% and 60% respectively, largely disconnected from their performance during the debate. Casiño styles himself as anti-administration and received the lowest number of annoyed votes. It seems that Casiño's supporters, the largest political cluster here, organized to not only vote him up but to also vote negatively, bringing up the number of annoyed votes against the administration candidates.
Based on the total number of votes, it's clear the supporters of two candidates mobilized online: Teddy Casiño and Risa Hontiveros received 5 times more votes than the remaining 4 candidates. The wild card was the negative campaign.
So what can we conclude?
Like attracts like, and we tend to come into conversations with our own preconceived notions much like we do in life. At its best, it's a principle called diagnosis bias, where we tend to label people and form opinions based on first impressions. It can go further than that to what Filipinos call "crab mentality," when you actively work to pull someone down. In politics, it's a long-used campaign tactic and accounts for the numerous "exposes" and black propaganda designed to bring opponents and perceived front-runners down.
This visualization of the #RapplerDebate community shows that Twitter is two parts echo-chamber and one part conversation (shown by the ratio of in-group to cross-group communication in the aggregated visualization below). The chord chart is constructed by selecting and aggregating each of the 7 communities of interest from the above social graph and plotting lines representing frequency of communication.  The "humps" on each group represent in-group communication. For each community, around 4 out of 5 directed tweets containing #RapplerDebate was sent to another user within the same community.
These findings show the role of a platform for engagement and how social media can be used to improve the political process. We could just take old political tricks and transfer them to a new platform, much like the shift from radio to television or different forms of negative campaigning. Except this platform offers greater transparency – new possibilities of engagement and human creativity.
If we can see how we stick together in groups to create echo-chambers, then we become more self-aware. That two parts echo-chamber, one part engagement ratio can evolve into a more inclusive conversation that can spark or strengthen a process of political change.  
We at Rappler thank all who participated in this exuberant conversation and interactive debate. We salute the courageous 6 candidates, Hontiveros, Casino, Poe, Villanueva, Aquino and Gordon, who voluntarily, and with eyes wide open, submitted themselves to instant judgment to provide a snapshot of our democratic system at work.
– Rappler.com

For more, read:
Twitter Map: No real party system
The impeachment vote in tweets