PLDT claims it was relatively easy to transmit election results from PCOS machines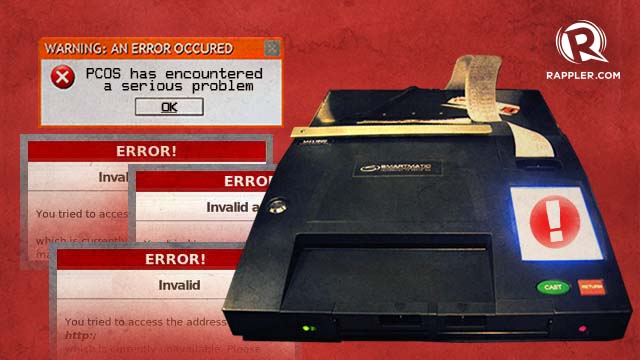 MANILA, Philippines – Telecommunications giant PLDT on Friday, May 24, belied a claim by the Commission on Elections (Comelec) that "heavy traffic" and signal problems hampered the transmission of election results.
In a statement, PLDT said their networks "did not suffer congestion, or heavy traffic, at any point throughout the election process." The company said there was no heavy traffic particularly during the first 6 hours after the closing of polling precincts, when almost all precinct count optical scan (PCOS) machines simultaneously attempted to transmit election results to the designated servers.
PLDT noted it was relatively easy to transmit election results from PCOS machines. "Traffic generated by the PCOS machines did not pose a problem for our cellular networks because each transmission was relatively small – only about 80 kb – and was easily and quickly delivered by our data network."
Contradicting a statement by Comelec chair Sixto Brillantes Jr, PLDT also asserted that the combined networks of Smart and Sun "have a signal in every city and municipality in the country."
The telecommunications giant added that following the Comelec's requirements, it coursed PCOS data through a dedicated virtual private network. "This means that the PCOS data were not mixed with the regular voice and data traffic of the network, further ensuring that the transmissions would be delivered quickly."
'Heavy traffic' blamed
On Thursday, May 23, Brillantes blamed "heavy traffic" for the difficulty of PCOS machines in transmitting election results. He also said at least 25% of the Philippines had no cellphone signal. (Watch more in the video below.)
"So it is not the PCOS that's defective. It is the heavy traffic, the transmission problem," Brillantes explained.
The Comelec equipped all election inspectors, who handled PCOS machines, with Smart, Sun, and Globe SIM cards. The inspectors could use any of these SIM cards depending on what works in their areas.
Despite this, the size of untransmitted data, as of Friday, exceeds the data that the media groups' and watchdogs' server failed to receive in 2010.
The Rappler Mirror Server, which gets its data from the Transparency Server, has received only 76% of election returns as of Friday.
The Parish Pastoral Council for Responsible Voting (PPCRV), which uses the Transparency Server, said it was blind to 8% of election data in 2010, when the Philippines held its first automated elections. This means the PPCRV directly received 16% more election returns back then.
PLDT said that in 2010, PPCRV received election data from 80% of PCOS machines within 12 hours from the closing of polling precincts.
Brillantes said next week, the Comelec will release a full report on the failed transmissions. – Rappler.com