Campaign manager Drilon attributes loss of Team PNoy's 3 bets partly to the established Binay, Estrada 'brand names'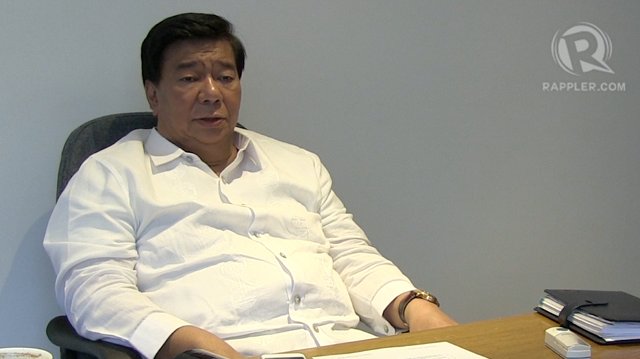 MANILA, Philippines – What foiled Team PNoy's 12-0 dream?
According to Sen Franklin Drilon, the campaign manager of the administration's slate Team PNoy, the Binay and Estrada "brand names" contributed to the defeat of 3 of Team PNoy's senate bets.
Official results show a 9-3 win for Team PNoy. Three of its bets — former senators Jun Magsaysay and Jamby Madrigal, and former Akbayan Rep Risa Hontiveros — failed to make the winning circle.
The opposition United Nationalist Alliance (UNA) saw 3 of its candidates emerge victorious specifically Nancy Binay, the daughter of vice president Jejomar Binay, and JV Estrada, son of former president Joseph Estrada. The third UNA winner was re-electionist senator Gringo Honasan.
The widely popular Binay and Estrada, along with Senate President Juan Ponce Enrile, are the 3 heads of UNA.
"It is extremely difficult in a sense because the branding of the other candidates – VP Binay, the son of Erap – these are brand names. In that sense, it was difficult for Risa Hontiveros and Jamby Madrigal to overcome these names. For Jun Magsaysay, he is really a good man, he worked hard," Drilon said in an ANC interview on Monday, May 27.
Drilon said it was not about less people voting for Team PNoy's 3 tailenders, rather than "more people voting for Binay and Estrada."
But Drilon said he did everything he could for the bottom 3.
"We gave Jun, Risa, and Jamby our best, every one of them," he said.
He also admitted that despite knowing the challenge, the push for 12-0 was a "political strategy" to show confidence in the slate and to prove "every one of our candidates was qualified." 
Strengthening parties
Drilon, who is expected to become the next Senate President, emphasized the Team PNoy partnership will hold in the 16th Congress — especially the alliance between the ruling Liberal Party (LP) and the Nacionalista Party (NP), which he said has been sealed.
"We indeed agreed that we should have a common candidate (for Senate President) because that is what the people said in the election: the coalition won by a resounding majority, 9-3, and it would be an embarrassment and that will be inconsistent if we split and go our separate ways," he said.
He added that reaching out to Sen Manny Villar, who heads NP, was "part of our efforts to strengthen our party system here."
"It is better that way that you talk on party-to-party basis rather than any other way. There are 24 independent republics in the Senate and that only emphasizes the individualistic nature of the senators," he said.
Senate observers agree parties are practically non-existent on the Senate floor, where senators historically vote according to personal choice and conditions rather than by party.
The LP and NP will make up the new majority in the Senate once the 16th Congress convenes on July 22. – Rappler.com