(UPDATED) A meeting between the two potential presidential candidates is scheduled in Davao City Friday night, May 22, Rappler learns
MANILA, Philippines (UPDATED) – Is a Mar Roxas-Rody Duterte tandem shaping up for 2016? Or will it be the other way around?
Initial talks between the two potential candidates for the upcoming presidential elections were scheduled Friday night, May 22, Rappler learned.
Roxas is the presumptive presidential candidate of the ruling Liberal Party, while Davao City Mayor Rodrigo Duterte has yet to make a definite decision on whether he will seek the presidency, although he has been making the rounds of provinces on a "listening tour."
Duterte ranked 3rd in a March 2015 Social Weather Stations top-of-mind presidential survey, recording a 10-point increase from his December 2014 rating of 5%. He was tied with Roxas in that survey, which was led by Vice President Jejomar Binay with 36% and Senator Grace Poe with 31%.
Also on Friday, Binay said he was considering Duterte as his running mate. In an interview on ABS-CBN Davao, the Vice President said, "Siguro naman hindi magagalit si Mayor Duterte. Qualified 'yun, successful mayor 'yan." (Surely Mayor Duterte won't get angry [that I'm considering him]. He is qualified, he's a successful mayor.)
The Duterte camp said they did not know what to expect from the meeting with Roxas as no initial talks had been held between the two possible candidates.
Earlier, some analysts said Duterte could be the LP's wild card bet. The Davao City mayor is expected to diminish Binay's support since both of them are influential in the local government sector.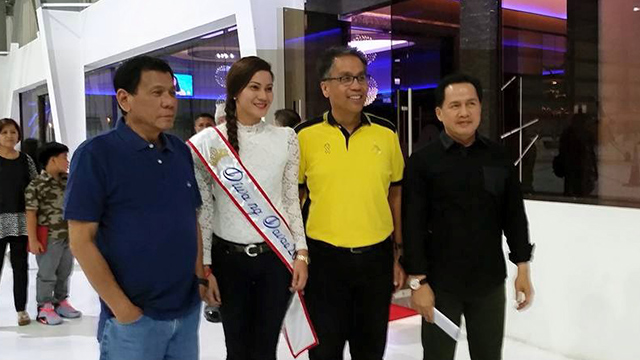 'Presidency or nothing'
Whether or not Duterte will be open to running with Roxas remains to be seen. But previously Duterte's political adviser and strategist Angelito Banayo said that it's the presidency or nothing for Duterte.
An internal survey commissioned for Duterte in late March showed his numbers increased by 14 percentage points. If his ratings further improve, he might just be convinced to take the plunge and stop playing coy.
The Davao City mayor re-entered Partido Demokratiko Pilipino-Lakas ng Bayan (PDP-Laban) in February this year during the party's 33rd anniversary celebration, during which he pushed for federalism. At the time, he said he would be discussing the presidential elections with party leaders.
Roxas, who is also interior secretary, flew to Davao Thursday, May 21, for the "Ramdam ko ang Reporma" event organized by the Koalisyon ng Mamamayan Para sa Reporma (KOMPRe) launched in 2014. KOMPRe brings together groups and individuals working together to supposedly sustain reforms under the Aquino administration.
On Friday he was in Sarangani for the turnover of 7 patrol jeeps and in Koronadal for the turnover of 10 similar vehicles. Roxas is also chair of the National Police Commission.
He returned to Davao for the meeting with Duterte, which was held under wraps. – Bea Cupin and Chay Hofileña/Rappler.com