Analysts say Vice President Jejomar Binay will take a 'more moderate,' and 'unpopular' position on China if he wins as president in 2016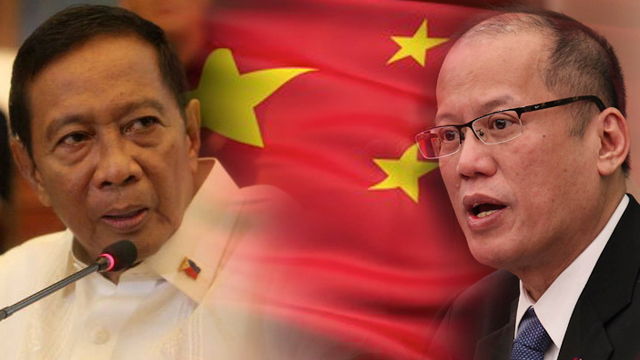 MANILA, Philippines – Will the next Philippine chief executive follow President Benigno Aquino III's lead in criticizing and suing China or will his successor mend ties for economic leverage?
A China expert said that the Philippines' maritime dispute with China over the South China Sea (West Philippine Sea) will play a crucial role in the 2016 polls.
Chito Sta Romana, a former Beijing bureau chief for the US news group ABC News, told Rappler that Aquino's aggressive stance on Beijing, and the geopolitical power struggle between the US and China make foreign policy a major election issue.
"This could be the first presidential election where the China issue, an issue of foreign policy, could play an important role precisely because of the context we are in. All the candidates will have to state what their policy will be if they become president," Sta Romana said in an interview on Monday, June 8.
Sta Romana said that the Philippines' historic arbitration case against China, and Beijing's massive land reclamation in the disputed sea make the choice of the next Philippine leader key to the future of Manila's foreign relations. The arbitral tribunal is expected to issue a ruling in early 2016.
"Whoever will become president will inherit the arbitration ruling, will inherit the land reclamation issue, and will inherit this escalating geopolitical rivalry between the US and China. So for this reason, I think it will play an important role. It bears watching what each candidate will say," he said.
Watch the full interview here:
Only Vice President Jejomar Binay so far declared plans to run for president in the May 9, 2016 polls. This early, the opposition's standard-bearer already drew controversy for deviating from Aquino's position on China despite being a Cabinet member.
Binay wants a joint venture between Manila and Beijing to develop resources in the South China Sea. He also hopes to improve trade relations, saying "China has money. We need capital."
Even US analysts already said that the Philippines might soften its stance on China with a change in administration. Ernest Bower of the Washington-based think tank Center for Strategic and International Studies (CSIS) said that if Binay wins, he will have a different China policy.
"Binay by all accounts and by research we know is being courted by Chinese diplomats and being offered all sorts of incentives to steer the Philippines back towards a more moderate role to accommodate China's rise, particularly in the South China Sea. That won't be a popular position," Bower said in a report on Voice of America.
The Diplomat said that the elections will also determine how Manila will deal with other allies like Japan, which also has a territorial row with China over islands in the East China Sea.
"Even if strong structural factors continue to pull Japan and the Philippines together in the future, Aquino's successor following the 2016 elections may want to tweak the balance of Manila's alignments with major powers."
Sta Romana expects all candidates to say they will defend Philippine interests in the dispute but the issue is how.
"The questions will be in the nuances or the details: joint venture? Do you have a negotiation or do we file another case? These are the different options of what to do."
The next Philippine president will succeed two leaders with opposing China policies: Gloria Macapagal-Arroyo who was friendly with Beijing but stirred controversy for graft-tainted deals with Chinese firms like ZTE, and Aquino whose 'Nazi' comments and arbitration case caused Philippine-China ties to hit "almost rock bottom." (READ: Why China prefers Arroyo over Aquino)
"We already experienced two extremes. From the time of President Arroyo, it's like close friendship with China at the time she had problems with the US. Now, in a sense, we're going all the way with USA and with Japan against China," Sta Romana said.
Will China snub APEC in Manila?
A journalist who lived in China for over 3 decades, Sta Romana said that the next president can learn from the Philippines' neighbors. Other Southeast Asian nations continued high-level diplomatic relations with China while pursuing their claims on the South China Sea.
"Even Vietnam has not dropped bilateral high-level talks with China, what more Indonesia, Malaysia, Brunei. We are in the sense in the frontline and a lot of people are getting a free ride on us. They are trying to see how far we will go in our legal approach. We are the only one. We are carrying the banner aligning with the US, with Japan, with Australia, in a sense with Vietnam, and trying to get ASEAN."
In January, Philippine Foreign Affairs Spokesman Charles Jose said that Manila's diplomatic talks with China are limited only up to the director or assistant secretary level.
The Philippine Department of Foreign Affairs maintains that Manila has exhausted bilateral talks with China to resolve the maritime dispute, and will resume negotiations only when Manila secures a ruling from the arbitral tribunal.
Sta Romana said Chinese Foreign Minister Wang Yi visited all countries in Southeast Asia, except the Philippines. "They have pointedly avoided the Philippines because of the situation."
The president of the Philippine Association for Chinese Studies added that Manila should not choose between arbitration and diplomacy.
"It's not either/or. It's not a binary option. You can combine it. The key right now is to be able to prepare. After arbitration, the Philippine leadership has to consider going back to the negotiating table, use the clarity we achieve from a verdict of the arbitration to then hopefully gain more leverage but at the same time, seek international support."
Sta Romana said the Philippines can use the Asia-Pacific Economic Cooperation (APEC) summit in November as an opportunity to improve ties with China. When Beijing hosted APEC last year, Aquino met with Chinese President Xi Jinping for the first time in a 10-minute informal talk.
"This is the year we are hosting APEC. The last thing we want is for the Chinese to boycott APEC because of this situation so I think there is a need to lower the temperature, the rhetoric."
'Statesmanship, pragmatism'
Besides the arbitration ruling and the Philippine polls, the US presidential elections in 2016 will also determine the geopolitics at the backdrop of the South China Sea dispute.
Former US Secretary of State Hillary Clinton, one of the architects of the US "pivot" or rebalancing to Asia, is running for president. Bower of CSIS told Rappler in a previous interview that if she wins, Washington will follow through with the policy seen to have weakened in President Barack Obama's second term.
Sta Romana said all these factors make developments in the South China Sea uncertain.
"We're going through this difficult period because we're interlinked with arbitration, the geopolitical rivalry, and I think we will go through this if not for a couple of months, a whole year then we'll see what happens when a new administration takes over here and in the US."
What is certain is that whoever succeeds Aquino, he or she will have major challenges on the foreign policy front.
"Our problem really is how to approach this issue in a way that will keep ASEAN unity intact and at the same time preserve our national interests and yet not escalate the geopolitical rivalry in the region," he said.
"It's a formidable task, and it will call for a high level of statesmanship and pragmatism." – Rappler.com