'This election will tell us what kind of people we are,' says a panelist during the third episode of Rappler's #PHVote Dialogues
Voter participation advocates shared the belief that public officials' response to the COVID-19 pandemic would be front and center in determining who will remain in power after the 2022 Philippine elections.
In the third episode of the #PHVote Dialogues organized by Rappler, thought leaders weighed in on how the ongoing global health crisis would impact voters' decision-making.
"This pandemic can be seen as a referendum for those in power," Rappler news editor Paterno Esmaquel II said in Filipino on Wednesday, June 23.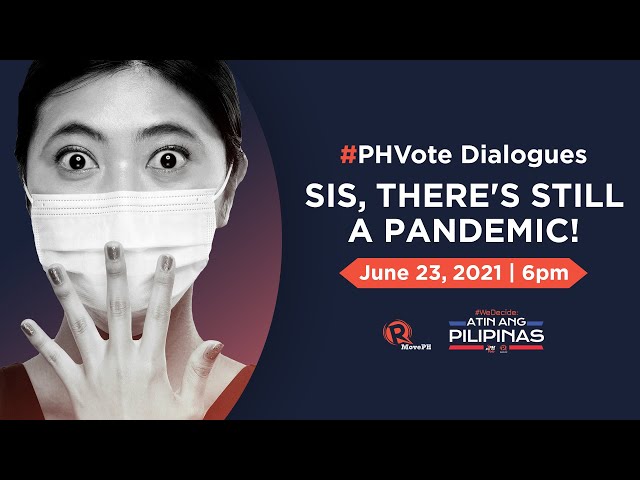 Dr. Renzo Guinto, St. Luke's Medical Center-College of Medicine Planetary and Global Health Program inaugural director, echoed Esmaquel, and even equated the pandemic and the polls to COVID-19 mass testing.
"I think that the real mass testing that we are seeing is a mass testing of leadership," Guinto said.
"Sino ba iyong mga pinuno na dapat nating suportahan, panatilihin sa kapangyarihan, o iangat, at sino ang mga pinuno na nagfail during the pandemic at hindi na dapat bigyan ng pagkakataon at palitan na?" he pointed out.
(The elections are a test of who among our leaders deserve our support, deserve to remain in power, deserve to be promoted to higher office, and who among them failed during the pandemic and do not deserve another chance.)
Guinto and celebrity activist Ria Atayde both agreed that in order to elect effective leaders, stakeholders should bring the conversation offline.
"When you find partner organizations in the grassroots, that's really what strengthens it. That's really what we need now, to partner with schools, youth groups, because that's where the action is," Atayde said.
Meanwhile, karate athlete James delos Santos hoped there would be more efforts to prevent the public from being subjected to false information and manipulation online.
"The internet can be easily manipulated with cyber attacks. I believe we should have people with IT expertise to prevent these cyberattacks," he said.
Over 60 million people were already eligible to cast their ballots for the 2022 polls as of June, according to the Commission on Elections.
The 2022 polls will determine who will succeed President Rodrigo Duterte, who has faced a barrage of criticism over his supposed mishandling of the pandemic.
For Guinto, the outcome of the May 9, 2022 vote will be a reflection of the Filipino character.
"This election will tell us what kind of people we are," he said. – Rappler.com