(1st UPDATE) Ricardo 'Cano' Tan's expression of gratitude comes after a two-year disappearance from public life and the murder of his older brother
Ricardo "Cano" Tan was Bacolod City's No. 1 councilor when President Rodrigo Duterte publicly named him as a drug lord in January 2018.
After a two-year disappearance and a new certificate of candidacy for a council comeback under the Aksyon Demokratiko party, Tan thanked his tormentor on October 23 for clearing him and his family of links to narcotics syndicates.
"This is it. The President has spoken. He gave me my absolute freedom," Tan read from a statement. "I stand proud now before the public as a vindicated man."
Tan spoke before a huge banner showing his face side by side with Duterte and the words, "This is It" and under, in smaller print, a thank you to the President.
On both sides of the main tarp were copies of Interior and Local Government Secretary Eduardo Ano's August 11, 2021 memorandum certifying that Tan had been purged from the Inter-Agency Drug Information database.
President Duterte approved on July 30 the recommendation of the Inter-Agency Drug Information Database Committee, which reviews and evaluates clearing requests, Tan told Rappler in a telephone interview.
Tan considers the clearance "as the most significant gift and blessings he received from God and the President, which brought back his freedom as a well-meaning citizen of Bacolod City and this country."
"This is justice in black and white. This is proof that Cano Tan did not engage in any illegal drug activity in Bacolod City and elsewhere. Thank you, President Duterte, for the objective review of my circumstance," his statement said.
Tan did not take questions from reporters during his press conference.
But in a telephone interview with Rappler on Monday, October 25, Tan spoke, sometimes with reluctance, about his two-year ordeal.
Painful past
Tan said he was "a victim of fake news and intrigues" and railed at political detractors for his troubles.
But it was Duterte who publicly vilified him and then Bacolod City police chief Senior Superintendent Francisco Ebreo, whom the President sacked in 2019.
Tan and his wife, Nenita, were just recovering from the trauma of surviving an ambush on December 14, 2018 when they heard the news of Ebreo's January 12, 2019 public humiliation.
The city's top cop was outside the L' Fisher Hotel, trying to manage traffic, when Duterte, the guest of honor in the birthday bash for Leo Rey Yanson, Vallacar Transit Incorporated president and chief executive officer, announced that he was firing Ebreo and four other cops.
"I'd like to know if the chief of police is here. If you are here kindly stand up because you are fired as of this moment," Duterte said during his speech, which also mentioned an unnamed local official as involved in illegal drugs.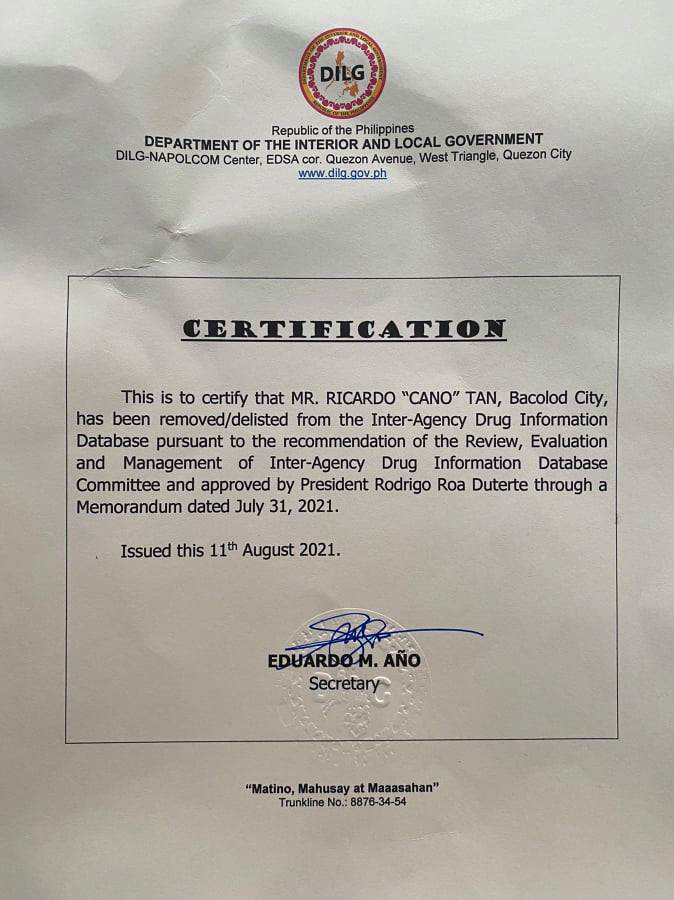 "In your involvement in drugs and making the people of Bacolod miserable, I am relieving and dismissing you from the service as of now, Senior Superintendent Francis Ebreo," he added.
The Philippine National Police (PNP) and the Philippine Drug Enforcement Agency (PDEA) swiftly issued separate statements, saying Ebreo was not on any drug watchlist. But Duterte stuck to his story.
On January 16, the President named Tan publicly. Explaining why he fired Ebreo, Duterte told Malacanang reporters that Ebreo was "at the very least" a "protector cop."
His proof: Ebreo and his deputy went to a hospital to provide protection for Tan, the alleged drug lord, after the councilor's survived the ambush.
Tan then chaired the committee on public safety and police matters. Ebreo wasn't the only one who visited Tan — Bacolod City local officials and council colleagues had also dropped by and demanded a speedy probe.
The PDEA regional office in Western Visayas said Tan was not on their watchlist of drug personalities.
The veteran politician and businessman had gone on leave after the ambush. Duterte's tirade forced him deeper into hibernation.
Tan reappeared in Bacolod City only in May 2021, presenting a Police Regional Office (PRO)-Western Visayas certificate clearing his name and that of his family from any links or participation to alleged illegal drug trade activities.
Tan didn't tell reporters in May that he was waiting for the only clearance that mattered, from Duterte.
And by then, the family had suffered another tragedy.
On December 15, 2019 — almost to the day of Tan's 2018 ambush — his 70-year-old brother, Robert 'Kaishek' Tan died after motorcycle-riding men ambushed him in broad daylight, shooting him at least five times in the head.
'We almost died'
Tan told Rappler Ebreo visited him as part of an investigation.
"We almost died. Those were live bullets, more than 50 of them. We survived only because we hid very low on the floor. The windshields were shattered, the seats had bullet holes," Tan said.
"I was the number one city councilor and head of the committee on police matters. I asked for protection. Ebreo was only doing his duty."
He said the police regional director and Bacolod City Mayor Evelio Leonardia had also visited him.
Tan said he wrote the President a letter in early 2020.
He did not share the letter with Rappler but gave some details.
"I said, Cano Tan is not a drug lord. I and my life have many businesses, all legitimate. We have been very successful for 40 years," he remembered writing.
"I said, I have no driver. We have no bodyguards. There was no CCTV in our home, at least, before the ambush," he added.
"I have been my own driver all these years. I am willing to face any case in court."
Tan's slain brother was also driving a modest vehicle when he was slain along a main road linking several residential villages on Bacolod's eastern flank.
Intermediaries
Duterte had fired Ebreo during a birthday party of a Yanson clan scion.
Tan's wife and son also met Duterte in January 2020, a year after his verbal attack, in another birthday party for another Yanson clan member.
"We are thankful that he agreed to give us a chance to clear our name," Tan said.
Duterte immediately ordered officials to validate and revalidate the accusations against Tan.
Tan brushed off the question of what was to be validated, since the regional PDEA had already cleared him within days of the President's statement.
"We were sincere in wanting to be cleared," he stressed.
It was a tedious process, he said, validation, review, re-validation through law enforcement hierarchies.
While Tan wasn't in the public eye then, he and the family fully cooperated with authorities from different agencies. He did not detail the whole process.
It was in the last quarter of 2020, he said, when the President's "secretary" called and "informed my son that I had been cleared."
Two weeks after that, he added, police officials also called to say the clearance had been greenlighted and was winding its way through the bureaucracy.
Tan told Rappler he only has gratitude for the President. The clearance, he said, allows him to face Bacolod voters.
"I am innocent of all the charges against me, and I know God and the government are with me. So why would I be afraid to offer my services again to the public? My life is an open book," Tan said.
Rappler asked Tan about the murder of his brother Kaisek, if he had also sought help for that.
After a long moment of silence, he replied: "Wala na. Naka sugod ko sulat, paral dal-on man sang wife ko," Tan said. (I didn't. I had started writing a letter for my wife to also bring.) "But my lawyer advised me not to, as it would only muddle my case." – Rappler.com