(1st UPDATE) This is contrary to expectations that he would run for president
Contrary to expectations that he would run for president, presidential aide-turned-senator Bong Go is running for the vice presidency under PDP-Laban in the 2022 elections.
Go filed his certificate for candidacy (COC) on Saturday afternoon, October 2 at the Sofitel Philippine Plaza in Pasay City.
The PDP-Laban faction led by President Rodrigo Duterte and Energy Secretary Cusi had earlier nominated Go as its standard bearer on September 8.
Duterte, who accompanied Go when he filed his COC, also announced his retirement from politics in the same event. Duterte was expected to file his COC as Go's running mate.
Initially, Go declined the party's nomination, saying that he would rather focus his energy on his work at the Senate and the Senate health committee which he chaired.
But Go said: "Given that President Rodrigo Duterte decided to withdraw his acceptance of nomination, I am here to take on the challenge as PDP-Laban's vice presidential candidate."
The senator said he will continue and build on Duterte's war on drugs, corruption, and criminality. "I intend to pursue and expand these efforts further towards overcoming this pandemic by achieving economic recovery, providing job opportunities, and addressing hunger and poverty."
Go is Duterte's longtime aide, the most trusted man of then-Davao City mayor and now Philippine president.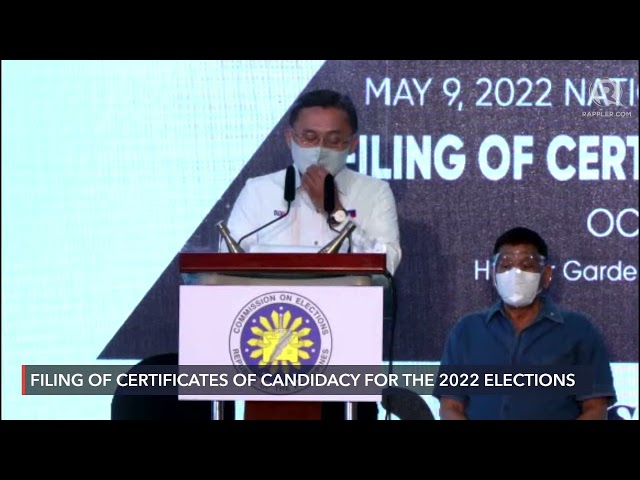 In 2019, Go ran for senator under PDP-Laban, with his victory fueled by Duterte's popularity and his closeness to him.
Even as senator, Go remained at Duterte's side. This was highlighted during the pandemic with Go being a constant face at the President's briefings.
Press briefings by state media PTV also gave Go airtime regularly, airing his statements and giving praises for programs he pushed for when he was a special assistant to the President or even when he was a senator. – Rappler.com