This is AI generated summarization, which may have errors. For context, always refer to the full article.
The Marcos scion seeks the presidency nearly four decades after a people power revolt brought down his father's regime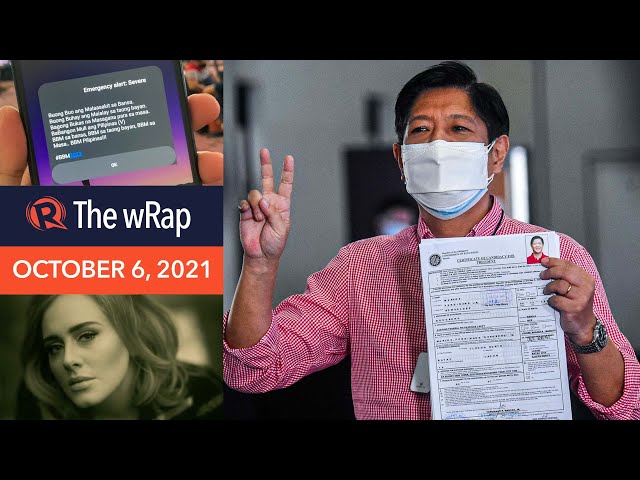 It's official: Ferdinand "Bongbong" Marcos Jr, son of the late Philippine dictator Ferdinand Marcos, filed his certificate of candidacy (COC) for president on Wednesday, October 6.
Accompanied by his sons and wife, Marcos arrived past 11 am at the Sofitel tent, and bumped into a fellow presidential aspirant, Senator Ping Lacson.
Marcos filed his candidacy under the Partido Federal ng Pilipinas (PFP), a 3-year-old political party which was founded by allies of President Rodrigo Duterte. Marcos is now PFP's chairman, after a switch from the Villars' Nacionalista Party.
He declared his presidential bid on Tuesday, October 5, on a key message of unity amid the pandemic. "I know that it's this manner of unifying leadership that can lead us through this crisis, get our people safely back to work for all of us to begin to live our lives once again."
Like his father, 64-year-old Bongbong had been congressman and senator. His presidential bid not only repeats the dictator's path but also illustrates the political resilience of a family that was ousted in a peaceful revolution 35 years ago.
Such durability has been aided by a massive disinformation network that seeks to rebrand the Marcos name and bury the dark years of the dictatorship, according to a Rappler investigation in November 2019.
The media buildup to today's filing has been – in the words of a church group – about "historical denialism."
Tight race
Bongbong almost won as vice president in 2016 in a bitterly contested race which he disputed before the Supreme Court. In a unanimous vote in February this year, the High Tribunal junked Marcos' protest, saying Robredo won the race.
This decision notwithstanding, Marcos' strong showing in the 2016 polls shocked Filipinos who were victims of his father's strongman rule and corruption.
It looks like he will be facing another tight race in 2022. Marcos will be up against Senator Manny Pacquiao and Manila Mayor Isko Moreno, who have both filed their COCs. Senator Panfilo Lacson has also declared his plan to run for president.
Marcos ranked second in the last Pulse Asia survey from September that gauged the preference of Filipinos for possible presidential bets. He scored 15% behind Sara Duterte, with 20%. Moreno placed third with 13% and boxing icon Pacquiao was fourth with 12%.
His presidential bid angers various sectors in the Philippines, such as the generation that suffered under his father's rule, as well as the opposition.
"Not only does it add salt into the wounds, but it's also an outright attempt to absolve and erase all the sins made by the late President Marcos and his family during the Martial Law years as if nothing happened," said Neri Colmenares, chairperson of Bayan Muna, and one of the thousands of political prisoners under the late dictator.
But Marcos would not acknowledge these, and continues to dismiss the atrocities committed under his father's strongman rule as "lies," as he told celebrity Toni Gonzaga in an interview where the only faint reference to the dark era of dictatorship was the interviewer saying, "to some people, he was the worst president."
According to data by Amnesty International, 70,000 people were detained, 34,000 were tortured, and 3,240 disappeared and were presumed to be dead from the time Marcos declared Martial Law in 1972 to 1981, when he officially lifted it. The Philippine government has compensated 11,103 Filipinos who were victims of human rights abuses during Martial Law.
The Marcos family has since managed to return to power in various elected seats. Bongbong's sister Imee is an incumbent senator while their mother Imelda was Ilocos Norte congresswoman for three terms. Bongbong's son Sandro is running for 2nd district representative of Ilocos Norte while Imee's son Matthew is seeking reelection as governor of the same province. A Marcos cousin, Michael Keon, is Laoag City mayor.
In 2003, the Supreme Court declared as ill-gotten US$658 million in the Marcos' Swiss bank accounts.
Ill-gotten wealth
In that decision, the High Court said: "It is apparent from Ferdinand Jr.'s [Bongbong's] testimony that the Marcos family agreed to negotiate with the Philippine government in the hope of finally putting an end to the problems besetting the Marcos family regarding the Swiss accounts.
"This was doubtlessly an acknowledgment of ownership on their part," said the decision.
The Presidential Commission on Good Government has so far recovered P174 billion of Marcos ill gotten wealth, and continues to run after P125 billion more.
When Imelda Marcos was convicted of seven counts of graft for opening and maintaining illegal Swiss foundations, the anti-graft court decision named Bongbong and his siblings as beneficiaries of the two foundations. according to court records. – Rappler.com