Petitioners say there was deception all along
Presidential aspirant and son of dictator Ferdinand "Bongbong" Marcos Jr told the Commisson on Elections (Comelec) in a final position paper that if legal luminaries can't agree about how laws apply to him as a prospective candidate, then he cannot be faulted for actions which may have been wrong.
Citing the differing opinions of the likes of retired supreme court justice Antonio Carpio, and former justice secretary Alberto Agra, Marcos' lawyer Estelito Mendoza said: "When even the pillars of the legal community cannot agree on the matter, BBM, as a layman, cannot be faulted if his interpretation of a difficult question of law turn out to be erroneous."
"Certainly, an error in the interpretaton of a difficult question of law cannot and should not be equated to a deliberate and malicious intent to misrepresent a material fact," Marcos said through a 54-page memorandum submitted to the Comelec Monday, December 20.
The submission of memoranda closes the hearing period, and starts the countdown for the poll body to decide this first of the remaining six petitions against Marcos' candidacy. This memorandum is in relation to the petition to cancel Marcos' certificate of candidacy (COC) filed by civic leaders, whose lawyer is Ted Te.
But the petitioners said there had been deception all along and wrote in their own memorandum filed Monday, "Comelec must send the message to Ferdinand R. Marcos, Jr.: Never forget. Never again."
Deception?
The issue here is whether there was material representation. Petitoners said there was because for them, Marcos knew he was ineligible due to prior conviction, but still put in his COC – as all in his past COCs – that he was eligible.
To backtrack: In 1995, Marcos was convicted of tax evasion and failure to file income tax returns (ITRs) from 1982 to 1985, when he was vice governor then governor of Ilocos Norte. In 1997, the Court of Appeals (CA) acquitted him of tax evasion, but sustained guilt for failure to file ITR. CA did not impose prison sentence, but ordered him to pay deficient taxes and fines.
Marcos had said before that all his salaries as governor and vice governor were donated to scholarship funds, and that taxes were automatically deducted.
In the 1995 ruling of the Quezon City Regional Trial Court, Judge Benedicto Ulep said: "No evidence was brought forward by the defense to show any withdrawal for any charitable or civic purpose. In fact, not even a single centavo was used for such purpose."
In their memorandum, petitioners said if all his salaries then were donated to the poor, "how was he able then to support himself and maintain a lavish lifestyle befitting a prince?" Petitoners said this was clearly willful and deliberate, and not a minor infraction.
But as Marcos said in an earlier pleading to Comelec: the fact remains he was able to seek, be elected, and serve several positions in the last 20 years.
It helps Marcos that in 2009, the Supreme Court Third Division allowed him and his mother Imelda to become executor of the late dictator's will. That decision said failure to file ITRs is not a crime of moral turpitude. The election code disqualifies a candidate who was convicted of a crime of moral turpitude.
"His seeming absolution by being allowed to become executor of the dictator's last will and testament allowed him to mislead the people about his lack of eligibility not just once but several times. He now seeks to foist the success of his own deception to allow him the opportunity to deceive yet again," said petitioners.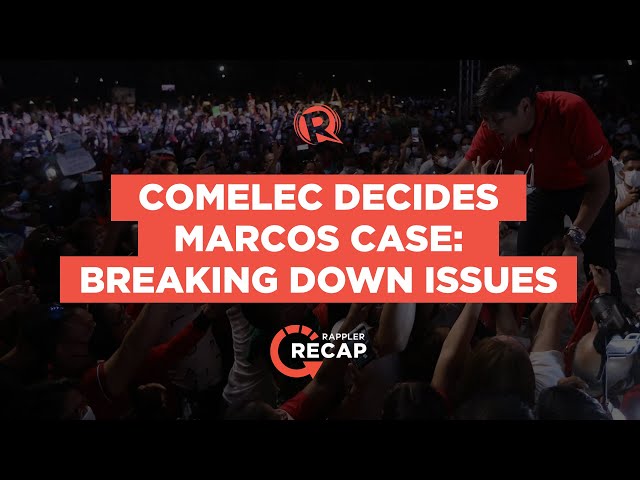 There is no automatic disqualification – Marcos
There is also the issue of whether Marcos has already complied with his tax judgment. If he has, the election code said a disqualification ground is removed after five years from serving sentence. Marcos paid fines worth P67,137 in 2001, but did he pay deficient tax?
Marcos' memorandum does not answer it. In an earlier pleading, Marcos said the order to pay deficient tax was unclear.
Petitioners secured a court certification that there is "no record on file" of Marcos complying to tax judgment, which for them means only one thing – Marcos has not served his sentence.
Marcos said in the memorandum that the court certification was not properly marked as evidence, and should not be admitted because the petitioners supposedly presented it late, and named it something else.
However, does the issue of payment matter?
For petitioners, not so much, because their main argument is – tax code has an acessory penalty of perpetual disqualification, so based on that alone, Marcos should have never been qualified for any position.
But the thing is, CA's ruling of Marcos did not spell out accessory penalty. Article 73 of the Revised Penal Code says accessory penalties are presumed.
Marcos said: the tax code is not the revised penal code.
"Neither the 1977 tax code, as amended, nor the present tax code contains a provision equivalent or even remotely similar to Article 73 of the Revised Penal Code," said Marcos' memorandum.
To Marcos, "petitioners need not even win this case. Petitioners are hoping that the endless barrage of cases will somehow take a toll on BBM's image and current momentum."
For petitioners, it's a matter of being truthful at all times. They told Comelec: "Honesty, although unwritten, is just as much a requirement in public service," especially in the presidency. – Rappler.com