The Comelec-sponsored debates, which once saw a politician promise to ride a jet ski to the West Philippine Sea, will push through in 2022, but likely under a different setup to minimize virus risks
The Commission on Elections (Comelec) said on Friday, May 14, that the presidential and vice presidential debates for the 2022 national elections may combine in-person attendance and remote participation of candidates, as the threat of COVID-19 continues to cast a long shadow on the poll body's preparations.
In the Comelec's first media briefing for the 2022 polls, Comelec Commissioner Marlon Casquejo said the conduct of the debates will be among the agenda in a conference to be attended by agency officials on Monday, May 17.
"Definitely, there will be a presidential debate. Then again, the question is will it be face-to-face or virtual? So I think mas maganda siguro if it is hybrid (A hybrid setup seems to be a good compromise)," Casquejo noted.
"[Candidates] can do face-to-face [debates] with a virtual audience, or candidates may also attend virtually…and with a virtual or limited audience," Casquejo added in a mix of English and Filipino.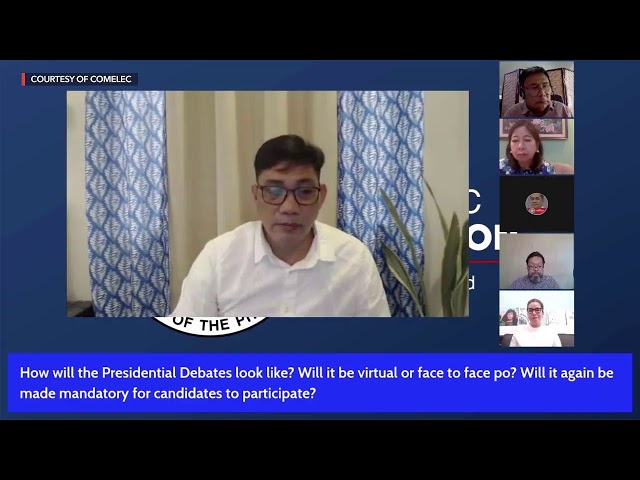 It was in 2016 when the Comelec first hosted debates since the 1992 presidential elections.
The "Pilipinas Debates" was a debate series that was held from February to April in 2016 in four different locations. Three debates were held for presidential candidates, and one for vice presidential aspirants.
It was during the Comelec-sponsored debate in 2016 when then-presidential candidate Rodrigo Duterte promised to "ride a jet ski" to the West Philippine Sea to assert the country's rights in the territorial waters.
On May 10, 2021, Duterte said the now-infamous statement was a "campaign joke," disappointing the fisherman who asked him during the debate about his plans to help Filipino fisherfolk harassed by Chinese ships in Philippine waters. – Rappler.com