Senator Imee Marcos says the proposal is part of efforts to make the elections more transparent
The Commission on Elections said it will look into the proposal of a senator to livestream the counting and canvassing of votes in polling precincts during the 2022 elections.
Senator Imee Marcos raised the suggestion during a hearing by the Senate electoral reforms committee on Thursday, June 3.
"Puwede bang mag-livestream, halimbawa iyong mga watchers, pinapayagan ba silang magdala ng phones tapo mag-la-livestream sila kasi syempre, ugaling Pilipino, parang piyesta iyong bilangan," Marcos asked Comelec Deputy Executive Director Teodoro Elnas Jr.
(Can poll watchers conduct their own livestream? Can they bring their phones and do a livestream? As we all know, vote counting in the Philippines is a gathering.)
Elnas, in response, said it is possible.
"Yes, that's what we are looking also, na i-allow natin iyong livestreaming, pero 'di lang natin i-allow iyon during voting (that we allow livestreaming, but not during the casting of ballots)," Elnas said.
"[This is] so that everyone will have access virtually to what transpires in the precinct even if they are not there physically," he added in a mix of English and Filipino.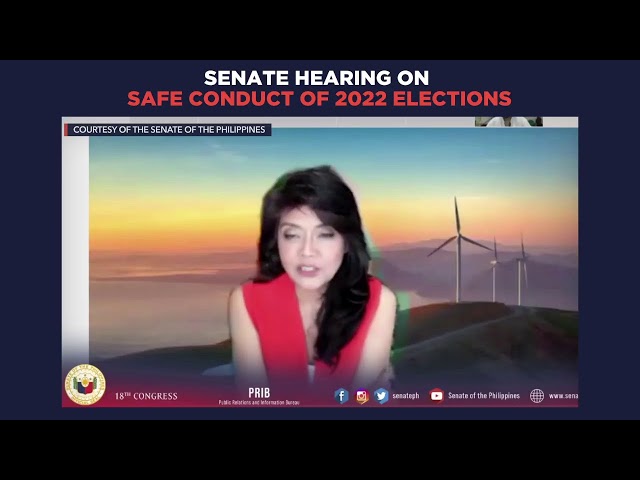 This is not the first time Marcos proposed that poll watchers be allowed to livestream the counting and canvassing of votes.
She also made the suggestion when the upper chamber tackled the proposed Hybrid Election Act on May 27, saying the livestreaming of the vote count could make the polls more transparent.
"[Under this proposal] there will be a livestreaming in a polling place, and this can be shown and used as evidence by accredited parties and nongovernmental organizations by Comelec," she had said.
It remains to be seen how feasible this proposal is, as many remote areas of the Philippines are still struggling with poor internet connection.
Marcos, who is an advocate of hybrid polls, has often criticized the automated election system in the Philippines, as well as Smartmatic, the technology provider behind it.
She is the sister of Ferdinand "Bongbong" Marcos Jr., who has insisted that election fraud resulted in his defeat in the 2016 vice presidential race. His four-year long electoral protest was ultimately junked by the Supreme Court in February 2021. – Rappler.com