The Comelec fears that 'survey' websites whose managers are anonymous may be 'phishing' for the personal information of respondents
The Commission on Elections sounded the alarm over suspicious websites that conducted surveys for the 2022 national elections.
Comelec spokesman James Jimenez made the statement on Monday, May 31, as the poll body distanced itself from survey website Pilipinas2022.ph, which asked respondents to provide their full name, address, and mobile phone number in order to cast a vote. 
In a tweet, Comelec spokesman James Jimenez said websites like Pilipinas2022.ph, whose managers were anonymous, might be "phishing" for voters' personal information.
"This site is not affiliated with the Comelec. Therefore exercise extreme caution in interacting with it, as it could be a phishing site," Jimenez tweeted.
"Think twice about using or clicking on 'online survey' websites created and managed by unknown entities as these may pose security risks," he added.
Replying to Rappler's query the same day, Pilipinas2022.ph said in an email that their group did not "intend to disclose the individuals behind this company to avoid threats from the outside."
"We may not be a recognized entity by the Comelec, however we assure the public that we are an independent company and have no ties from any political groups or any business owners in this country," the group said.
"We aim to be a survey company for the public who will provide them with the most honest and neutral data that this country will have," it added.
Asked why the website required voters to fill out personal information before they were allowed to cast their vote, the group said it planned to use the data for a future project in connection with the 2022 national elections.
"The 'addresses' gathered will be served as data for the Electorate Map feature (percentage count, by region). This feature will soon be released," the group said.
"'Contact number gathering' will soon be utilized for the one-time PIN (OTP) feature to serve as the participant's log-in legitimacy. This feature is still pending and will depend on the budget of our company," it added.
Back in February, the Comelec also issued a disclaimer notice on One Vote PH, which introduced itself as a non-profit organization that aimed to educate the public about voter registration.
The poll body had said that all communications from that group must be treated with caution.
Social and online media is still an unfamiliar animal that Comelec finds difficult to tame.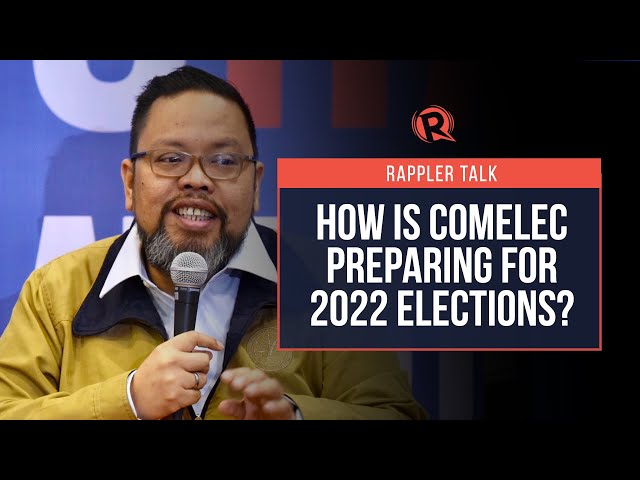 The Comelec has said it was bracing for the proliferation of disinformation and misinformation in the run-up to the 2022 elections, and aimed to partner with tech platforms to address such issues. — Rappler.com