A Comelec resolution released on November 12 provides for an increase in honoraria and other allowances for election boards, but DepEd Secretary Leonor Briones says these are 'less than our proposed increase for our teachers'
The Department of Education (DepEd) said on Friday, November 26, it would appeal for possible increase in the honoraria of teachers who will serve as poll workers in the 2022 elections.
In statement, Education Secretary Leonor Briones said DepEd would coordinate with the Commission in Elections (Comelec) for "possible increase in the approved pay for teachers."
According to a Comelec resolution released on November 12, electoral boards (EB) – mostly teachers – who will man the voting precincts in the 2022 elections will get an increase of as much as P3,000 in their honoraria and other allowances.
The pay hike includes an additional P1,000 honoraria across the board, for chairpersons of the electoral board, EB members, DepEd supervisor officials (DESO), and their support staff.
All of them will also receive an additional P1,000 travel allowance – from P1,000 in 2019 to P2,000 in 2022.
Except for the EB chairperson, poll workers will also receive P500 worth of anti-COVID-19 allowance, while the DESO and support staff are entitled to an additional P500 for their communication allowance.
Medical personnel will also receive a P3,000 honorarium, as well as travel and anti-COVID-19 allowance.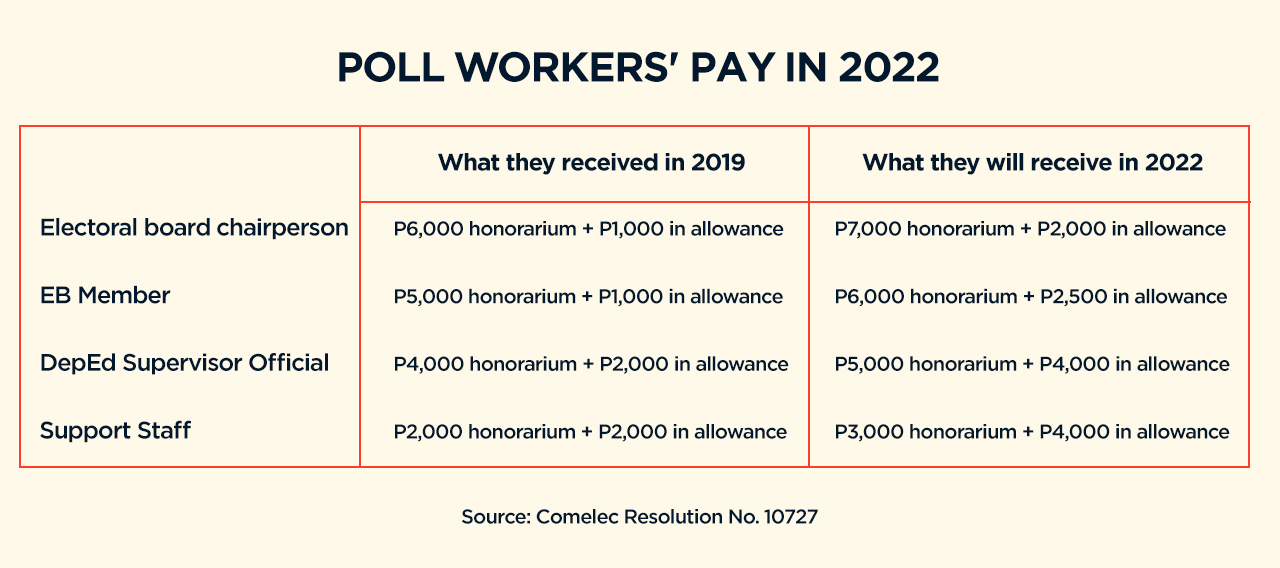 "Although it is less than our proposed increase for our teachers who will serve as poll workers, we appreciate the adjusted rates, and we will coordinate with Comelec for possible increase of the honoraria and other allowances and benefits," Briones said.
In June, the DepEd suggested the following honoraria rates, excluding allowances, based on the Consumer Price Index and Inflation Rate as of January 2021:
P9,000 for chairpersons
P8,000 for EB members
P7,000 for DepEd Supervisor Official
P5,000.00 for support staff
In the 2019 elections, over 500,000 teachers served as poll workers while almost 36,830 schools were turned into polling centers.
Over 60 million voters are expected to participate in the 2022 national elections, the first to be conducted in the middle of a pandemic. – Rappler.com